Covid-19: Some residents in new condominiums grow weary over delayed rectification works
SINGAPORE — Some residents at newly completed condominium projects have had to live with defects in their apartments for months as renovation and construction works have been disrupted due to the Covid-19 pandemic.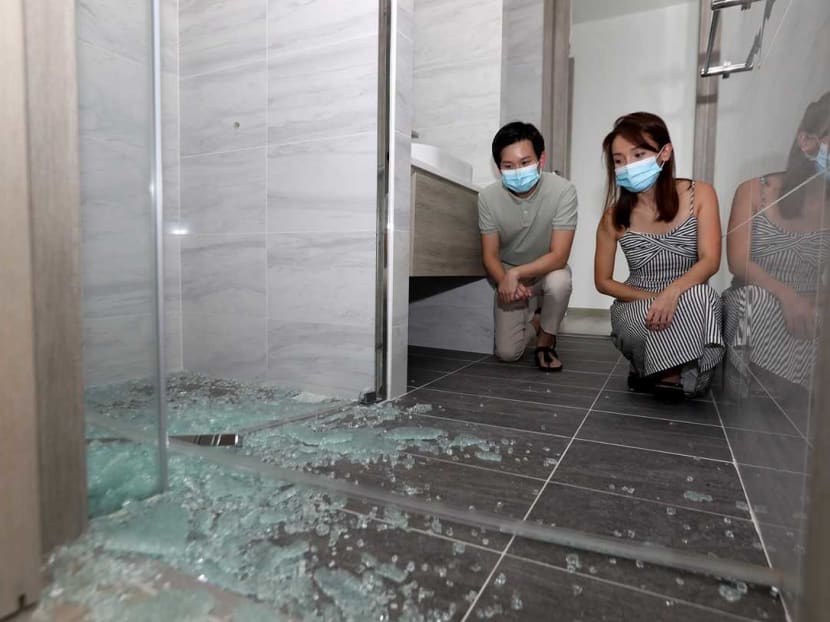 Residents found defects such as popped tiles, water damage on walls and even glass doors shattering
Developers said it is hard to do rectification works after the Govt put a halt to the construction industry
From earlier this week, construction firms, foreign workers may resume some types of work without seeking Govt approval
SINGAPORE — Some residents at newly completed condominium projects have had to live with defects in their apartments for months as renovation and construction works have been disrupted due to the Covid-19 pandemic.
For example, residents at the recently launched The Alps Residences condominium are growing increasingly frustrated over defects such as popped tiles, water damage on walls and even a glass door shattering in their units.
While they have filed numerous defect forms with the developer, MCC Land, since October after receiving their keys, the residents said the management has been slow with replies and repairs have been dragged out because of the Covid-19 pandemic.
Rectification works were halted during the circuit breaker period in April as the Government moved to temporarily suspend all construction work to curb the spread of the disease.
Earlier this week, the Building and Construction Authority said construction firms and their migrant workers may resume home renovation and other types of work done outside construction sites and premises such as prefabrication factories without seeking approval from the authorities.
UNRESOLVED ISSUES
Residents at The Alps Residences said they have been waiting for months for certain defects in their homes to be fixed.
The condo, located at 115 Tampines Street 86, is a 99-year leasehold project with 626 units. The project was granted its Temporary Occupation Permit (TOP) on Sept 27 last year.
One resident, who wanted to be known only as Mrs Zhu, 31, said she found scratches on the glass panels in her unit and white stains on the marble walls in her bathroom.
The door frame in her bedroom had also split and fallen from the wall, and she had to resort to using Scotch tape to patch it up while waiting for the developer's defects team to resolve the problem.
Mrs Zhu used Scotch tape to hold a door frame which she said had come away from the wall. Photo: Mrs Zhu
Mrs Zhu reported these defects in November. She finally had the door frame fixed on July 24, but she told TODAY on Friday (Aug 14) that she is still waiting for the glass panels to be replaced.
Another homeowner, Mr Shashi, 39, who declined to give his full name, found popped tiles and wallpaper peeling off due to water damage in his unit two weeks before he moved into the apartment in February.
When TODAY contacted him on Friday, Mr Shashi said he has not yet resolved these issues with the developer.
Ms Janelle Quek, 35, and Mr Edward Quek, 31, discovered a slew of defects since they collected the keys for their penthouse unit at the condominium, which they purchased for about S$1.6 million.
The siblings found wall cracks, popped tiles and scratch marks on the marble flooring, among other defects, in their new home. A glass door in one of the bathrooms shattered and collapsed for no apparent reason, they said.
They have been in contact with the developer since late last year and the defects team had initiated some repair works in February before the circuit breaker period.
But many of the issues remain unresolved and some defects — such as the cracks on the wall — have recently resurfaced.
Separately, residents from Gem Residences, a new condominium located in Toa Payoh, have had water pressure issues in their units since January when they began collecting their keys.
One resident, a private investor who wanted to be known only as Ms C K, 41, said the managing agent was slow to respond to residents' requests for various issues to be addressed during the circuit breaker period.
She added that while communication with the property developer, Evia Real Estate, has improved since the nationwide lockdown ended in June, some outstanding matters — such as the water pressure issues and common area defects — have yet to be fixed.
COVID-19 DELAYED RECTIFICATION WORKS: DEVELOPERS
In response to TODAY's queries, a spokesperson for MCC Land said it has been carrying out rectification works in the units at The Alps Residences since handing over the keys to homebuyers in October last year.
However, the halting of construction work in April has affected the rectification works for some of the units.
He added that MCC Land has recently obtained approval from the Government to progressively restart its rectification works.
"Although we are not operating at our optimal manpower strength during this period, we are doing our best to complete as much rectification work as we can."
He said that since the defects liability period for all units is still ongoing, residents can still bring to MCC Land's attention the defects in their unit and "we will definitely see to their necessary rectification".
"This includes the cases relating to issues on glass surfaces as we are committed to provide the necessary replacement and rectification," he added.
A spokesperson for Evia Real Estate, the developer for Gem Residences, said it has faced challenges with manpower and can resume the bulk of defect rectification works only at the end of this month.
"Although the authorities have announced the release of workers from purpose-built dormitories, there are a lot of other stringent requirements to meet in terms of safe accommodation and safe workplace," she said.
"All this coupled with the backlog of cases which have built up over the circuit breaker period mean we are hard pressed to meet the defect rectification deadlines."
She added that the firm can only rely on its Singaporean and permanent residents staff members, some of whom are managers or supervisors, and they have had to cover the additional scope of repairs because of the restrictions.