Temperature screening still useful in detecting Covid-19 cases despite limitations, experts say
SINGAPORE — The recent spate of Covid-19 infections have raised questions about the effectiveness of temperature screening, but several infectious diseases experts said that it remains a useful precautionary measure, provided it is not carried out in isolation.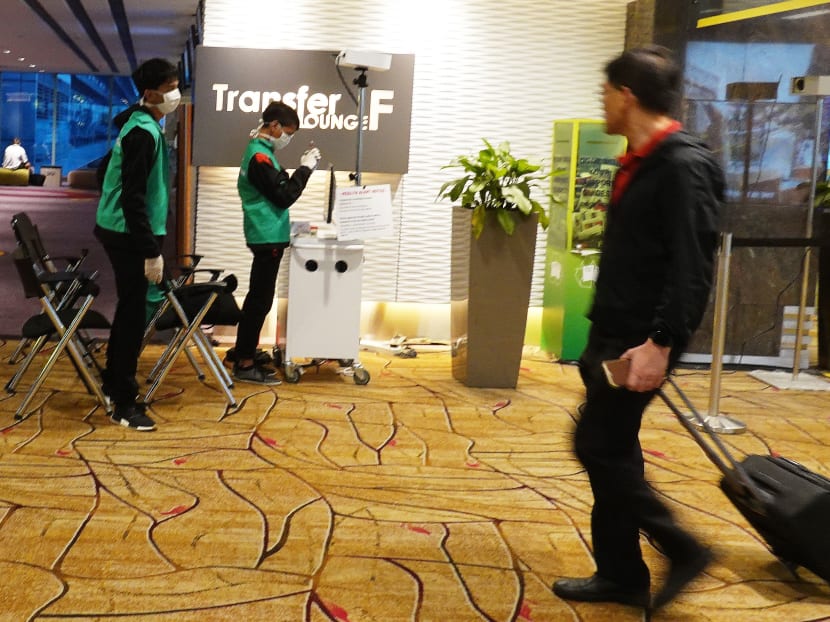 SINGAPORE — The recent spate of Covid-19 infections have raised questions about the effectiveness of temperature screening, but several infectious diseases experts said that it remains a useful precautionary measure, provided it is not carried out in isolation.
Such screening is still able to detect a "significant" number of Covid-19 cases, they told TODAY, because a sizable proportion of patients develop fever, even though not all do.
Concern about the usefulness of temperature screening grew after the discovery of a new cluster of infections linked to a dinner at a Chinese restaurant in Safra Jurong. All the attendees had cleared mandatory temperature checks and travel declarations, the club said.
Another case of a Singaporean man who had visited a gym in Safra Punggol had also passed temperature screening but he was later found to have contracted the coronavirus.
The Safra Jurong cluster is so far the largest in Singapore, with 39 confirmed cases on Tuesday (March 10).
WHY IS IT STILL USEFUL?
Some of the experts said that the incidents show the limitations of temperature screening checks at public spaces to detect Covid-19, given its incubation period of around two weeks.
They included Professor Tikki Pangestu, a visiting professor at the Lee Kuan Yew School of Public Policy and former director of the research policy and cooperation department at the World Health Organization.
He said the screening had shown that it is not particularly efficient at picking up or detecting cases, and infected persons may not have developed symptoms of illnesses but may still be shedding the virus.
Generally, the consensus is that having such a practice across Singapore is still better than nothing, because it would help detect febrile — or feverish — visitors.
Professor Ooi Eng Eong, deputy director of the emerging infectious diseases programme at Duke-NUS Medical School, explained that while temperature checks are not foolproof, they are the "most objective test" that most public spaces can administer and so, should not be discounted.
"There is no one single thing that we can do that will 100 per cent, accurately identify all the Covid-19 cases. Fever screening is probably the most objective test because it's something that we can measure."
It is not possible to measure whether someone has a cough or a sore throat due to the coronavirus, Prof Ooi said.
Speaking to the media last week, Associate Professor Kenneth Mak, director of medical services at the Ministry of Health (MOH), said that there are still a significant number of Covid-19 patients who came down with fever, so temperature screening is still important to help make sense of the situation.
WHAT IS THE WEAK LINK?
Assoc Prof Mak said that the health authorities have recognised that detecting infections through temperature-taking is not fully accurate.
And because such mechanisms that try to make sense of the Covid-19 outbreak at community events are always going to be limited at picking up cases, it still remains important that individuals avoid any social activity if they are not well.
"The 'sensemaking' has to start with the individual," he said.
Health Minister Gan Kim Yong emphasised that temperature screening form part of Singapore's collective measures to tackle Covid-19, stressing the need to look at the various initiatives as "a whole package".
The travel and health declarations recorded at these screening stations, for example, are valuable in helping the authorities track the movement of people and to account for non-fever symptoms such as cough, runny nose or breathlessness.
However, the experts said that these work only if people are socially responsible and are truthful in their declarations.
Prof Ooi said that emphasis has to be placed on this responsibility: "If everyone can have that sense of responsibility to say that they are not feeling well and will stay away from everyone else, we'll be very effective in controlling the disease. You may not need fever screening at that time because people will just own up if they are not well and voluntarily stay away from crowded places."
On Tuesday, Health Minister Gan said that the Safra Jurong cluster arose as a result of social irresponsibility: One person who felt unwell had attended the private dinner and was later diagnosed with Covid-19. The person is believed to have infected 18 others.
IS THERE A NEED TO CHANGE STRATEGY?
Associate Professor Hsu Li Yang, infectious diseases programme leader at the National University of Singapore's Saw Swee Hock School of Public Health, said that the recent increase in infections due largely to the Safra Jurong cluster does not indicate that Singapore's strategy has failed in its entirety.
"However, as the case counts rise in several countries and the prospects of global containment dims, it will be timely to reconsider this strategy for one that is more sustainable while minimising the impact on the healthcare system and economy," Dr Hsu said.
Several other experts agreed, noting that with the coronavirus spreading rapidly worldwide, there may be a need to adjust the strategy so that people may be able live with the reality of the disease — without trivialising the potential harm to societal health.
Dr Leong Hoe Nam, an infectious disease specialist at Mount Elizabeth Novena Hospital, said that Singapore is tackling Covid-19 as if it is a conventional enemy, taking an aggressive stance to try and contain the disease, such as by limiting travel through border controls.
Now, with surges in cases such as the Safra Jurong cluster popping up now and then, the Government might need to treat Covid-19 like an enemy waging "guerrilla warfare", he said. 
"Any spike is a concern. It could show an unrecognised transmission cluster and in a very short time, it can overwhelm the system. The virus attacks us like guerrillas, breaking through and causing infections."
A reworked strategy means allowing normal life to resume, with individuals knowing their responsibility in fighting this outbreak, and healthcare institutions as well as Singapore's border controls still maintaining a high bar of vigilance, Dr Leong added.
DO CASE DEFINITIONS NEED TO CHANGE?
Right now, the health authorities mostly conduct tests on suspect cases.
These people fit the case definitions of persons with pneumonia or severe respiratory infection with breathlessness, and they would have recently travelled to mainland China, Iran, northern Italy, Japan and South Korea.
Tests are also administered on close contacts and those hospitalised with pneumonia.
However, the experts said that for cases that do not meet this definition, there has been some success where tests came back positive as well.
Since last week, the Government had rolled out Covid-19 swab tests at border checkpoints to examine inbound travellers who exhibit fever and other symptoms of respiratory illness but do not meet the clinical definition of a suspect case.
At least one case, an Indonesian man who arrived at Seletar Airport on March 7, was detected to have Covid-19 through this new swab test.
The experts are mostly against adjusting the case definitions, because, as Prof Pang said, doing so would cause confusion and complicate the statistical tracking of cases.
There are some merits to expanding the use of tests instead: Doing so will expand Singapore's detection capability, they added.
Professor Gregory Gray, a infectious disease epidemiologist from Duke-NUS Medical School, said that making testing more readily available is "wise", noting that such self-testing measures, such as those that the Bill and Melinda Gates Foundation is providing in America, is a good strategy for gaining better cooperation from people.
In South Korea, for example, residents can get tested for free at drive-through stations. 
Dr Leong of Mount Elizabeth Novena Hospital said that testing and screening should be provided at general practitioner clinics and the more than 900 Public Health Preparedness Clinics scattered across the island.
IS SINGAPORE ABLE TO HANDLE MORE TESTS?
Addressing the question of aggressive Covid-19 testing, Assoc Prof Mak of MOH said on Tuesday that Singapore has already adopted such a stance.
Across all the labs here, more than 21,000 tests have been done since the start of the outbreak in January, which works out to around 600 to 700 tests each week.
"We are prepared to scale them up — we have the capacity to do as much as 2,000 tests in a day," Assoc Prof Mak said. Each test costs around S$260, he had said before.
"We are looking also at new technologies to see whether it could allow us to improve our diagnostic capabilities and we look forward to commercially available point-of-care testing. (This is) rapid testing that would allow Singapore to bring Covid-19 testing to the forefront, into primary care, and into the community." he said.