Crowds throng Ramadan bazaars after two-year hiatus; jubilant mood despite smaller scale
SINGAPORE — The Muslim fasting month of Ramadan might only be starting on Sunday (April 3), but the two bazaars in Kampong Gelam and Geylang Serai that typically feature during this period were awash in activity after a two-year hiatus due to the Covid-19 pandemic.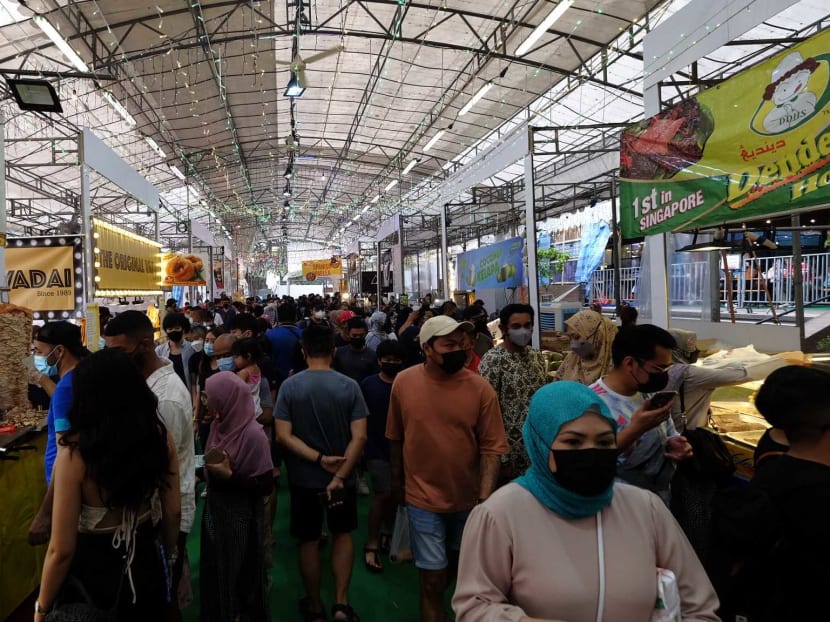 The iconic bazaars at Kampong Gelam and Geylang Serai have returned after a two-year hiatus due to Covid-19
This year, the bazaars are being held on a smaller scale
Nevertheless, both visitors and vendors said they do not mind it as it is better than nothing
One visitor said bazaars are part and parcel of Ramadan and Hari Raya Aidilfitri festivities
SINGAPORE — The Muslim fasting month might only be starting on Sunday (April 3), but the two bazaars in Kampong Gelam and Geylang Serai were already awash in activity on Saturday, as they returned from a two-year hiatus due to the Covid-19 pandemic.
When TODAY visited Geylang Serai around 3pm, suppliers were rushing about carting deliveries of assorted meats, kuehs and other inventory, while carpenters were putting the finishing touches on the stalls in anticipation of the official opening of the Geylang Serai Hari Raya Shopping Experience on Sunday.
Vendors who had already completed their preparations were already welcoming customers who wanted to beat the crowds that steadily increased by the hour.
By 6pm, a line had stretched out to the junction of Geylang Serai and Geylang Road as people queued to enter the bazaar located at Wisma Geylang Serai community centre.
This year, there is a cap of 600 visitors at any one time within the bazaar, in line with safe distancing rules.
Over at Kampong Gelam, the smell of grilled meats and other savoury scents filled the air as the vendors at event company Laloolalang's WalkThru Souq 2022, which began on Friday, busied themselves serving hungry customers when TODAY arrived in the evening. 
The mood was jubilant in both locations. Couples shot their obligatory food photos of both traditional and fusion fare for social media before wolfing down their purchases, while toddlers sat on the shoulders of their parents as they jostled through the crowds.
And while both bazaars are being held on a much smaller scale this year, Singaporeans from the Malay community told TODAY that they did not mind it, as they felt it was better than nothing.
Pre-Covid, the bazaar at Geylang Serai would typically sprawl along a good portion of Geylang Road. This year, it only takes up a space within Wisma Geylang Serai and outside of it, which allows it to accommodate eight food stalls and 32 retail stores.
After Covid-19 put a dampener on both Ramadan and Hari Raya Aidilfitri festivities over the past two years, it was good to be able to soak in the festive spirit again, said visitor Ms Roslinda Rolsan, 39.
"Visiting pasar malams (bazaars) has been a tradition all these years," said Ms Roslan. "The feeling of (celebrating Ramadan) just wasn't there the past two years without it," said the homemaker, who was at Geylang Serai with her husband and children.
Another visitor to Geylang Serai, Ms Salbiah Abdullah, said that having the bazaars was a good way to "uplift the spirits" of not just the Malay community, but those from other races.
"By visiting them, they can really feel the joy of the celebrations," said the 44-year-old, who works in sales.
And while the atmosphere at the bazaar at Kampong Gelam is not as "kecoh", or hectic, students Hazrul Harun, 24, and Fatimah Ali, 25, said the event still brings back good memories.  
"We take Ramadan and Hari Raya very deep into our hearts. This is one of those events that bring the whole community together," said Mr Hazrul. 
Ms Fatimah added that the Malay community is so small, they are bound to run into people they know at the bazaars, which adds to the sense of camaraderie.
RELIEVED TO SEE CROWDS
 
While the vendors at Kampong Gelam's bazaar were too busy dealing with customers to speak with TODAY by the time we visited, both veteran and first-time vendors at Geylang Serai were generally optimistic, though some were anxious as well.
Ms Noormadinah Mohideen Pillay said she was both excited and anxious running a booth at a bazaar for the first time.
The 33-year-old henna artist of Sketchna Artistry by Madina said she was not sure how the turnout would be with crowd control measures in place, and whether her customers would be allowed to queue outside her booth.
These would have some impact on her business, she said. Nevertheless, she views her booth at the bazaar as a good stepping stone to further her business.
"No matter how hard it is, I want to give it a try," she said
Similarly, the director of products for the OurPasar online halal grocery store said this was a good time to launch his company's Rancho Meat brand as Muslims have been deprived of visiting a Ramadan bazaar for two years and will likely come out in force this year.
"It's really a relief to see so many people together for over two years, so we're really excited," said Mr Desmond Lee, 52, who was giving out samples of the brand's grilled marinated meat outside its booth.
Mr Abdullah Akhtar, who has been running the Islamic Arts & Carpets booth at every edition of the bazaar for around two decades prior to Covid-19, said the scale of this year's bazaar may be smaller than before, but it is a "good start".
Given that the coronavirus has not been eliminated, he said society should progress with returning to normalcy slowly. "Don't open too much. Slowly. Next year, who knows?"
Indeed, Associate Professor Faishal Ibrahim, the lead advisor of Wisma Geylang Serai, said they will be monitoring the crowd situation every day.
"We want to make sure that when (visitors) are in, they feel safe and they have a good experience," said the Minister of State of Home Affairs and National Development after touring the bazaar on Saturday.
Depending on how the situation develops over the next few days, he said there is a possibility the visitor cap could be adjusted. 
In any case, he said Singapore has come quite far from where it was when Covid-19 started.
Aside from a more prepared and aware community, he said it is now also one that appreciates what it used to have.
"Today is something they (visitors to the bazaar) have been looking forward to, and they are having a good time with their family and friends. I'm happy that we are able to bring this experience to the community, and I hope we can share this joy with the rest of Singapore for the rest of the period of Ramadan," he said.