Customers can tap PayNow to pay bills, receive money from companies from Aug 13
SINGAPORE — From August 13, a popular peer-to-peer funds transfer service will be extended to businesses, allowing companies to pay and receive money instantly from other firms and customers.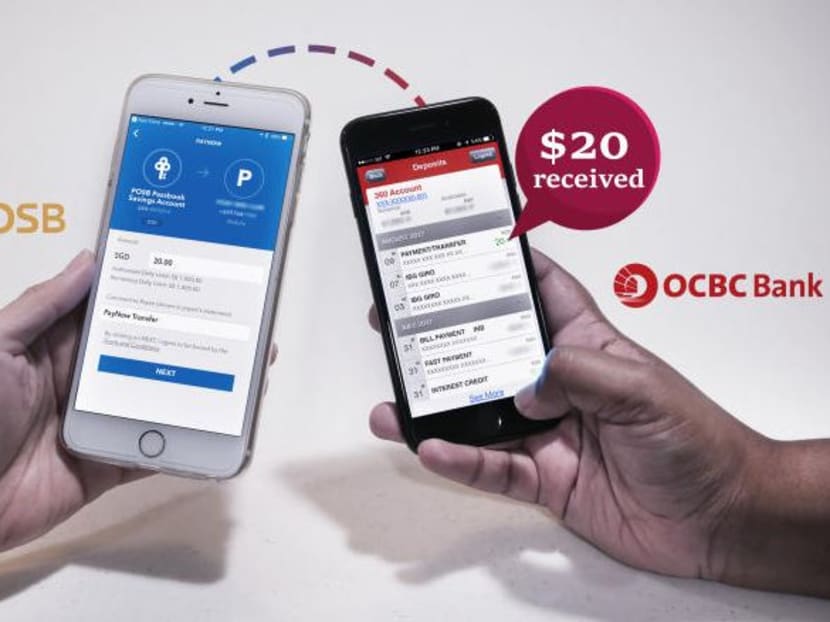 SINGAPORE — From August 13, a popular peer-to-peer funds transfer service will be extended to businesses, allowing companies to pay and receive money instantly from other firms and customers.
PayNow Corporate could mean hassle-free transactions at retail shops and when paying taxes, hospital fees and phone bills, for instance.
For a start, those who link their NRIC numbers to their bank accounts before the disbursement of the one-off SG Bonus at the end of the year "can expect to receive the money earlier via PayNow" than direct bank crediting or cheques, said Education Minister Ong Ye Kung on Wednesday (June 20).
Mr Ong was launching PayNow Corporate at the Association of Banks in Singapore (ABS) annual dinner at Marina Bay Sands.
PayNow enables customers of participating banks to transfer money to others using only their mobile numbers or NRIC numbers.
Since its roll-out last year, adoption has been swift. More than 1.4 million parties are registered, and nearly S$900 million has been transferred using PayNow.
PayNow Corporate will be available to businesses and corporate customers of seven participating banks – Citibank, DBS Bank/POSB, HSBC, Maybank, OCBC Bank, Standard Chartered Bank and United Overseas Bank (UOB), said the ABS in a statement.
Businesses should link their bank accounts to their Unique Entity Numbers (UEN), which merchants can then display at their payment counters for consumers to make direct payments to.
This will "do away with the need to know the bank and account number of the businesses and corporates when transferring funds", said the ABS.
Businesses can also generate a QR Code to receive payments. Consumers can make payment in three steps – scanning the QR code, verifying the name of recipient and amount to be paid, then pressing "send" for the money to be sent securely and instantly.
Customers will need to update their bank app to access this function, which will be available on both Apple iOS and Android smartphones.
PayNow Corporate will be integrated with the SG QR Code – a standardised national QR code that will take effect later this year. It was first announced by Prime Minister Lee Hsien Loong during the National Day Rally last year.
All service providers, including e-wallet providers, will have to adopt the SG QR for scan-and-pay. With this, consumers can scan a single QR code, regardless of the e-payment platforms they use.
With the SG QR and an enhanced PayNow service, "any merchant can incorporate its UEN into SG QR, and a customer simply needs to scan it with the mobile app in his smart phone to effect a payment transfer from the customer's to the merchant's bank account," said Mr Ong.
"This means every departmental store, neighbourhood shop, hawker stall, or school student soliciting for donations to charity can accept scan-and-pay e-payment," he said.
While the scanning of QR codes for payments has already taken off in a big way in China, a difference is that Singapore consumers will have the payment deducted directly from their bank account and "not through an e-wallet".
SOME ARE ALREADY DOING IT
Businesses and organisations can use PayNow Corporate for salary crediting, insurance payouts or when disbursing cash awards, said Mr Ong.
In the public sector, the Ministry of Education has already piloted the disbursement of Edusave Award monies to students via PayNow.  After receiving their certificates on the stage, the students receive SMSes notifying them that the award money has been credited into their bank accounts.
And since March this year, eligible Central Provident Fund members over 55 years old have been able to receive their lump sum withdrawals using PayNow.
In the private sector, some companies have also jumped on the bandwagon ahead of the new feature's official rollout.
Insurers like FWD Insurance and AIG Singapore recently began allowing customers to receive claims payment through PayNow.
Standard Chartered Bank's head of transaction banking (Singapore) Priscilla Soh said cheque usage among corporate clients dropped by 17 per cent between 2016 and last year, while usage of the Fast And Secure Transfers (FAST) electronic funds transfer service increased by 66 per cent.
"We expect strong adoption of PayNow Corporate by our corporate clients of all sizes," she said.
SMALL AND MEDIUM COMPANIES SHOULD BENEFIT
The speed and convenience of PayNow Corporate "should benefit SMEs, start-ups and those in the gig economy the most as it will ease their cash flow and enable them to collect and make payments more efficiently", said Mr Navinder Duggal, group head of cash product management at DBS Bank.
Agreeing, president of the Association of Small and Medium Enterprises Kurt Wee said companies with a front-end presence such as retailers and restaurants are likely to adopt it first.
The feature has the potential to "shorten the payment cycle", improve efficiency and ease the demand for manpower, Mr Wee said.
Professor Kevyn Yong, dean of the ESSEC Business School Asia Pacific, expects telco companies and hospitals to come on board, as they already have customers' NRIC and mobile numbers.
But customers might not be comfortable giving their personal details to some private companies, and some may be "confused" by the multiple platforms, he said.
The benefits may also not be as clear to cash-strapped companies, which could see the platform as an added burden to ensure accountability, said Prof Yong.
PayNow Corporate offers opportunities for companies to create new loyalty programmes for customers, said payment systems company ACI Worldwide's strategy director (Asia-Pacific & Japan) Rachel Hunt.
"Leveraging PayNow and real-time payments will enable corporates to offer greater customer experience…(For example), consumers could pay their telephone bill easily and in real-time while reaping additional rewards," she said.