Cutting landfill waste, mandating cleaner vehicles among slew of goals unveiled in Singapore Green Plan 2030
SINGAPORE — The Government aims to reduce the amount of waste sent to landfill by 20 per cent by 2026, and will require all new car registrations to be of cleaner-energy models by 2030.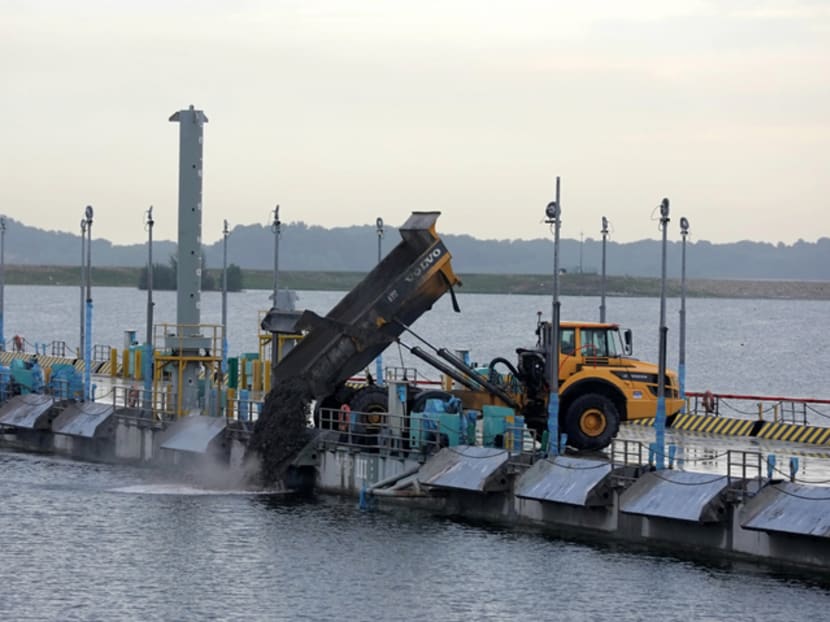 The Green Plan 2030 includes "five key pillars" which outline targets for Singapore to achieve
Led by five ministries, the comprehensive plan aims to strengthen Singapore's economic, climate and resource resilience, as well as improve the living environment of Singaporeans, among other goals
The ministries will be engaging the public this year to seek their views
SINGAPORE — The Government aims to reduce the amount of waste sent to landfill by 20 per cent by 2026, and will require all new car registrations to be of cleaner-energy models by 2030.
These ambitious targets are set out in the Singapore Green Plan 2030, a multi-ministry roadmap launched on Wednesday (Feb 10) to make Singapore more environmentally sustainable over the next 10 years.
The five ministries spearheading the movement — the ministries of Education, National Development, Sustainability and the Environment, Trade and Industry, and Transport – said in a joint press release that they will actively involve the public and other partners as part of a national engagement process.
"For a start, we will embark on a series of Green Plan Conversations this year, hosted by the ministers overseeing the Green Plan, to seek the views of Singaporeans and to explore potential partnerships," the ministries said.
The press release added that other engagements will also be planned through the year, and any ideas generated can be taken up through existing or new collaborative platforms. One platform is the Alliances for Action, which consists of partnerships between industry players and the Government.
The S$50 million SG Eco Fund, announced in March last year, will also support community-led projects that advance environmental sustainability in Singapore, said the ministries.
Prime Minister Lee Hsien Loong said that by 2030, Singapore will be greener, with more land set aside for nature parks.
"We will deploy more solar power, and tap more green energy. You will see more electric vehicles on the roads, and an expanded public transport network," he said in a Facebook post.
"We will recycle more. Schools will become carbon neutral, and students will learn how they can make a difference.
"We will help SMEs go green, and promote green R&D activities. We will do all we can to combat climate change."
WHY THIS MATTERS
On Feb 1, Parliament declared climate change a global emergency.
Minister for Sustainability and the Environment Grace Fu had said then that Singapore Green Plan 2030 will be a major policy priority for this Government. Under it, agencies will set "ambitious and concrete" targets on a sectoral basis, she added.
The ministries said on Wednesday that the comprehensive plan will "strengthen Singapore's economic, climate and resource resilience, improve the living environment of Singaporeans, and bring new business and job opportunities".
In the process of making Singapore a greener and more liveable home, the ministries said the plan will influence all aspects of Singaporeans' lives, "from how we live to how we work, and play".
WHAT IS THE PLAN?
The movement will consist of five key pillars. Here is an explanation of what each pillar is about, highlighting some of the targets, including newly announced ones. Some targets were announced previously.
City in Nature
What is it? Creating a green, liveable and sustainable home for Singaporeans
How?
Doubling the annual tree planting rate between 2020 and 2030, to plant one million more trees across Singapore

Increasing nature parks' land area by over 50 per cent from the 2020 baseline

Adding 1,000ha of green spaces by 2035
Sustainable Living
What is it? Making the reduction of carbon emissions, keeping the environment clean, and saving resources and energy as a way of life in Singapore
How?
Working towards the 2030 goal of reducing the amount of waste to landfill per capita per day by 30 per cent by introducing a new 20 per cent reduction target by 2026

Reducing household water consumption to 130 litres per capita per day by 2030

Working towards having 75 per cent of all trips to be on mass public transport by 2030, up from 64 per cent today

Tripling cycling path networks to 1,320km by 2030 from 460km in 2020

Achieving a two-thirds reduction of net carbon emissions from the schools sector, and having at least 20 per cent of schools be carbon neutral by 2030 [New]
Energy Reset
What is it? Using cleaner energy and increasing energy efficiency to lower Singapore's carbon footprint
How?
Requiring all newly registered cars to be of cleaner-energy models from 2030 [New]

Expanding network of electric vehicle charging points from 28,000 to 60,000 by 2030 [New]

Greening Singapore's electricity supply by tapping cleaner electricity imports

Quadrupling solar energy deployment by 2025

Raising sustainability standards of buildings through the next edition of the Singapore Green Building Masterplan [New]
Green Economy
What is it? Seeking green growth opportunities to create new jobs and transform industries
How?
Putting in place a new Enterprise Sustainability Programme to help local enterprises adopt sustainability practices [New]

Seeking new investments that are among the best-in-class in carbon and energy efficiency
Resilient Future
What is it? Building up Singapore's climate resilience and enhancing food security
How?
Dedicating S$5 billion to coastal and drainage flood protection measures

Producing 30 per cent of nutritional needs by 2030 by growing Singapore's agri-food industry

Moderating the rise in urban heat with innovative technology such cool paint and increasing greenery
More details on the Green Plan will be released at the upcoming Budget 2021 on Feb 16, and the subsequent Committee of Supply debates in Parliament.