Deep tunnelling works for Cross Island Line will be tough but environment should still be priority: Experts
SINGAPORE — Building the Cross Island Line tunnel 70m below ground — the height of a 25-storey public housing block — comes with added challenges such as higher pressure from the soil, increased construction costs and a higher risk to worker safety, experts said.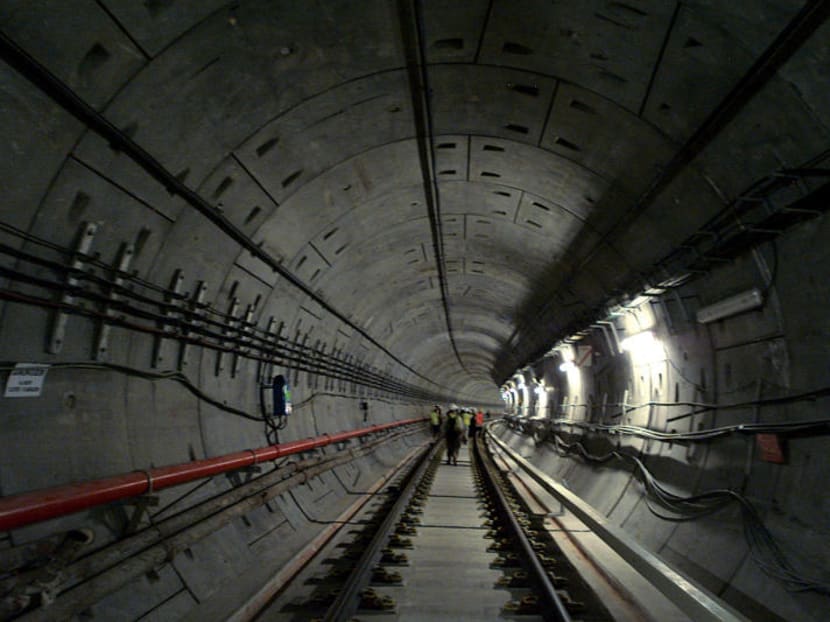 SINGAPORE — Building the Cross Island Line tunnel 70m below ground — the height of a 25-storey public housing block — comes with added challenges such as higher pressure from the soil, increased construction costs and a higher risk to worker safety, experts said.
Though the deeper dig will not be easy, experts believe that Singapore has the skills and experience with previous underground projects to pull off this engineering feat, they added.
They added that it is imperative that engineers of the project maintain environmental considerations as a top priority, by carrying out construction work in a sensitive manner and designing stations as sustainably as possible.
Their comments come after the Ministry of Transport (MOT) said earlier this week that it will be tunnelling under the Central Catchment Nature Reserve for the Cross Island Line, at a depth of 70m. This is more than twice the depth of the average underground MRT tunnel, which is about 30m below ground.
Dr Hartono Wu, a civil engineering professor at Singapore Institute of Technology (SIT), said that tunnelling deeper into the ground presents challenges that have not been encountered in constructing other train lines here. 
These include having to deal with more soil above the tunnel, which adds stress to it, and higher ground water pressure.
As part of the plan, 2km of the route will run beneath the Central Catchment Nature Reserve and another 2km under the Singapore Island Country Club's Island Golf Course and Pan Island Expressway.
Dr Wu said that the Cross Island Line tunnelling route will likely go through the Bukit Timah Granite geological formation, which is known to be "very strong rock". There could also be existing fault lines, fractures and high rock pressure. All of this makes the work of building the tunnel more challenging and dangerous.
Engineers will also have to ensure that wastewater from the soil does not enter the structure during the construction, he added. 
Mr Chandrasegaran Sundararaju, the president of the Geotechnical Society of Singapore, said that at such a depth, there is also a higher risk of fire and ventilation issues.
To mitigate these risks, there could be cross passages at close and regular intervals to allow for safe evacuation if needed, he said. A cross passage is a short tunnel that connects two parallel tunnels, so that people can move from one tunnel to another during an emergency.  
Mr Chandrasegaran added that Singapore has no shortage of expertise in underground construction and can certainly overcome potential safety concerns. 
"Singapore is gaining experience in deep tunnelling operations (such as) from our deep tunnel sewer tunnelling projects, and this experience will be very useful," he said. 
Agreeing, Dr Wu said that the challenges faced in construction can be overcome by "proper engineering planning and design, sensible soil investigations, appropriate contingency and mitigation plans during construction, as well as thoughtful and innovative construction methods that will minimise the impact to the surface environment". 
Even at 70m below ground, the Cross Island Line tunnel will not be the deepest in the world. The deepest metro line is the Sviatoshynsko–Brovarska line in Kiev, Ukraine, whose deepest station lies 105.5m underground. 
The deepest rail tunnel can be found in Switzerland: The Gotthard base tunnel runs 2.3km under under a mountain at its deepest point. 
ENVIRONMENTAL IMPACT CANNOT BE IGNORED 
The decision to tunnel under a nature reserve was made after six years of public engagement, including with nature groups who raised concerns about the impact of construction activities on wildlife and a loss of vegetation and habitat resources.
Dr Darren Chian Siau Chen, an assistant professor of civil and environmental engineering at the National University of Singapore (NUS), said that the catchment reserve is a "sensitive area" and it should not be treated like an urban project. 
"Builders familiar with working in an urban environment may have the perception that the damage to roadways, drains and services can be easily restored," he said.
"However, unlike working in an urban area, a catchment reserve affected can have a permanent consequence. Proactive attention must be placed in minimising impact and pollution to the environment."
Builders must not assume that it is okay to damage the environment with the mindset that they can put it back to its original state at the end of the construction, he added.
A key reason why the direct tunnelling option was chosen by MOT was that it will reduce trips by about six minutes compared with the skirting option. Thus in the longer term, direct tunnelling is a more environmentally friendly option because of lower energy consumption, MOT had said. 
Digging under the nature reserve may also prove to be less of an engineering challenge than tunnelling through urban areas, Dr Wu said.
In particular, engineers have to carefully watch and control ground movements when doing tunnelling works in urban areas as there is potential impact on existing buildings, utilities and services, and infrastructure located in close proximity to the underground development.
Moreover, Dr Chian said that the rocks that are deeper underground are stronger and will be better in general for construction stability.
ECO-FRIENDLY LIGHTING 
At 70m below ground, natural light will be scarce. But even so, experts said that the builders of the Cross Island Line should try to rely more on sunlight than electricity to illuminate the upcoming MRT stations.
Dr Chien Szu-Cheng, assistant professor of engineering at SIT, said that for the upper part of the stations, which consists of the ground entrance and escalator space, sunlight could be used to reduce the need for artificial lighting.
For parts that are deeper underground such as the gantries and train platforms, a solar tube — which are cylinders that can transmit daylight — can be used. 
"However, it will be challenging to utilise such a device for the deep underground space which is 70m, while taking into consideration the budget, light transmission efficiency and size of the device," Dr Chien said.
Other options to reduce energy consumption include using high-performance LED lights that can achieve high energy efficiency. 
A "passive design strategy", where the walls near escalator spaces are made of a reflective coating, would also better distribute light around the space, he said.