Dementia affecting more people under the age of 65
SINGAPORE — Once regarded as a condition affecting mostly those aged over 65, a growing number of younger patients have been diagnosed with dementia in recent years.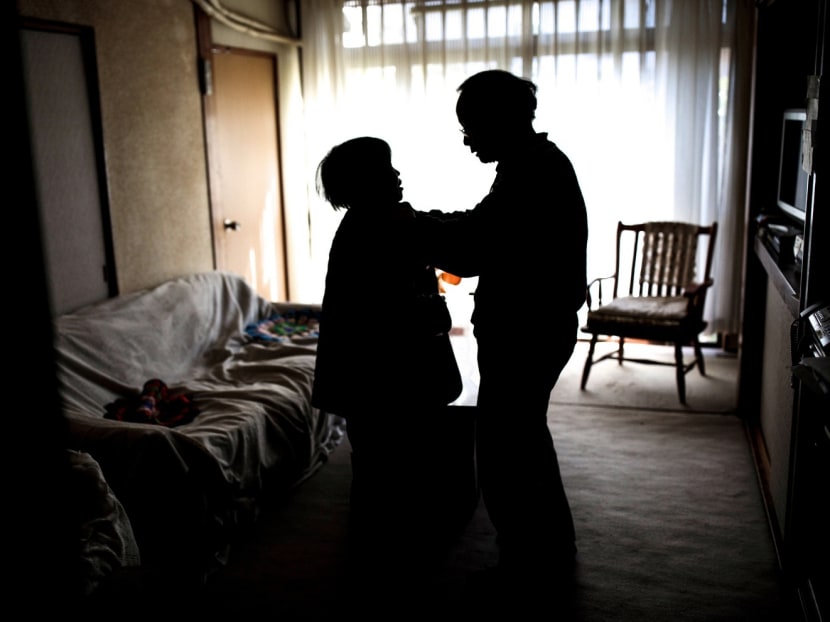 SINGAPORE — Once regarded as a condition affecting mostly those aged over 65, a growing number of younger patients have been diagnosed with dementia in recent years.
Last year, the National Neuroscience Institute (NNI) Neuroscience Clinic (Tan Tock Seng Hospital Campus) saw 179 patients aged 65 and below for young-onset dementia, approximately a fivefold increase from 2011.
Singapore has one of the fastest-ageing populations in the Asia-Pacific region, and the number of people living with dementia is expected to double by 2030. The term young-onset dementia is used to describe dementia that occurs in patients aged 65 and below. The most common form is Alzheimer's disease, and some of the youngest patients diagnosed with it are in their 40s, said Dr Adeline Ng, a consultant at NNI's Department of Neurology.
"Due to the younger onset age of the disease, many patients may still be in employment and may have young families. They are therefore likely to face significant social challenges and lifestyle changes brought on by high economic burdens," she added.
Mrs Jenny Lau (not her real name), 60, has young-onset dementia. Diagnosed with Alzheimer's at 55, the former senior management executive can no longer articulate her needs or perform simple tasks. She started displaying memory loss years before the diagnosis and was referred to the NNI by a doctor treating her for diabetes.
The rising trend in young-onset dementia cases here is similar to some Western countries such as the United States and United Kingdom, and is likely due to an increased awareness and diagnosis of the condition, said Dr Ng.
In addition, cognitive impairment may now be detected earlier and more effectively with better screening methods. For instance, a new screening tool developed by the NNI, known as the Visual Cognitive Assessment Tool, allows doctors to use visual images that transcend cultural, language and education barriers to detect the early signs of dementia.
The rising incidence of lifestyle diseases may also be driving numbers up. About one in nine adults here has diabetes and about one in five has hypertension, according to the 2010 National Health Survey.
While genes may play a part, some chronic diseases are linked to a type of dementia known as vascular dementia, said Dr Charles Siow, a neurologist at Mount Elizabeth Novena Hospital.
The second most common cause of young-onset dementia, vascular dementia can develop due to small, "silent" strokes that develop over time because of risk factors such as diabetes, high blood pressure and high cholesterol, said Dr Ng.
A new study by Bournemouth University in the UK suggests that modern environmental factors could also contribute to young-onset dementia.
In the study, published in Surgical Neurology International in 2015, researchers looked at 21 Western countries between 1989 and 2010, and found that dementia was affecting adults a decade earlier than it used to. They identified issues such as the increasing use of petrochemicals in air transport and motor vehicles, insecticides, and the rise of background electromagnetic fields as potential risk factors.
When dementia affects a younger adult, the symptoms may not always be similar to those in elderly patients. For example, younger patients with Alzheimer's disease and frontotemporal dementia tend to exhibit fewer memory problems, which are predominantly seen in the elderly, said Dr Ng.
The latter condition is the third most common cause of dementia in younger patients, affecting mainly behaviour and personality.
"Younger patients may have more problems with language, problem-solving or planning, or recognising faces, objects and places. They may also exhibit more behavioural problems," said Dr Ng.
According to her, certain forms of dementia like Alzheimer's disease also progress faster in younger patients than elderly patients, and they tend to experience a more rapid cognitive decline as well as earlier and more severe behavioural changes.
LACK OF PUBLIC AWARENESS ABOUT DISEASE
Once a quick-thinking senior management executive, Mrs Lau can no longer call her two sons by their names or recognise her friends. Even her husband of 30 years, a 62-year-old freelance consultant, cannot tell for sure if she remembers his name.
Young-onset dementia has affected the parts of Mrs Lau's brain governing memory, cognitive abilities, speech, judgment, reasoning and sense of restraint.
"At work, she used to manage a department on her own. Now she doesn't know her ABCs and 123s, can't tell left from right, or even play a simple game of picture bingo," Mr Lau said.
Over the last five years, he learnt to care for her through trial and error. "She once helped herself to a bottle of supplements and consumed 20 to 30 tablets by the time I discovered it," he said. "We rushed her to the emergency department. Another time, she drank mouthwash, not understanding that she should gargle and spit it out. I learnt many lessons along the way before finally realising she has to be eyeballed 24/7, even at night."
Adding to caregiving challenges is the lack of public awareness about the disease in younger adults. After her diagnosis in November 2012, Mrs Lau's behaviour changed drastically. By 2014, she would sometimes stare at or scold people around her, which almost landed her in public fights.
"Despite my profuse and sincere apologies and explanation, some people will not excuse her behaviour. If she was older, people may be more understanding, but many don't know that the condition can occur in younger adults too, so the allowance is not there," said Mr Lau.
There is currently no cure for the condition. An early diagnosis and treatment may slow down the symptoms but will not halt the progression of the disease, said Dr Ng. Once a diagnosis is made, the patient may reach a state where he or she can no longer function independently within a decade, said Dr Siow.
There are cognitive enhancement programmes for young-onset dementia patients that provide mental and physical stimulation, such as the NNI-Alzheimer's Disease Association Esteem programme and NNI Cognitive Assessment and Rehabilitation Programme.
Mr Lau still hopes for a miracle. "Ironically, even though my wife is now with me day and night, I miss her tremendously. The hardest part for me in this journey is the loneliness. I can no longer share my sadness and happiness with her, and no one else, not even my children, can fill this void," he said.