Despite campus security, students tell of encounters with voyeurs, intruders in hostels
SINGAPORE — Universities here have various security measures in place on campus, but TODAY's interviews with about 20 students found that safety is a concern, and some say sexual offences are not uncommon, especially in the hostels.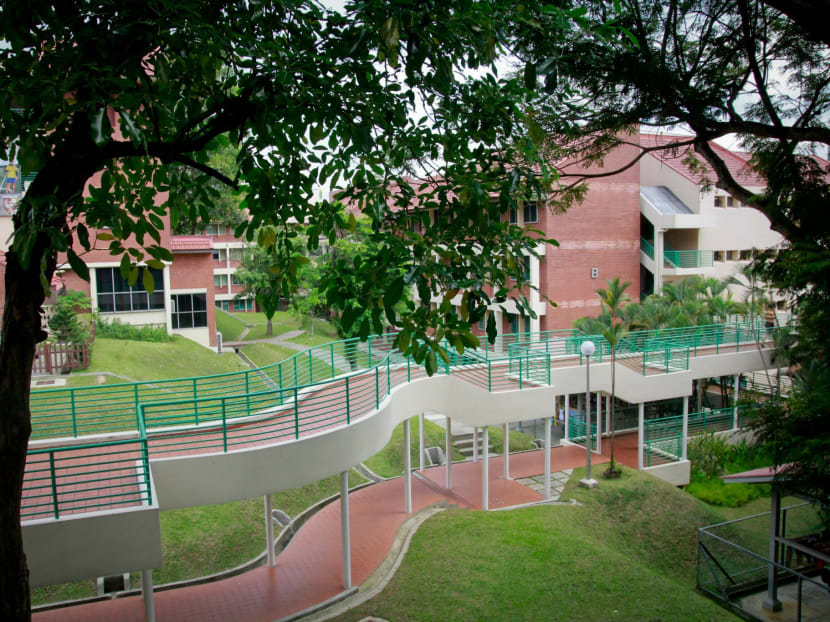 SINGAPORE — Universities here have various security measures in place on campus, but TODAY's interviews with about 20 students found that safety is a concern, and some say sexual offences are not uncommon, especially in the hostels.
Even as Singaporeans were hotly debating the voyeurism case that undergraduate Monica Baey, 23, made public on Instagram late last week, police confirmed that they arrested a 19-year-old teen for allegedly taking photographs of a male student showering in a residential hall at the Nanyang Technological University (NTU) on Sunday (April 21).
Separately, documents of past cases on the online student portal of the National University of Singapore (NUS) showed that there were 26 cases of sexual offences brought before the university's disciplinary board in the past three years alone.
TODAY reached out to the general student population at the various universities with on-campus living.
It also interviewed one alumnus and six undergraduates of NUS who claimed to be victims of sexual misconduct such as voyeurism and harassment. All did not want to be identified. Three of them provided TODAY with screenshots of emails they exchanged with their professors and university officials or the reports they filed on the incidents.
It is unclear if they are among the 26 cases listed in the documents of past cases, as these documents do not include victims' identities.
IN THE SPOTLIGHT: HOSTEL SECURITY
Some of the universities here, such as NTU and Singapore Management University (SMU), told TODAY that they have closed-circuit surveillance cameras and security patrols on campus grounds.
An NTU spokesperson added that campus security is stationed at every hall from 9pm to 9am and security officers also regularly patrol the halls.
But some students said they were unsure how effective these measures are.
Miss Ng You Qian, 24, an undergraduate at NUS who stayed in Tembusu Hall for two years, said: "I don't feel safe. If I had children, and I know that these instances are happening, I wouldn't want them to stay in the hostels."
Another undergraduate Adena Peh, 22, said: "Since there are many cases like this happening and it's so unexpected, you never know if you're the next victim."
Students told TODAY that some of the hostels or residential halls in NUS do not have restricted card access to toilets.
Over at NTU, shared toilets along the corridors of such halls are accessible only by key, though toilet doors are sometimes kept ajar.
At the Singapore University of Technology and Design (SUTD), there are security patrols and closed-circuit surveillance systems on campus, and card access to toilets is restricted to residents of the floor, the university said.
SMU has similar measures. It said that access points of the buildings are also electronically locked at night and are manned by security personnel round the clock.
TODAY has asked NUS about its campus security measures.
INTRUSIONS, SEXUAL ADVANCES — MALE STUDENTS NOT SPARED 
An NUS alumnus, Andy (not his real name), 28, told TODAY that in 2016, a male student tried to film him showering. He later found out that there were videos of other male students showering in his hall that had been posted online.
He informed NUS and the police about the incident and provided the links to the uploaded videos, but until today, some of the videos are still available online, he said.
Undergraduate Kyle (not his real name), 24, said he took matters into his own hands after he suspected that a student staying on his floor was secretly filming people in the shower at a residential college.
He and a group of students planted a camera outside the cubicles and managed to catch the voyeur in action. They confronted him and the culprit admitted to it.
One of Kyle's fellow residents filed a report against the culprit with NUS.
The university's disciplinary board ordered the voyeur to write an apology letter, but only to the resident who lodged the report, even though the video collection in the culprit's phone revealed that "everyone who showers in that toilet was affected", Kyle said.
A few of the victims told TODAY about students who barged into their rooms while they were asleep.
One of them, Jane (not her real name), 24, said she had left her room unlocked one night. When she woke up, she learnt that a male student from her hall had tried to pull off her roommate's shorts in the night.
The intruder had also accessed Jane's phone and sent to himself messages she had exchanged with her boyfriend and ex-boyfriend.
MORE SUPPORT FOR VICTIMS NEEDED
In a letter to university alumni on Tuesday, Professor Tan Eng Chye, president of NUS, apologised for the way the school handled Miss Baey's case and acknowledged that the university "fell short in providing her support from the start".
Indeed, a common complaint among the victims interviewed was the lack of communication and sometimes impersonal treatment from officials in NUS.
"(The staff member) made me feel like I was making a mountain out of a molehill," said Jill (not her real name), 21, another victim.
In 2017, she was taking a nap in her room in Eusoff Hall when a male student barged into her room and insisted on speaking to her on her bed, refusing to leave.
"The general attitude just made me feel helpless, like nothing could be done," she said.
As for Jane and her roommate, they met up with campus security to write their testimonies, but she said that "NUS never informed or updated us" after that. "Whatever we heard happened (from the investigation) was from word of mouth."
Some of the victims did not know if there were sanctions for the perpetrators, while others were notified through a phone call.
Another victim, Sharon (not her real name), 20, said that after she filed a report against a male student who had sexually harassed her many times, "there really was no follow-up".
"They simply told me they removed him from (a university trip) and that was it."
PAST CASES, POLICIES IN PLACE
TODAY sent queries to NUS, NTU, SMU and SUTD last Friday asking about the number of reported cases of voyeurism they have received over the past five to 10 years, and what actions the universities take in such cases.
They have not yet responded.
Based on the documents of past cases raised to the NUS disciplinary board in the last three years, of the 26 sexual offences:
17 were cases of voyeurism, of which 16 involved filming or taking photographs

five cases were related to outrage of modesty

three involved sexual harassment
Even though some were committed by repeat offenders, none of the cases resulted in the culprits being expelled from NUS.
In most cases, the offenders were suspended for one to two semesters, issued an official reprimand, made to attend mandatory counselling, required to submit a statement of reflection or apology, and fined up to S$1,000.
The universities provide some general guidelines, on their websites and student portals, on how they deal with offences on campus.
NTU's student code of conduct, for example, lists sexual harassment and "unauthorised recording without knowledge" as examples of misconduct.
On NTU's website, it states that penalties for breaches of the code of conduct can include a letter of warning, a permanent record, counselling, or any other penalty that the director of students may deem fit.
A web page on the SMU student services portal states that breaches of the university's code of conduct could trigger a warning, a fine, disciplinary probation, suspension or expulsion.
On Wednesday, SMU president Lily Kong sent an email to students to reassure them that "every complaint of sexual misconduct will be investigated in a fair and objective manner".
Professor Kong was named on Monday as a member of a committee convened by NUS to review the disciplinary process and support frameworks relating to sexual misconduct.
A spokesperson for NTU said that the university strengthened its policies against harassment in January this year, and that it will roll out an online module on anti-harassment in July to all freshmen and student organisers of orientation programmes.
And last November, the NTU Students' Union created a task force called the Empowerment Workgroup which aims to tackle social issues including sexual harassment.
Earlier in the week, Education Minister Ong Ye Kung said that NUS' penalties in Miss Baey's case were "manifestly inadequate" and tasked all universities here to review their frameworks when handling cases of sexual misconduct.
The universities contacted by TODAY said that they are in the process of re-examining their policies and procedures related to this.
On Thursday, NUS held a town hall for its students and staff members to discuss this same matter.