Despite looming deadline, 34,000 private-hire car drivers yet to obtain vocational licence
SINGAPORE — With less than three months before the deadline, 34,000 drivers — presently allowed to provide private-hire car services on a temporary concession from the authorities — have not passed the vocational licence test, the Land Transport Authority (LTA) said.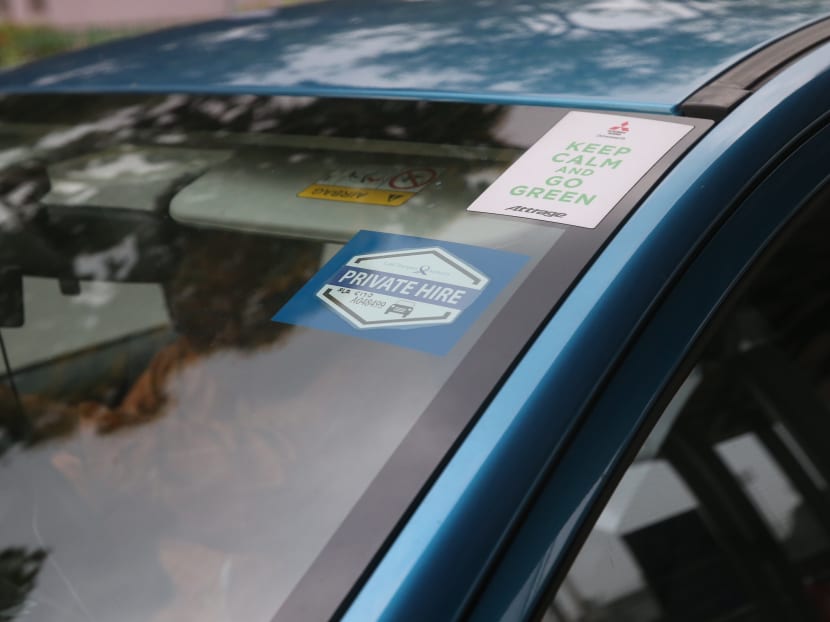 SINGAPORE — With less than three months before the deadline, 34,000 drivers — presently allowed to provide private-hire car services on a temporary concession from the authorities — have not passed the vocational licence test, the Land Transport Authority (LTA) said.
This means that the number of private-hire car drivers on the roads could potentially tumble drastically after June 30, when the one-year concession ends and all such drivers must hold the Private Hire Car Driver's Vocational Licence (PDVL).
In response to TODAY's enquiries, an LTA spokesperson said on Tuesday (April 3) that the authority has received 73,000 PDVL applications to date, more than a year after applications opened in March last year.
Of these, only 17,000 applicants attended and passed the test, said the spokesperson. Those who applied for a PDVL before July 1 last year must attend a course and pass a test by June 30 to continue providing the service.
Another 18,000 drivers who put in their applications after July 1 last year have not undergone training or passed the test. These drivers can provide private-hire car services only after they obtain their PDVL.
Observing a high turnover of private-hire car drivers, transport economist Walter Theseira said a sizeable proportion among the 34,000 drivers who have yet to pass the test and are operating on the temporary concession may not rely on driving as their main job, but as a means to earn extra income.
These drivers could be planning to drive only until the end of June, and some could switch to Grab's social-carpooling service GrabHitch, which is not covered under the licensing regime, he said.
Dr Theseira, who is with the Singapore University of Social Sciences, said it was hard to determine the scale of the problem without information on how many among the 34,000 drivers are actively plying the roads. He added, however, that a drastic drop in the number of drivers will hurt the availability of private-hire cars and most likely raise surge prices, given that there would be fewer vehicles on the road to meet commuter demand.
In February, TODAY reported that some PDVL applicants — chiefly older drivers — were struggling to pass the test despite multiple attempts. They said the test laid great emphasis on memorisation, which is unfair to older drivers seeking a means to earn an income. The problem is, however, not confined to private-hire car drivers. Those who have taken the tests for the vocational licence for taxi drivers, introduced several decades ago, found them equally challenging.
Nevertheless, the LTA spokesperson said that over the past five months, for example, an estimated two in three drivers who sat the PDVL tests had passed — similar to the passing rate of the Taxi Driver's Vocational Licence (TDVL) tests.
The spokesperson reiterated that the TDVL and PDVL courses are conducted in English to ensure that the licensed taxi and private-hire car drivers can "recognise the English names of roads, landmarks and buildings in Singapore and can converse in English as they ferry commuters, including Singaporean commuters and tourists". There are no plans to conduct these courses in other languages.
LESS LUCRATIVE NOW?
One Grab driver, Mr Ng Hock Lye, has not attempted the PDVL test. The 57-year-old, whose highest education was Primary 4, said it was difficult even to sign up for the course online because he was not well versed in computers and had a poor grasp of English.
The former private-hire bus driver of nearly three decades also said his earnings have tumbled. More than a year ago, Grab — whose acquisition of Uber's South-east Asia operations is under review by antitrust watchdogs including in Singapore — used to dole out better incentives. For instance, drivers who completed 100 trips in a week could earn S$800. Right now, the incentives are just a shade over S$100 if they reached 80 trips a week, he said.
Clocking an average of 11 or 12 hours a day on the road, he said he earned just over S$200 after driving for 5.5 days last week, after deducting rental and petrol costs. "Driving a bus is better than this. There's no need to drive for so many hours," he said, adding he can draw S$1,000 to S$2,000 monthly for fewer hours on the road.
Mr Ng, who has to take a conversational-English workplace literacy test before he can attend the course, said he would "see how" things go, though he said clearing the tests by June 30 was "not so important" to him. "If important, I would have gone earlier and (taken the) test already and (will) not wait until now," he told TODAY.
A Grab driver of more than two years, who asked to be known only as Mr Teo, said he does not intend to take the PDVL test because he has found a more lucrative job as a freelance driver delivering orders for Amazon's Prime Now service. The 29-year-old said he earns double what he would get from driving for Grab.
On weekdays, delivering goods for the American e-commerce giant for just four hours can yield him S$88 daily. He has the option of fulfilling orders full time on weekends, subject to the availability of slots.
Still, he said he may take the TDVL tests when he turns 30 next year. Applicants for the TDVL must be at least 30 years old. As well as driving taxis, TDVL holders can operate private-hire cars, with trainees undergoing a course that spans both taxi and chauffeured services.
The LTA spokesperson urged drivers who applied for a PDVL before July last year to attend the PDVL course early and clear the tests by June 30.
Drivers who provide private-hire car services without a valid vocational licence, if convicted, could be fined up to S$1,000 or jailed up to three months, or both.
Grab said it encourages "all Grab and Uber driver-partners to quickly complete the PDVL process and give themselves sufficient time and leeway to study the course materials and prepare for the exam". It cited its programme with the Singapore Taxi Academy which helps fast-track the PDVL application process and offer financial support for "PDVL-related costs, administrative help for application logistics as well as free and unlimited revision classes".
Drivers can book revision classes online via Grab's website, the company said.