Developers will want stake in 'unique' waterfront site at Keppel Club, mixed-height condos expected to be built: Analysts
SINGAPORE — Private housing at the Keppel Club site will likely be a mix of low-rise and high-rise condo units and maybe some strata landed housing as well, with prices of future units ranging upwards of S$2,000 per square feet (psf).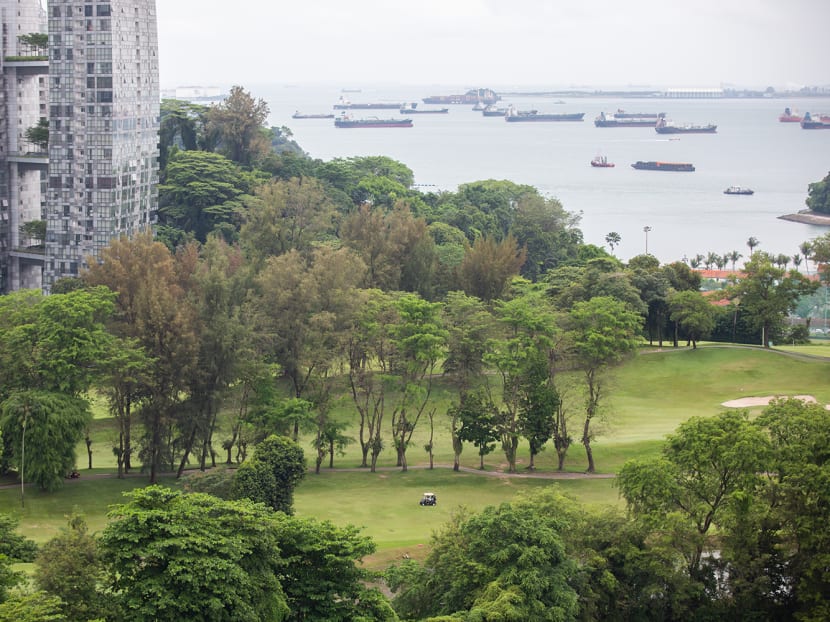 Private housing at the Keppel Club site will likely be a mix of low-rise and high-rise condo units, property analysts said
The redeveloped waterfront site is expected to have 3,000 private housing units
Future condominium units there are expected to cost S$2,200 psf or more 
There will be strong interest from developers because there are few sea-facing land parcels in Singapore
SINGAPORE — Private housing to be built on the Keppel Club site will likely be a mix of low-rise and high-rise condo units, and possibly some strata landed housing as well. Each of these residential property are not expected to come cheap: At S$2,200 per square feet (psf) or higher, taking reference from recent transactions in the area.
Commenting on the Government's latest announcement to build around 6,000 units for public housing there, property analysts told TODAY on Wednesday (April 13) that there will likely be keen interest among developers for the site because it is rare to get a waterfront land parcel.
Mr Lee Sze Teck, senior director of research at property firm Huttons Asia, said: "Waterfront living will be a key selling point for both buyers and developers.
"Interest will be high subject to the size of the site, absolute quantum and tender conditions imposed."
On Tuesday, National Development Minister Desmond Lee announced that the first Build-To-Order (BTO) project by the Housing and Development Board (HDB) would be launched at the site by 2025.
The plot of land is near the Labrador Park and Telok Blangah MRT stations on the Circle Line and is located about a 10-minute drive from the Central Business District.
Bounded by Telok Blangah Road, Berlayer Creek and Bukit Chermin, the redevelopment is part of the Government's Greater Southern Waterfront project, encompassing a 30km coastline running from Gardens by the Bay to Pasir Panjang.
During the National Day Rally in 2019, Prime Minister Lee Hsien Loong said then that about 9,000 private and public housing units will be built at the Keppel Club site.
This means that the remaining 3,000 units could be set aside for private home sales.
The lease for Keppel Club's golf course is extended until June this year to facilitate the club's move. For parts of the course, including its clubhouse and access to the golf course on Bukit Chermin, the lease has been extended to March 31, 2023. 
A public consultation exercise is ongoing to get feedback on an environmental impact study of the site and its surroundings, which include the Labrador Nature Reserve.
Among the private housing units that may come up on the land vacated by the club, most will likely be condominiums rather than landed property, so as to maximise the use of prime land.
Mr Lee of Huttons Asia said that he expects design guidelines to be imposed so that all residents who live in private housing there may enjoy the sea view.
"For example, those facing Sentosa Island may be low-rise condos, while those nearer to Telok Blangah Road may be high-rise ones."
Mr Nicholas Mak, head of research and consultancy at real estate agency ERA Singapore, said that there may also be strata landed property if the authorities permit.
Strate landed property are strata-titled developments such as bungalows, semi-detached houses or town house clusters situated on a common development site.
These housing units have a single vehicle access point and share communal facilities such as swimming pools or gyms.
STEEP PRICES
As a gauge of how much future condominium units at the Keppel Club site are likely to cost, Ms Wong Siew Ying, head of research and content at PropNex Realty, noted that the prices of apartments at Avenue South Residence located near Outram Park MRT Station and The Reef at King's Dock near Harbourfront MRT Station have been sold at S$2,250 to S$2,450 psf over the last six months.
Both condominium estates are a five- to 10-minute drive to Keppel Club.
"We are anticipating future selling prices of the Greater Southern Waterfront private residential projects to be in the range of S$2,500 to S$2,700 psf or higher, depending on prevailing market conditions and costs," she added.
This means that a two-bedroom condominium apartment the size of 750 sqf at the redeveloped Keppel Club site may cost about S$1.88 million to S$2.03 million. 
A three-bedroom apartment that is 1,000 sqf may cost between S$2.5 million and S$2.7 million, Ms Wong said.
Similarly, Ms Christine Sun, senior vice-president of research and analytics at property firm OrangeTee and Tie, estimated that a two-room apartment may cost between S$1.5 million and S$2 million and a small three-room apartment may cost more than S$2 million.
A bigger three-room unit may go for more than S$3 million.
Both analysts said that the eventual price of the apartments will depend on several factors such as the land cost, unit size, unit attributes and prevailing market conditions when they are launched.
HUGE INTEREST FROM DEVELOPERS 
The Government has said that the Keppel Club site is to be redeveloped without having any direct impact on the nearby important nature areas of high conservation value.
So even though developers will have to take that into consideration and use more complex construction methods to preserve the ecology of the area, thereby raising their development costs, Ms Wong of PropNex Realty said that they will still not be deterred from getting a stake on the land parcel.
She estimated that the land cost of the Keppel Club site could be anywhere upwards of S$1,350 psf per plot ratio, and even cross S$1,500 psf per plot ratio.
Her estimate is based on the recent Government Land Sales tender of Jalan Tembusu in a prime district area in Tanjong Katong, which had a winning bid of S$1,302 psf per plot ratio. This Jalan Tembusu land parcel is categorised by the Urban Redevelopment Authority as being part of the "rest of central region" zone, just like Keppel Club.
Ms Wong is expecting the eventual land cost of the Keppel Club site to be 10 to 15 per cent more than the Jalan Tembusu winning tender bid because it is located in a more attractive area.
For instance, it is situated nearer to the city centre and within the Greater Southern Waterfront precinct, which is expected to be an area for business activity.
PM Lee said in 2019 that the Greater Southern Waterfront will be a "commercial node", with more office spaces to be developed there.
Ms Sun of OrangeTee and Tie said that she expects keen interest from developers because the space is "unique and it is a prime site".
"There are also not many sea-facing new land parcels in Singapore," she added.
Mr Mak of ERA Singapore believes that Singaporeans, particularly those from the upper- and middle-classes, would be among the potential private property buyers.
The other analysts said that foreigners are also expected to snap up these housing units when they are launched there.