Device on Tower Transit buses helps cut down bad driving habits, accidents
SINGAPORE — Mr Amirul Hakim was one of those bus drivers who have a bad and frequent habit of abruptly braking when driving, be it due to vehicles cutting into his lane or pedestrians crossing the road.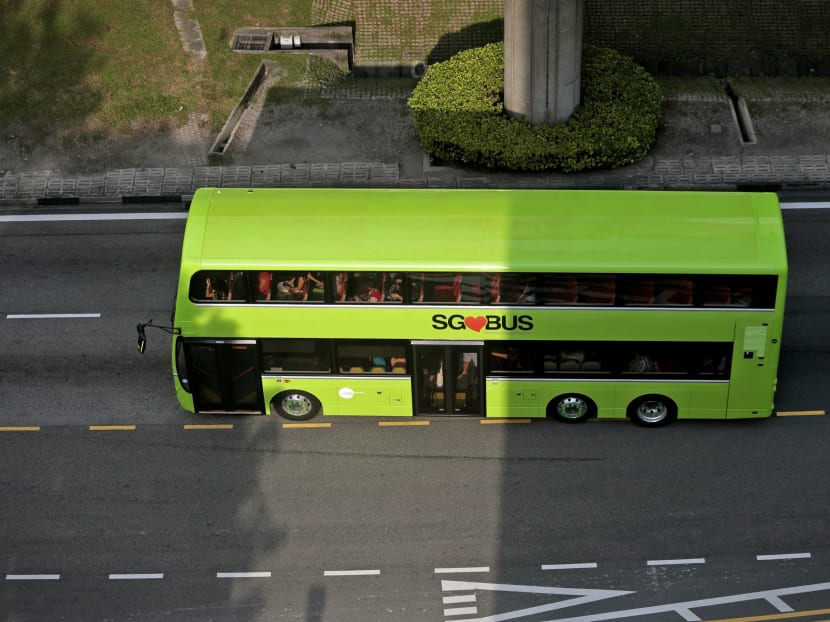 SINGAPORE — Mr Amirul Hakim was one of those bus drivers who have a bad and frequent habit of abruptly braking when driving, be it due to vehicles cutting into his lane or pedestrians crossing the road.
His driving patterns were monitored by a new telematics (data transmission) system which then flagged these irregularities to the management of his employer, bus company Tower Transit, and he was called in for a one-day refresher course around October and November last year.
Mr Amirul, 29, who joined the company last June, said: "(When I was told of this,) I felt, like, why must I go? But they showed me everything I had done (wrong), and asked me, 'How come your colleague who drives the same service can score (well)?' So I took up the challenge."
He kicked the habit of braking abruptly, and focused on becoming a better driver after that.
Between June and July last year, Tower Transit started installing an in-vehicle telematics device on the dashboard of all its buses.
Radio-frequency identification (RFID) tags issued to each bus driver will connect to the telematics system as they start their journey, and poor driving patterns are recorded on the device. The drivers are alerted to any instances of sloppy driving through the green, amber and red lights flashing on the dashboard.
After completing each journey, the drivers may use a mobile app to check details such as the incident and location.
In an update on the results of this initiative on Wednesday (June 28), Tower Transit said that around 280,000 incidents were picked up by the system last July. An average of four in five incidents were due to braking events, while the rest included sudden acceleration, abrupt lane changes, sharp turns, and speeding. The total number of incidents halved over the year, with some 150,000 cases clocked last month.
Corresponding with this drop, the total number of accidents stemming from collisions fell by half in the same period, while accidents caused by bus drivers plunged by nearly 70 per cent.
Tower Transit, which began operations in the United Kingdom in 2013, landed a contract here in May 2015 after winning the first package of bus routes tendered under the Government's bus contracting model. It now has 700 to 750 bus drivers.
Last September, the company introduced a rewards scheme for drivers. For each incident clocked on the device, they are awarded a point, and these points would be measured against the number of hours they spend on the road.
Those who score 20 points or lower get a bonus of S$130 for the month. Last month, three in four drivers (77 per cent) received the extra cash.
Tower Transit reported that around one in 10 drivers (9 per cent) chalked up 21 to 50 points, whereas about 15 drivers (2 per cent) shot past 50 points and were sent for the refresher course to improve their driving skills. Other drivers unaccounted for were on leave.
It also revealed that when the telematics system was first introduced, there were more drivers in the red zone. For instance, last August, 15 per cent of the drivers were in this group.
As for Mr Amirul, he hit a high score of 165 points last October. After the course, he managed to shave it to 19 points this April and May.
"After the training, I tried (to improve). I told myself I must relax," he said, adding that he and his peers have taken to competing with each other to get lower scores in a bout of friendly rivalry.
Over the years, other public transport operators have introduced telematics technology for its buses. SMRT started trials in early 2014, while SBS Transit launched a pilot in November 2014 for an intelligent camera sensor, alerting drivers of their proximity to vehicles in front of them through an in-vehicle unit on the dashboard. About a third of SBS Transit's buses are equipped with this sensor system. The operator is also installing another audio and visual alert system to warn drivers of harsh braking, acceleration and speeding. Data from this is used to evaluate the drivers' performances, it told TODAY.
Bus company Go-Ahead Singapore said that it had rolled out the GreenRoad telematics system, the same one used by Tower Transit, but did not give more details. Its spokesperson said that for "self-improvement", its bus drivers "are encouraged and reminded to... review their performance and driving style".