Divorcees can now buy subsidised flats without 3-year restriction: Lawrence Wong
SINGAPORE – From Tuesday (March 6), divorcees will not need to wait three years from the date of their divorce to buy or own a subsidised flat.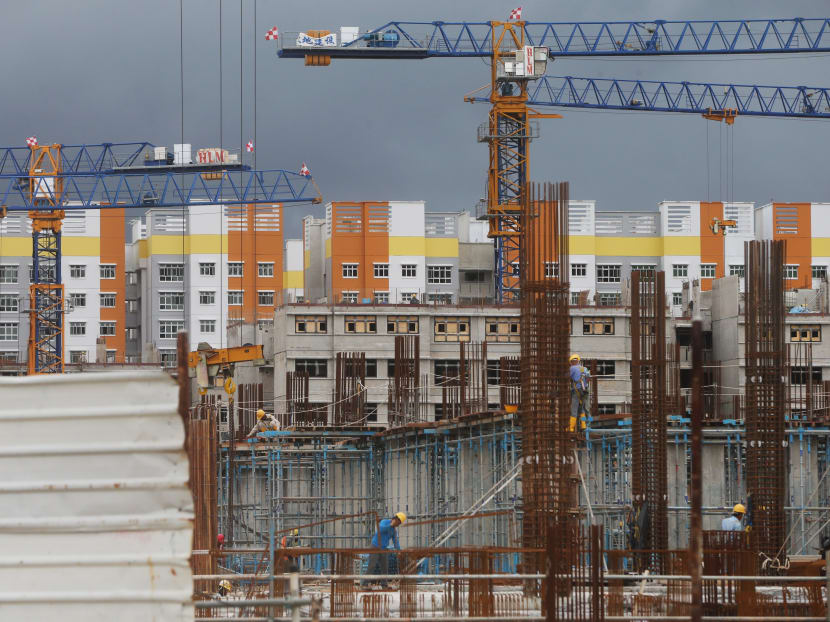 SINGAPORE – From Tuesday (March 6), divorcees can buy or own a subsidised flat immediately upon ending their marriage, without having to wait three years under previous rules.
The announcement was made by Minister for National Development Lawrence Wong in Parliament on Tuesday.
Prior to the announcement, only one party of a divorced couple could buy or own a subsidised flat within three years from the date of their divorce. Now, both parties in the divorce will be able to buy or own a subsidised flat each, as long as they are able to meet the eligibility conditions for flat purchase, said the Ministry of National Development (MND) and the Housing and Development Board (HDB) in a press statement.
"Divorce can be a stressful and emotional period, and a complex process with many decisions to be made…one issue that divorcees may face is the time bar for purchase of subsidised flats," said Mr Wong.
The time bar for the purchase of subsidised flats was a rule put in place in 1997, said Mr Wong. During that period, a divorced couple could only own one subsidised flat between them, and both sides had to agree on who should be allowed to buy the subsidised flat in a "mutual consent requirement". It was initially set at five years, and then reduced to three years.
In 2012, the "mutual consent requirement" for the parent with sole care and control of young children to buy a subsidised flat was waived to prioritise their housing needs.
"We have reviewed the matter, and have decided to remove the time bar completely," said Mr Wong.
"We hope that this will help divorced persons provide a more conducive living environment for their children, and go some way to help families through an already difficult period of transition."
Responding to enquiries from TODAY, HDB said the time bar was "put in place to deter couples from taking divorce lightly, and to ensure parity in the treatment of housing subsidies given to married couples."
It added: "While each party could still buy a non-subsidised resale flat, the time-bar could lead to friction if the parties were unable to agree on who should be allowed to buy the subsidised flat. Hence, we have reviewed the policy and have decided, in the best interest of the children affected by divorce, to remove the time-bar."
Last September, Member of Parliament Louis Ng (Nee Soon) had petitioned to Parliament to call for a reform of the public housing policy for single parents. He wanted the authorities to recognise unmarried parents and their children as a family nucleus so that they could be eligible for public housing schemes. However, his petition was turned down.
Signed by seven single parents, the petition also called for the removal of debarment periods, which prevent divorced parents from renting from the HDB or owning subsidised flats.
The Association of Women for Action and Research, which had submitted a statement supporting the petition, also made several suggestions.
The petition was referred to the Public Petitions Committee, which asked the MND for a response. MND, which made public the responses in November, then said it had no intention to amend the law and introduce exemptions for unmarried and divorced parents.
Addressing queries on details of the announcement from Mr Ng during Parliament on Tuesday, Mr Wong said the implementation details, such as who will be eligible, will be put out by HDB. "But we want to do it soon, and we want to make sure that as many people will be eligible or benefit from this lifting of the time bar," he said.
Mr Eugene Lim, key executive officer at ERA Realty said the removal of the three-year restriction is "only logical".
He said: "It is already unfortunate for the divorce to happen, and we should not penalise the family anymore."
Mr Nicholas Mak, executive director of real estate investment firm ZACD Group added: "For families going through a break up, they should still be allowed to have a roof over their heads, even if they choose to separate."
He also noted that a non-subsidised flat can cost up to 30 to 50 per cent more depending on the location and its proximity to amenities. Non-subsidised flats are those that are sold on the resale market at market price, while subsidised flats are purchased from HDB at prices determined by HDB, or resale flats bought with housing grants.
However, experts cautioned that there could be potential for abuse of the system, as some individuals could intentionally divorce in order to buy more subsidised homes to sell for a profit.
To prevent such "sham divorces", Mr Mak suggested placing a limit on the number of divorces for each individual applying for a subsidised flat.
Addressing the concern, HDB said: "The Courts ensure that there are valid grounds proving an irretrievable breakdown of a marriage, before granting a divorce. When a couple produces legal documents certifying that they have divorced, HDB will act on these legal documents accordingly.
"Each party will be required to abide by the prevailing policies and terms of their flat purchase. We will not hesitate to take stern action against the parties if there is a breach."
OTHER SCHEMES FOR FAMILIES, SINGLES
Separately, the HDB is also easing the requirement for second-timer rental families with young children under the fresh start housing scheme, said Senior Minister of State for National Development and Trade and Industry Dr Koh Poh Koon on Tuesday.
Launched in 2016, the scheme was aimed at helping second-timer rental families with young children buy a home of their own.
Previously, a family had to have stayed in a public rental flat for at least two years in order to qualify. It will now be reduced to one year, said Dr Koh, and he added that this would help families to qualify sooner.
For singles, Minister Wong said more than 12,000 have bought new 2-room flats so far, but the application rates are still high. The Government will continue to build more 2-room Flexi flats to clear up the backlog, he said.
Other than new flats, singles can also consider resale flats, he added.
Over the last five years, 27,000 have bought resale flats, and the recent enhancements to the proximity housing grant (PHG) will make this a more attractive option, said Mr Wong.
Announced during Budget 2018, singles aged 35 or older who buy a resale flat to live with their parents, will now receive a PHG of S$15,000, up from S$10,000 previously. Singles buying a resale flat near their parents will get a S$10,000 grant.