Do not organise work activities that eat into family time, Speaker Tan Chuan-Jin urges employers
SINGAPORE — Employers can help fathers more by being conscious about organising work activities that do not eat into family time, Speaker of Parliament Tan Chuan-Jin said on Sunday (June 17).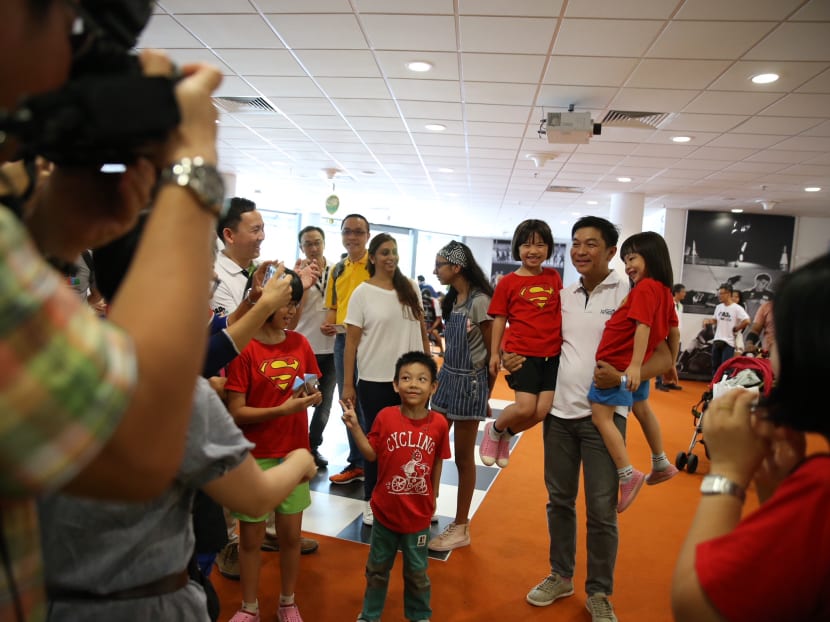 SINGAPORE — Employers can help fathers more by being conscious about organising work activities that do not eat into family time, Speaker of Parliament Tan Chuan-Jin said on Sunday (June 17).
Giving the example that employers can choose to organise work activities at 6pm instead of 7.30pm, Mr Tan, who was speaking to reporters at the sidelines of the Dads' Day Out event held at the Singapore Sports Hub, said this way employees can get home at 8.30pm when their children are "still awake" and spend time with them.
However, he added that lunchtime would be an even better time to organise work activities, as it does not eat into employees' family time, and "it's cheaper as well".
On Father's Day, which was on Sunday, the father of two older children aged 16 and 20, shared his personal goals and struggles with parenting at a Father's Day carnival organised by Centre for Fathering – Dads for Life and Mediacorp.
Speaking to participants at the opening of the event, Mr Tan persuaded fathers to avoid making their children feel like they're getting "leftover time".
He said being a father goes beyond providing for the children's material needs, but also spending time together and doing things together.
"That's immeasurable because what it does is that it makes our children feel loved, secure, confident, and I think that gives us a very strong basis for them to grow up.
"They don't always necessarily need perhaps to fill that gap with other distractions or more risk-taking behaviours we sometimes see," he added.
Though he tries to be home early a "couple of nights a week, where possible", Mr Tan, who is also a Member of Parliament for Marine Parade Group Representation Constituency, admits there are "weeks" when he does not get home till his kids are asleep.
Sharing his struggle between work and family, engineering sales manager Jeffrey Lim told TODAY his biggest grouse is that work has become "more competitive", requiring him to attend to work emails at home and being put on rotation to work on weekends.
As much as the 52-year-old tries to portion out time for his 17-year-old son and 20-year-old daughter, there are times when it is just not possible, he said.
To dads like Mr Lim, Mr Tan's advice is to put things into perspective — take stock of the things "we seem to be busy with", such as screen time, and ask "how valuable is my family".
"In the race of life, you can run it as a rat, and have a rat race, or you can run it in a way you so desire because there are things that are more important," he said, adding that while jobs can come and go, one's family "is all there is".
This year's theme for the annual event, in its third edition, is "A dad is for life", with the focus on the role that grandfathers play in providing support to their son's fathering journey.
At the carnival, there were activities that encouraged intergenerational family bonding, such as a trishaw ride down memory lane, where fathers and grandfathers could share stories from the past. There was also a "promise wall", where fathers can leave a family photo with a pledge to be a more involved and committed father.
Centre for Fathering chief executive Bryan Tan said: "Turning to our fathers can be timely reminders that good old values like integrity, loyalty and respect are timeless and irreplaceable, regardless of any new trend. Learning from our fathers forms the blueprints for our own fathering journeys."
Added Mr Tan, a new patron for the Dads for Life movement: "Values are best transmitted generation to generation through our presence, through our participation in the lives of our children and grandchildren."
This is all the more important as "in the history of mankind, I don't think children have ever been so exposed (with the advent of social media)", he said.