Doctors in shock over news of hepatitis C outbreak at SGH
SINGAPORE — The medical fraternity was shocked by news of the hepatitis C outbreak in Singapore General Hospital (SGH), given that hospitals here have established robust systems for handling medical equipment.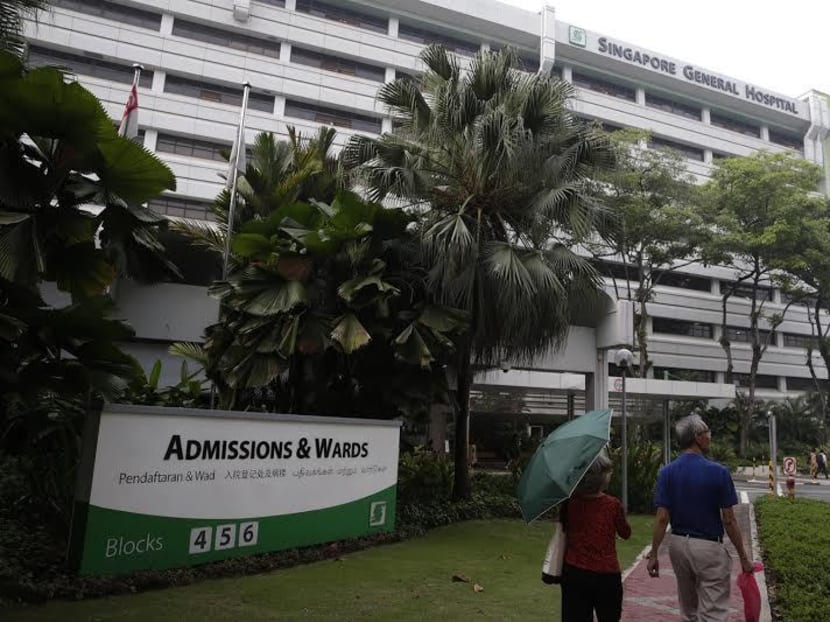 SINGAPORE — The medical fraternity was shocked by news of the hepatitis C outbreak in Singapore General Hospital (SGH), given that hospitals here have established robust systems for handling medical equipment.
Doctors interviewed today (Oct 6) said that the use of multi-dose vials — small containers with more than one dose of medication intended for injection or infusion — is common for injecting insulin and vaccines such as the BCG, and practitioners should be well-acquainted with the standard protocol for using them.
SGH first stepped in to investigate after the fifth case of infection — within less than a month — was detected on May 14, and subsequently took action including stopping the use of multi-dose vials. In late August, the hospital informed the Ministry of Health (MOH) of an "unusually large cluster" of hepatitis C patients. About a month later, it submitted a final report to the ministry. Today, it made public the outbreak after 22 cases of infections had surfaced so far.
On the time that the hospital took to begin investigations, the doctors who spoke to TODAY felt that it was reasonable, given that hepatitis C is a "silent disease" which does not exhibit symptoms at the point of infection.
Dr Desmond Wai, consultant gastroenterologist and hepatologist at Mount Elizabeth Novena Hospital, said: "It is understandably difficult to pinpoint that there is an outbreak... it is not so straightforward. If there is one isolated case, it is hard to pinpoint how it came about. Having said that, if there is a sudden outbreak of newly diagnosed cases… related to a common source, say in the same ward, usually it will ring a bell for doctors to investigate."
Dr Leong Hoe Nam, an infectious disease specialist in private practice, said it is reasonable for the hospital to take two to three months to investigate and come up with a plausible explanation. "The hospital did right by informing the authorities subsequently. The authorities needed time to verify the facts but the MOH could have made its statement earlier," he said, noting that the 21st case surfaced on Aug 11, more than a month before the 22nd case on Sept 18.
Still, the doctors could not fathom how the outbreak could have occurred, given the established use of multi-dose vials.
Said Dr Wai: "We have certain protocol to follow which is commonsensical and not difficult to understand…If SGH has zeroed in on the use of the vial as a probable cause for the infection, they have to show to us how come other places, other hospitals do not have the same problem."
Guidelines on handling these vials include using new needles and syringes each time, and disposing used needles into secure containers.
Nevertheless, the World Health Organization (WHO) advises against the use of multidose vials where possible. In a "best practices for injections" toolkit published in March 2010, the WHO wrote: "Whenever possible, use a single-dose vial for each patient, to reduce cross-contamination between patients… Only use multidose vials if there is no alternative."
In response to TODAY's queries, MOH said that its public hospitals use both the multi-dose vials, as well as the single-use or single-dose ones.
It added that the hospitals have "progressively switched from multi-dose vials to single-dose or single-use vials especially if single-use vials formulations are available".
The WHO also advises practitioners to keep one multi-dose vial for each patient and refrain from storing them in the open ward, where they could be inadvertently contaminated with spray or spatter.
Dr Leong said: "It is innate in us to change needles and abide by the standard practice… this could be a terrible mistake or a poor lapse of judgement. It is rather unexpected and I don't remember any similar case in recent history."
Colorectal surgeon Koh Poh Koon, who is also a Member of Parliament for Ang Mo Kio Group Representation Constituency, said that human error could be a "logical reason" for the SGH outbreak. Unlike other countries with poor sterilisation techniques, the local healthcare system has "robust" practices in place, said Dr Koh, who will leave private practice and become Minister of State (National Development, and Trade and Industry) from January.
He added: "The first thing we need to establish is whether any human error was involved in this whole administration of medication. And if so, whether we can prevent it by having more protocols that would ensure multi levels of check… We have had so many years of practice, but nothing has happened — that means the process on the whole is very robust."
Macpherson MP Tin Pei Ling, who sat on the Government Parliamentary Committee for Health in the 12th Parliament, said she hoped that SGH and MOH "will do everything (they) can to support them and their family members". "It is important to take a hard look at some of these processes. Some of these medical conditions are irreversible and the harm it can bring to the unfortunate patients is serious," she said. "For now, it is more important that we all stay calm and let the administrators, hospitals do what they need to do… The general public needs to give them our moral support."