'Don't argue with me': Man jailed 5 days for assaulting boy who was cycling near HDB block
SINGAPORE — When Chua Chek Yong spotted a primary school student cycling on a pathway near a public housing block, he confronted the 12-year-old and told him to ride on the pavement instead.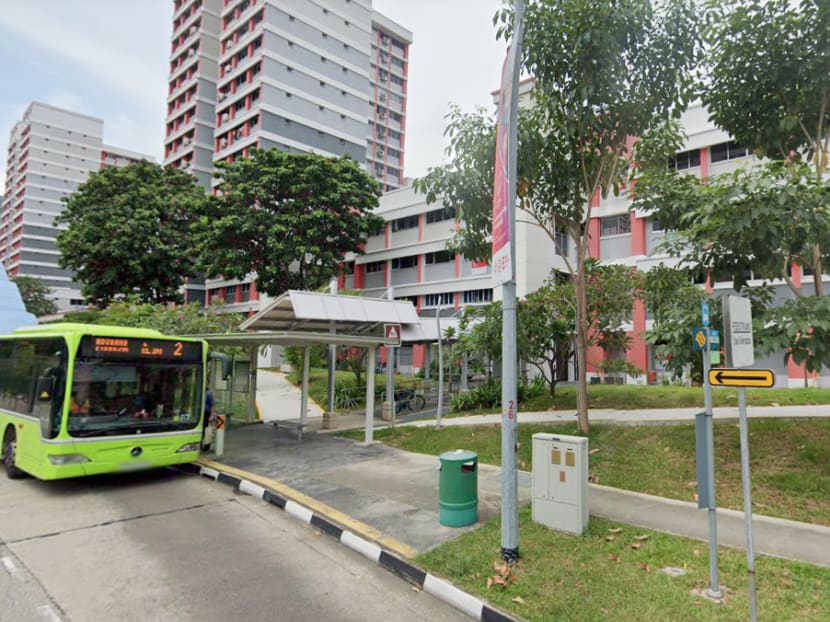 Chua Chek Yong mistakenly believed that cycling on the pathway was prohibited
He repeatedly confronted a young boy who was doing so, even after the boy corrected him
He slapped the boy's face, snatched his phone away and punched him several times
A judge said this was a classic case of bullying
SINGAPORE — When Chua Chek Yong spotted a primary school student cycling on a pathway near a public housing block, he confronted the 12-year-old and told him to ride on the pavement instead.
A week later, upon seeing the boy cycling on the track again, Chua threatened to deflate his tyres. The 67-year-old later slapped the boy's face and punched him several times.
Chua, a Singaporean, was jailed for five days on Thursday (Sept 2) after pleading guilty to voluntarily causing hurt to a person aged under 14. He worked in sales at the time of his offence.
The court heard that the pair first met on Nov 13 last year, when Chua saw the boy cycling on the pathway near Block 438 Hougang Avenue 8. When Chua told him that he should not be riding there but on the pavement, the boy followed his advice and left.
Deputy Public Prosecutor (DPP) Chong Kee En told the court: "In actuality, the Land Transport Authority (LTA) had confirmed that cycling was allowed on the track." 
On the evening of Nov 20, Chua again spotted the boy cycling slowly on the same track. He told the boy that if he caught him riding there again, he would use a pump to deflate his tyres, prompting the boy to cycle away.
Fifteen minutes later, Chua saw the boy on the track again and blocked him, telling him to turn around and cycle away.
The boy then asked why he was not allowed to cycle there. When Chua challenged him to call the police, the boy tried to protest that the LTA permitted cycling there but Chua replied with "I said" and "Government said".
The boy replied that this was not the case, whereupon Chua pointed his finger at the boy's face and said: "You don't argue with me."
While the boy was in the midst of explaining LTA's policy, Chua suddenly slapped the boy's face with the back of his hand, saying, "You want to argue with me, ah?" and "You take picture".
The boy had been filming the altercation on his mobile phone. This video footage was played in court.
Chua soon snatched the phone away, causing it to drop. As the boy tried to retrieve it, Chua punched his face and head.
The boy then got off his bicycle and Chua punched him in the chest and torso several times. The boy did not retaliate.
A passer-by, Mr Chiang Kai Li, went up to see if he was all right after Chua walked away. Mr Chiang also offered to be a witness and asked the boy to call his parents.
The boy's father soon arrived and saw the video he had taken.
A short time later, upon spotting Chua in the vicinity, the boy's father asked Chua why he had hit his son.
Chua replied that cycling was not allowed on the track. Mr Chiang then said that he had witnessed the assault and told Chua what he did was wrong.
DPP Chong told the court: "The accused then apologised and said if the victim's father was unhappy with how he had hit the victim, the victim's father could beat him. The victim's father said he would not do so and that he had called for the police."
When interviewed by police officers, Chua initially admitted that he had slapped the boy but denied punching him.
Paramedics later attended to the boy, who had suffered abrasions and redness at his jaw area. He went to KK Women's and Children's Hospital for treatment.
Chua has since paid restitution of S$120 to the boy's father for his medical bills.
'CLASSIC CASE OF BULLYING'
In mitigation, Chua's lawyer Noor Marican asked for a fine or the lowest possible jail sentence, saying Chua was in poor health and he had co-operated with police investigations, for instance.
Chua, who appeared in court with a white patch over one eye, underwent an eye operation a few days ago. He also had heart bypass surgery a few months before the assault.
Mr Marican told the court: "There was no necessity to do what he did but it happened. He wanted to teach the child to be law-abiding and not cycle in this manner but he got it wrong… He's married and has children and grandchildren — on that point, he should know better."
Although the lawyer argued that Chua had shown genuine remorse by paying for the boy's medical bills, District Judge Janet Wang noted that he had been "less than forthcoming until he realised an independent witness bore witness to the assault".
"He further taunted the father to beat him up in return… This lent support to a lack of genuine remorse by the accused, almost akin to him being caught red-handed."
The judge described Chua's assault as "relentless and prolonged", saying that his reaction had been wholly disproportionate and that the "exercise of vigilante justice on his part was misplaced".
She added: "He conducted himself in a less than dignified and charitable manner befitting his age and seniority. Plainly, this is a classic case of bullying.
"He was concerned about his personal safety being endangered (and this) was plainly misconceived. There was no prior accident between him and the victim riding his bicycle. The victim did not collide with him, or ride at an unsafe speed or dangerously at the time."
District Judge Wang nevertheless took into account his timely plea of guilt and lack of past convictions.
Chua could have been jailed for up to six years or fined up to S$10,000, or both.