Like Dr M, some Singaporeans in their 80s and 90s still hale and hearty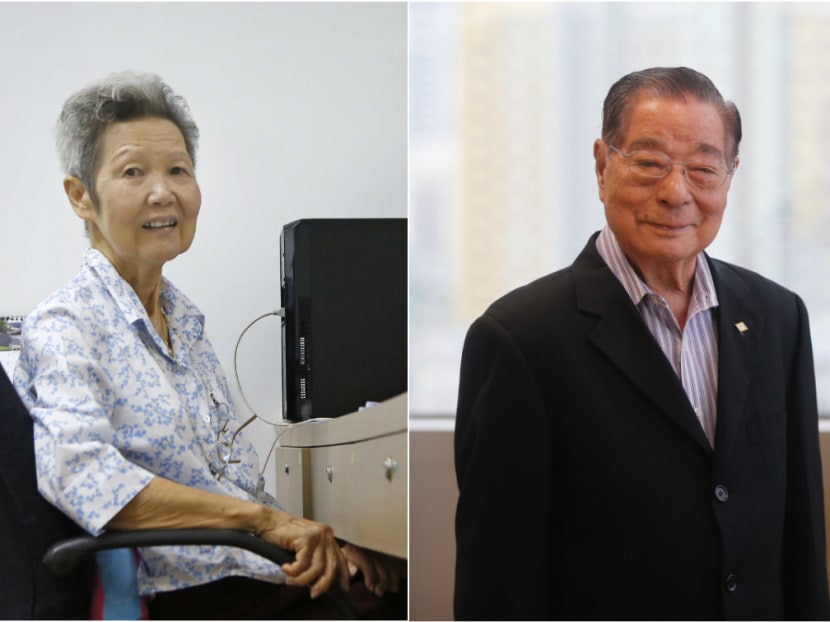 SINGAPORE – In his youth, Mr Tan Swee Gim once visited a renowned fortune teller who predicted that he would not live past 70. Today, he is still going strong at 91.
One of the founders of Zi Jing Ge Moral Uplifting Society, not only has Mr Tan stayed mentally sharp all these years, he has a fitness level and brisk walking pace that would put those a fraction of his age to shame.
The nonagenarian remains an active volunteer at the society. He is also a committee member at Thye Hua Kwan Moral Society, which offers a range of medical, social and welfare services.
"After my 70th birthday, I thought to myself, 'Eh, I'm not dead yet'. The same thought occurred when I was 85," said the energetic great-grandfather-of-three in a mix of Teochew and Mandarin.
"Lao tian ye (God) has blessed me with a healthy life as I've been doing his favour through charity and good deeds. I'm sure I will live till 97," said the widower and father-of-eight with a laugh.
Malaysian Prime Minister Mahathir Mohamad's recent extraordinary political comeback, bookended by a hectic election campaign and multiple engagements as the world's oldest elected leader, has turned the spotlight on super-agers and their secrets.
The 92-year-old's moderate lifestyle consisting of less food, no alcohol and no cigarettes is well-known. He has said he does not overeat, no matter how delicious the food.
That does not mean he does not have any health issues: He told The Sunday Times last year that he has had heart problems and bad coughs, and had pneumonia at one time.
Like Dr Mahathir and Mr Tan, an increasing number of Singaporeans are living well into their 80s and 90s.
As of June last year, 2.6 per cent of the resident population (or 101,300) was 80 years and older, compared to just 1 per cent (27,200) in 1990, according to the Department of Statistics Singapore. But the proportion of those in good health is not known.
GENES AND THE ENVIRONMENT
What sets super seniors apart from other elderly folks? For some, it involves winning the genetic lottery.
Centenarians (people who live till 100) are more likely to have parents who were also centenarians, said Associate Professor Ng Tze Pin of the Department of Psychological Medicine at the National University of Singapore's (NUS) Yong Loo Lin School of Medicine. This genetic contribution counts for about 15 per cent of one's outcome.
Several potential genes have been identified and are being studied for their effects on ageing in animal models, said Professor Brian Kennedy, director of the National University Health System's Centre for Healthy Ageing.
Mr Tan's late mother and elder brother lived to a ripe old age of 96 and 93, respectively.
For most individuals however, environment appears to be more important than genetics, Prof Kennedy said.
For instance, studies of "blue zone" regions in the world – those with the highest percentage of people living over 80 – such as Sardinia (Italy), Okinawa (Japan), Ba Ma (China) and the Seven Day Adventists in Loma Linda (United States), strongly suggest the important roles of a healthy lifestyle and environment, said Assoc Prof Ng.
They include a healthy diet that is predominantly plant-based, consisting especially of legumes, less smoking, daily physical activity, close family relationships and social engagement.
A long lifespan does not always reflect the "healthspan", or number of healthy years lived.
While Singaporeans are living longer than most people in other parts of the world, an average of eight years – out of about 82 – is spent in poor health, according to figures from the Global Burden of Disease Study 2015. The average global healthy life expectancy was 62.9 out of 71.9 years.
According to the Singapore Longitudinal Ageing Study (SLAS), published in 2009 and led by NUS' Department of Psychological Medicine, only 28 per cent of seniors aged 65 and above were considered "successful agers" – defined by criteria such as absence of major chronic illnesses, few depressive symptoms, high cognitive functioning, social engagement and life functioning.
"Singaporeans enjoy a long lifespan already but it is critical to find strategies to ensure their healthspan increases as this is the biggest factor in improving quality of life. It will also lead to lower healthcare costs," said Prof Kennedy.
SLOWING AGE-RELATED DECLINE
Biological ageing for most organs and tissues in the body starts at around the age of 30, and occurs at a rate of 0.5 to 1 per cent per year, said Assoc Prof Ng.
"The best athletes are often not competitive after their mid-30s and the same is true for chess players. However, the body compensates well, and most individuals maintain general physical and cognitive health for many decades," said Prof Kennedy.
But typically around the ages of 50 to 70, the body can no longer compensate and this is when most chronic diseases emerge, and physical and cognitive decline may become apparent, he said.
Certain factors can speed up age-related decline.
Evidence suggests that lack of physical exercise is probably the single most important factor that kickstarts the decline in muscle mass and function as well as other body functions, such as of the brain, heart, blood vessels and metabolic system, said Assoc Prof Ng.
A major health event such as stroke and heart attack may affect seniors' ability to age well thereafter, although it also depends on the complications and rehabilitation after the episode, said Dr Tan Sai Tiang, assistant director of Hua Mei Clinic at Tsao Foundation's Hua Mei Centre for Successful Ageing.
Despite living with Type 2 diabetes for several decades, Mr Tan has kept the condition well under control. He goes for regular health checks, does morning exercises and lives independently with no live-in help.
He handles day-to-day chores like cooking and laundry on his own, and continues to whip up scrumptious feasts during the Lunar New Year period for his family.
"As a result, I don't have any of the back pain and leg aches that many older people complain about," said Mr Tan, who travels to China, where he was born, several times a year to visit his relatives.
EXERCISE AND DO NOT OVEREAT
In general, a person's lifestyle prior to his later years determines the number of healthy years he has, said Dr Tan, who is Mr Tan's general practitioner.
Dr Tan emphasised the importance of regular health screenings as well as early detection and treatment of medical complaints. A regular family physician who is familiar with one's medical and emotional health and social background will be able to provide holistic care.
To keep healthy, aim for 150 minutes of moderately-intense exercise per week, Dr Tan advised.
Findings from the SLAS study suggest that older adults who participate in brisk walking or physical training once a week or more were about half as likely to experience cognitive or physical decline compared to their counterparts who rarely or seldom do, said Assoc Prof Ng.
Advice to not overeat is also salient. "It has been known for over 80 years that calorie restriction, which involves reducing calories to levels just above malnutrition, extends lifespan in animals including mice, rats and primates. Moreover, recent data suggests substantial benefits from periodic fasting," said Prof Kennedy.
Equally important is strong social support and a positive mindset.
"One healthy mindset change that we need is to banish our own ageist views. Ageing is not a period of decline but one of thriving in a different milieu," said Dr Tan.
For Mr Tan, a "happy heart" is as important as good physical health. He encourages Singaporeans to "do good", live a simple life and detach themselves from materialism.
"If you don't do bad deeds, you will not feel troubled and you will naturally be healthy," he said.
CLARIFICATION: In an earlier version, Mr Tan Swee Gim was wrongly reported as one of the founders of the Thye Hua Kwan Moral Society. He is one of the founders of the Zi Jing Ge Moral Uplifting Society, where he still volunteers. He is also a committee member at the Thye Hua Kwan Moral Society.
Retired teacher, 82, drives, writes and does yoga
SINGAPORE – Retired English teacher Siah Gek Quee may be 82 but considers herself a young author.
Her novella titled The Adventurous Streak, which centres around a family saga set in the pre-war period to the 1960s, is expected to be published later this year.
It will be her first published book and she will be donating any profits from sales of the printed and e-book to charity for the education of needy students in Singapore.
At an age when many people lose mental acuity, Mdm Siah still drives and is learning new things and taking on new challenges.
"Ever since I started creative writing, I've learnt a lot about intricacies and stylistic forms of the English Language. For example, I had never heard of the term 'sticky sentences' until recently," said Mdm Siah. The term refers to sentences that contain unnecessary words.
She is one of the 56 seniors aged 80 and above who volunteer at RSVP Singapore, a non-profit organisation that provides opportunities for older adults to serve the community. Its oldest volunteer is 91.
As a member of RSVP's corporate communications committee, Mdm Siah helps to edit newsletters and magazines.
The tech-savvy senior uses the computer to do her research, writing and editorial work. Like many younger people, she too suffers from social media fatigue.
"I used to have a Facebook account but I've deactivated it. I found myself spending so much time scrolling through the feed. There are so many advertisements and it was very distracting while I was working on my book," she said.
Mdm Siah joined RSVP Singapore as a volunteer in 2001, after enrolling in an IT class for seniors. It was also around the time her late husband's health and mental faculties started declining. He had suffered from dementia and had other health complications.
"Although my husband passed away at 91, he did not lead an active life and spent the last decade of his life in poor health. From there, I learnt not to be a couch potato and not focus only on certain things like making money," said Mdm Siah, who has four children and three grandchildren.
Her secret to "ageing gracefully": Contentment and living a simple life.
She prefers home-cooked meals and dines out only on special occasions. Lunch is typically a meal of porridge with sweet potatoes, some fish or stewed meat and fruit and vegetables.
She spends about 20 to 30 minutes doing yoga every morning.
Other than a slightly "weak left leg", Mdm Siah does not have other health issues.
Her advice to other seniors is to take up volunteer work, which has helped her to age meaningfully.
"It's my way of giving thanks to God for all that I've received. At the same time, I've also made new friends and have become more open to new ideas," she said.