Dream Cruises ship turns back to Singapore after 40-year-old passenger tests positive for Covid-19
SINGAPORE — A Dream Cruises ship has turned back and docked at the Marina Bay Cruise Centre in Singapore on Wednesday (July 14) after a passenger on board was suspected to have Covid-19, the Singapore Tourism Board (STB) said.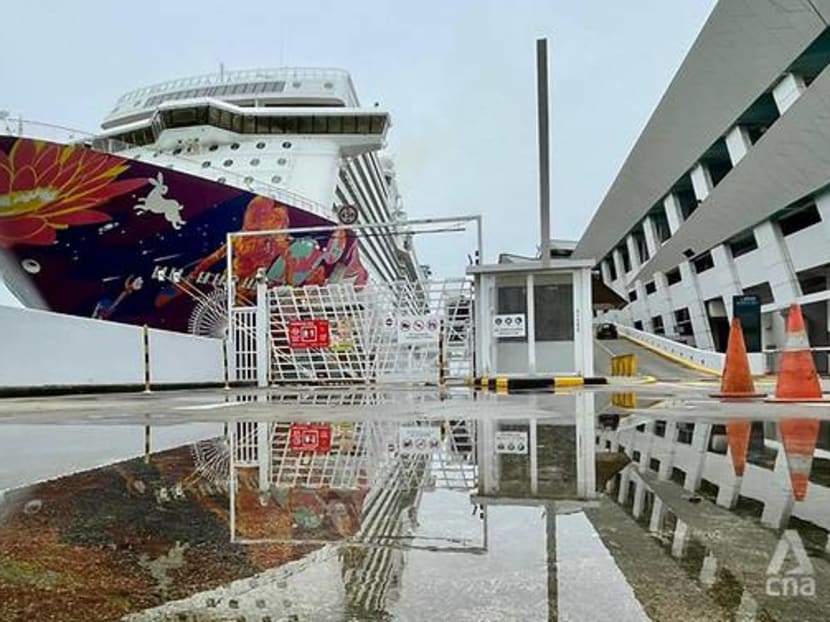 A passenger on a cruise had tested negative for the coronavirus pre-departure but later tested positive onboard
The cruise ship returned to dock in Singapore on July 14 morning
Passengers were told to stay in their cabins
As of 3.30pm, passengers were still waiting to disembark from the cruise 
SINGAPORE — A Dream Cruises ship has turned back and docked at the Marina Bay Cruise Centre in Singapore on Wednesday (July 14) after a passenger on board was suspected to have Covid-19, the Singapore Tourism Board (STB) said. 
Ms Annie Chang, cruise director at STB, said that the 40-year-old passenger had tested negative with an antigen rapid test during the mandatory pre-departure on Sunday. However, on Tuesday, he was identified to be a close contact of a Covid-19 case on land.
He was immediately isolated as part of onboard health protocols, underwent Covid-19 polymerase chain reaction (PCR) tests onboard and tested positive, Ms Chang added. 
He has been taken to the hospital for further tests to confirm if he is infected.
As part of onboard health protocols, the passenger's three travelling companions were also identified and isolated. 
"They have tested negative for Covid-19 and further contact tracing is ongoing," Ms Chang said. 
She added that all onboard leisure activities have ceased and passengers have been asked to remain in their cabins until the confirmatory testing results are out and contact tracing is complete. 
"In the meantime, they are being given regular updates and meals are provided directly to their cabins without contact with them. The ship is also undergoing a thorough disinfection process.
"The well-being and safety of our local community, as well as passengers and crew remain our top priority," Ms Chang said. 
In a statement on Wednesday, Dream Cruises said that the close contacts of the passenger were identified within an hour of his test result coming back positive. 
"This is due to the ship's robust and modern contact-tracing system, which uses information from the passengers' wearable devices, keycards and CCTV footage to create activity maps of all guests," the cruise company said. 
The contact-tracing effort is now being coordinated among various parties, including the doctors on board the cruise and the Singapore authorities. 
"During this period, all guests and crew are required to remain in their respective staterooms," Dream Cruises said. Only essential service crew with personal protective equipment are allowed to move about the ship to deliver meals and necessities to guests. 
Cleaning and disinfection is also being carried out in all areas and venues on the ship, including those that the allegedly infected passenger had visited while on board. 
The firm added that the cruise ship returned to Singapore at 6.30am on Wednesday with 1,646 passengers and 1,249 crew members on board. 
Ms Imelda Saad, a passenger on the cruise and an executive producer at news network CNA, told TODAY that the captain of the ship notified passengers that there was a Covid-19 case on board at about 1am on Wednesday morning and she noticed that the ship "picked up speed" as it headed back to Singapore. 
All cruise activities stopped and everyone had to return to their cabins, the 44-year-old said.
The cruise, which departed last Sunday, was supposed to dock in Singapore at 9am on Wednesday but arrived earlier at 6.30am. 
Ms Imelda said she was told that passengers staying in the rooms on her level would disembark at 10.30am.
However, as of 3.30pm on Wednesday, she was still waiting in her room with her husband and four-year-old daughter for news on when they could disembark. 
"We are still waiting and we do not know when we will be able to get off the ship," she said.
At about 11am, she said passengers were told that they would be receiving lunch. At 2pm, after lunch had been served, they were further told that they would be receiving dessert at about 3pm.
Food and water was hung on railings outside of the passengers' rooms, for them to come out briefly to collect. 
She added that the passengers on board had been given a token at the start of the cruise, similar to the TraceTogether token, to track which passengers have been in close proximity to each other.
"Now the hope is that we didn't come into close contact with that person," she said. 
Another passenger, Mr Kenneth Kong Ken Mun, 41, said that he had went on the cruise with his family of eight, who stayed in two different cabins. He was informed of the passenger who tested positive at 2am on Wednesday. 
Then, at 6.30am when the cruise docked, the Mediacorp radio presenter said that the captain informed the passengers that the close contacts of the positive case had all tested negative. 
"Fortunately, my family and I were not on the quarantine list," he said in Mandarin. "According to the (tracking devices issued by Dream Cruises), we did not have close contact with the patient." 
Dream Cruises added that its subsequent two-night cruise departing on Wednesday night at 9pm has been cancelled and that it is in the process of informing its guests. 
"Due to these unforeseen circumstances, guests may refer to their original booking source for options, including a transfer cruise or future cruise credit," the firm said. 
A pilot for cruises-to-nowhere began at the end of last year, with the World Dream cruise ship going on the first such trip in November.