Drink from the tap: Students on a mission to cut bottled-water consumption
SINGAPORE — For nearly a decade, Ms Erny Kartolo's mother bought bottled water in bulk for her family, so that they would be hydrated when they ventured out of their home.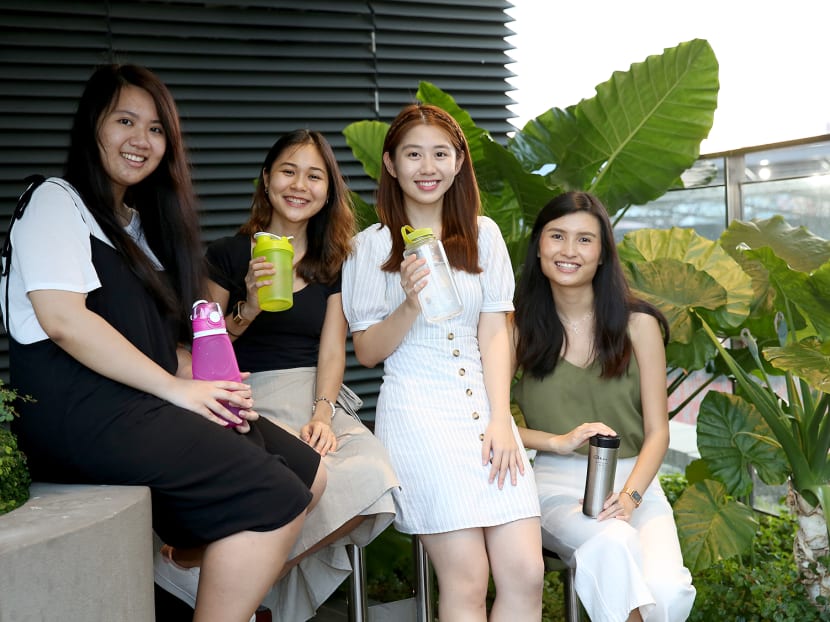 SINGAPORE — For nearly a decade, Ms Erny Kartolo's mother bought bottled water in bulk for her family, so that they would be hydrated when they ventured out of their home.
Every month, she would stock up on a box holding 40 bottles of water from suppliers such as Dasani.
"Her reason is that if she doesn't purchase these, my family wouldn't bring out water," said Ms Kartolo, 22, a final-year communication studies undergraduate at the Nanyang Technological University's (NTU) Wee Kim Wee School of Communication and Information.
That routine has since changed and her mother has jettisoned the practice, thanks to the Drink Wise, Drink Tap campaign.
The movement — the brainchild of Ms Kartolo and three schoolmates from the same NTU course — aims to nudge Singaporeans to drink tap water instead of bottled water, so as to reduce plastic waste in the long haul.
It is their final-year project at the university.
Ms Kartolo said her family's bottled-water practice made her more passionate about the cause.
"This was a problem in my family that we (needed to) solve," she told TODAY on Friday (Feb 8).
The other members of her team are Ms Elaine Wong, 22, and Ms Tan Yen Ping and Ms Goh Pei Xuan, both 23.
The idea bloomed in August last year, when the team discovered a large gap in efforts to cut the use of plastic bottles here. This was despite the growing trend of buying metal straws in favour of using plastic ones, and retailers and schools eliminating the use of plastic bags, they said.
Food and retail outlets at the NTU, for instance, stopped handing out plastic bags from October last year. Users who still need one have to fork out 20 cents a bag. Distribution of plastic bags at campus events was also halted.
In Singapore, people consume 1.76 billion plastic items each year, nearly 470 million of which are polyethylene terephthalate plastic bottles, based on the findings of a Singapore Environment Council study released last year.
Fired up about the cause, the four women set about their campaign to encourage people to drink from the tap. Singapore is one of only several Asian countries with safe-to-drink tap water, with a comprehensive regime to ensure quality from source to tap comprising more than 400,000 tests yearly.
The team carried out a survey of nearly 300 people last September to find out why some Singaporeans choose to buy bottled water and how they perceived tap water, for example.
More than half the respondents (57 per cent), for instance, still preferred bottled water while they were outdoors. About a third (32 per cent) felt bottled water was safer than tap water, while nearly half (46 per cent) said tap water does not taste good.
The team, which launched its campaign last month, has since sought to quash the myths surrounding tap water through various means. These include posting videos and photos and hosting giveaways on social media, and participating in community events.
Most recently, the team had a booth at the Eco Day Out @ South West event at Hong Kah North Community Club last month. They put up boards laying out the truths about tap water, such as the fact that it is safe to drink without boiling or extra filtration, and that it is of consistent quality regardless of location.
The team also ran a blind taste test with two identical mason-jar dispensers: One held bottled water and the other, water straight from a tap in the toilet of the community club.
Most of the 200 people who did the test could not tell the difference, said Ms Goh, another team member.
Dr Amy Khor, Senior Minister of State (Environment and Water Resources), met the team at the event and praised their campaign to build a "refill culture by encouraging people to bring their own reusable water bottles".
"My entire family has been drinking tap water, so I can assure you that it is 100 per cent safe for consumption," she wrote in a Facebook post on Friday.
A SOCIAL NORM TO DRINK TAP WATER
As the group gears up its campaign to entrench drinking tap water as a "social norm", Ms Tan said the team hoped to tie up with cafes and other eateries to offer free tap-water refills even to non-patrons.
Right now, Common Man Coffee Roasters is the only establishment on board, although the team has reached out to about 30 eateries.
The group plans to affix stickers in front of the stores to tell users that the eateries are on board the initiative, and promote them online as well.
Ms Kartolo added: "It's to show the public that tap water is accessible everywhere — it could be a public tap, a water cooler or a nearby restaurant."
The team has tied up with PUB, Singapore's national water agency, on the campaign and has secured a series of grants, including the National Environment Agency's (NEA) Climate Action SG grant and the National Youth Council's Young ChangeMakers grant.
The campaign ends in the middle of March, following which the team will carry out another survey to gauge its effectiveness in changing attitudes and behaviours towards tap water.
For the moment, the students have no plans to expand the initiative beyond their final-year project.
Still, Ms Wong said they hoped that the eateries that eventually take part in the campaign could stay the course even after it concludes, and that the PUB or the NEA could build on the movement. "We are open to any opportunities that may come up and hope that this can be sustainable in the long run," she added.
While the campaign is now aimed at individuals, Ms Wong said there are other aspects of the problem that need to be tackled, such as the bigger culprits of bottled-water use, among which are organisations and events.
"We are starting smaller first. We are trying to imbue in people's minds that it's acceptable to drink tap water and it's perfectly safe. So, from there, it's easier to ease them into behaviours along the chain," she added.