Driver jailed 2 weeks for pointing laser beam at other cars 'blocking his way' on KPE
SINGAPORE — Fed up with drivers blocking his way along the Kallang-Paya Lebar Expressway (KPE), Patrick Ong Choon Hua aimed a laser pointer in the direction of these drivers.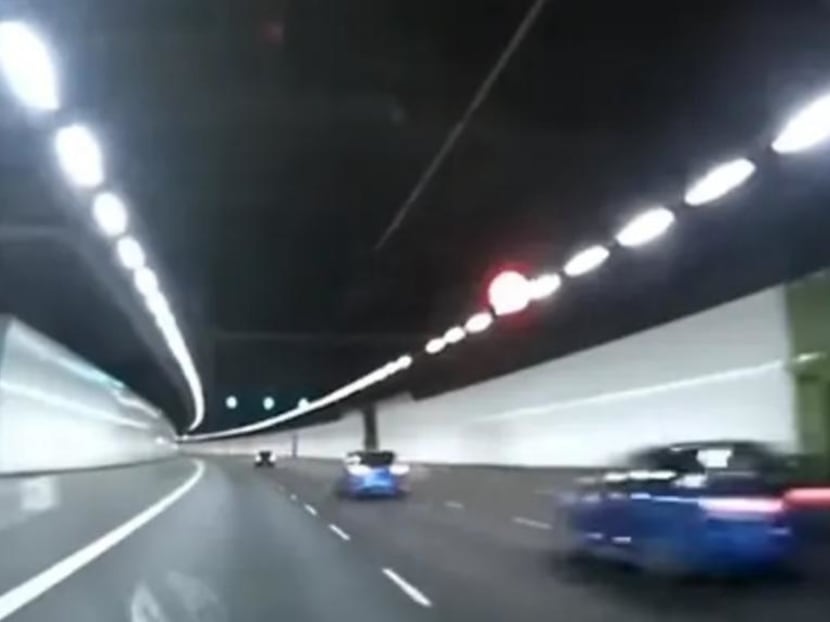 Patrick Ong Choon Hua used a laser pointer to get drivers of other cars to make way for him on the Kallang-Paya Lebar Expressway
He acknowledged that his actions could have temporarily blinded other drivers
The judge said he had to turn away from watching footage of one incident after "the whole video turned green"

SINGAPORE — Fed up with drivers blocking his way along the Kallang-Paya Lebar Expressway (KPE), Patrick Ong Choon Hua aimed a laser pointer in the direction of these drivers. 
Magistrate Hairul Hakkim Kuthibutheen who presided over the case said that the beam was so strong, he was "blinded" after watching in-car camera footage of one of the incidents.
On Thursday (June 24), Ong, 52, who works as an aquathlon coach, was jailed for two weeks after pleading guilty to one charge of committing a rash act that endangered human life. 
A second such charge for pointing the laser beam at another car on a separate occasion was taken into consideration for sentencing.
The court heard that one incident happened on Feb 2 last year. 
On Sept 2 last year, Ong again used his laser pointer. This time, he was driving directly behind Mr Lim Chee Yong's car in a tunnel along the KPE when he flashed his high beam and turned on his hazard lights. 
He wanted to signal to Mr Lim to change lanes, as he felt that the other man — who was travelling at 80km/h — was driving too slowly. 
There were other vehicles on Mr Lim's left, which meant that he could not immediately change lanes in a safe manner.
About 30 seconds later, Ong took out his laser pointer and aimed it at Mr Lim's rearview mirror.
Ong said that he intended for the beam to reflect off the mirror and into Mr Lim's eyes, forcing him to change lanes. 
Mr Lim "felt irritation in his eyes" and was briefly unable to focus on the road ahead, Deputy Public Prosecutor (DPP) R Arvindren told the court.
After Ong aimed the beam for about 13 seconds, Mr Lim moved to the middle lane and Ong continued to follow closely behind another car. 
He then pointed the beam diagonally at Mr Lim's car again, even though Mr Lim had already moved away. He only stopped when Mr Lim's car was no longer in his line of sight.
Mr Lim filed a police report later that day.
During investigations, Ong admitted that he had previously pointed the laser beam at other drivers on the KPE to force them to make way for him. 
He also admitted that he knew it could be annoying or distracting and could temporarily blind other drivers, resulting in an accident.
'HIGHLY PERILOUS'
After pleading guilty, Ong explained that he was "an aquathlon coach, not an arrow shooter" and did not know his actions would "cause so much inconvenience".
He said that he used the laser pointer for his work and was on his way home on Sept 2, which happened to be his birthday. 
"Why I kept shining at him was because he was blocking the way," Ong said.
Magistrate Hairul then said to Ong: "It's definitely a very dangerous thing to do, right? As I watched the video, my eyes were blinded; I had to turn away at one point because the whole video turned green."
DPP Arvindren, who sought at least one week of jail for Ong, said that this was a "unique case" and added that Ong might even have died from his own actions on his birthday.
Ong, who was not represented by a lawyer, pleaded for a fine, saying in mitigation that he realised he had done a "very stupid thing".
"I'm not harming anybody and I know using a laser pointer is a wrong thing." 
When Ong sought to explain that he had also sounded his horn at Mr Lim, the judge replied that this could be an aggravating factor as drivers should only do this when danger is imminent.
In sentencing Ong, Magistrate Hairul told the court that pointing a laser beam at other drivers' eyes, directly or indirectly, was "not merely annoying or irritating but highly perilous".
"Having a clear and unobstructed view is imperative for driving… There is a strong policy rationale to call for a deterrent sentence against such errant drivers," the judge noted.
Magistrate Hairul allowed Ong to start serving his sentence on Friday, as he said that he had driven to court and needed to park it back home.
For committing a rash act endangering human life, Ong could have been jailed for up to six months or fined up to S$2,500, or both.