Drivers say S$1 fare hike by Grab not helpful, commission taken from earnings should be reduced instead
SINGAPORE — Private-hire car drivers whose earnings have been hit by stricter movement curbs said that a S$1 increase to base fares next month by ride-hailing firm Grab does not go far enough to support them.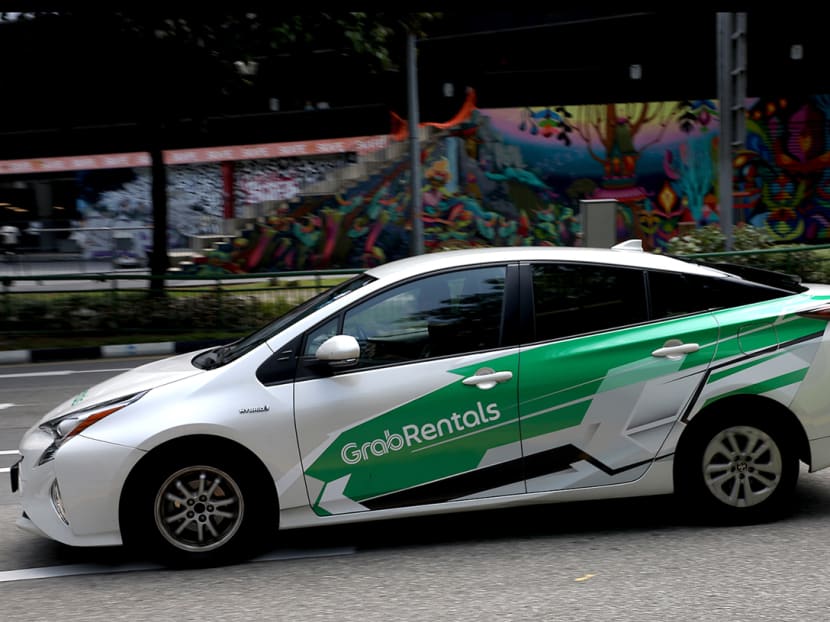 Private-hire car drivers respond to news of Grab raising fares by $1
They do not think it will help buffer the ongoing loss in income 
It would be better for Grab to reduce the 20 per cent cut it takes from their earnings
Drivers are also worried that the higher fare might put off riders and give drivers not using Grab more business 
Riders said it looks as if Grab is pushing higher costs to them and adding to its own profits
SINGAPORE — Private-hire car drivers whose earnings have been hit by stricter movement curbs said that a S$1 increase to base fares next month by ride-hailing firm Grab does not go far enough to support them.
Grab announced on Tuesday (May 25) that it will be raising the fares from June 1.
Several private-hire car drivers told TODAY that the fare increase is too small and the number of ride bookings they can take has fallen drastically compared to before the Covid-19 pandemic, so it is not going to make up for lost income.
Other drivers said that the other support measures such as rental rebates are not uniform for all Grab drivers, so it is not as if everyone is getting the rewards or benefits.
Five drivers said that it would be better for Grab to reduce its 20 per cent commission rate — which is a cut it takes on their earnings — to help them tide over this period of a month or so.
Some drivers suggested that the more practical ways to support them may be to give them food and petrol vouchers and to top up their earnings with cash payouts.
Member of Parliament Yeo Wan Ling, who is advisor to the National Private Hire Vehicles Association, also called on Grab to relook its commission formula. 
She told TODAY: "We foresee that the road to recovery beyond Phase 2 (heightened alert) will take time, and we hope that Grab will continue to support our drivers' livelihoods and well-being such as relooking into commission structures, and assistance should our drivers be issued with quarantine orders and lose their livelihoods."
She added that the association will work closely with the drivers and the ride-hailing operators to monitor the ground reaction to the fare hike in the short term.
Grab bumped up the base fare at a time when vehicle operating costs are getting higher and ridership has suffered due to the pandemic, with more people staying home to work.
From May 16 to June 13, the country is in a state of heightened alert with more controls over movement and activities to arrest the growing cases of coronavirus infections.
For now before the increase, the base fare for its fixed-fare service JustGrab and GrabCar private-hire car option is S$2.50.
The change will not apply to its standard taxi option, social ride-sharing service GrabHitch and chartered-bus and minivan offering GrabCoach.
The S$1 fare increase will go entirely to Grab drivers from June 1 to 30 but from July 1, Grab will take a 20 per cent cut — its standard commission rate — from the S$1 increase, which will be permanent.
Apart from this, Grab is also looking to give more incentives if drivers complete jobs for its food, grocery and parcel delivery services in designated areas of high demand.
Drivers will also be entitled to fixed-value cash rebates, based on the total number of transport and delivery assignments that they complete during designated hours from 8am to 10pm.
WHAT DRIVERS SAY
Responding to the fare hike, Grab driver George Gill, 48, who has been driving since 2016, said: "If the ridership is low, the S$1 (increase) won't make a difference.
"Grab should stop taking 20 per cent (commission) totally for June and with that S$1 extra, then that will be helpful to the drivers."
Mr Gill added that even giving out grocery, petrol and food vouchers would go a long way.
Another Grab driver, Mr Bhajan Singh, 53, who has been driving for four years, agreed that Grab should not charge commission for the S$1 permanently. 
"Eventually, (the base fare increase) will benefit Grab, right? The more we earn, the more they make," he said.
Mr Awang Mohd, 58, a part-time Grab driver for over a year, said: "I don't believe this is for our benefit at all. This is a starting ground for Grab to earn more commission later down the road. I am not assured that this will help us. 
"Grab drivers still suffer a big loss of income during this time because not many people are going out. I drive a minibus but I can only take two passengers at one time (due to the imposed limits).
"How will this S$1 increase each ride help me? Five rides, only S$5. That's hardly worth the time and effort."
Mr Awang said that it will be better if Grab can issue a one-time payout to drivers who have clocked a certain number of hours.
Another driver Winston Low, 55, said that it will be useful this period if Grab could pay its drivers a per-hour fee of S$5 to S$8, for example.
Mr Low was concerned that the higher fare might affect ridership and Grab drivers may lose out to competition from rival ride-hailing operators such as Gojek, Tada and Ryde.
As for the other benefits, Mr Singh pointed out that "most of Grab's incentives come with a clause like 'designated areas' and 'designated hours'" and rental rebates are offered only to drivers using GrabRentals or some fleet partners.
"What about other drivers who don't rent from these companies or drivers who have their own cars? Aren't they paying Grab 20 per cent (commission) as well? What about the rest?
"If Grab wants to, give (the same support) across the platform. We are also full-time Grab drivers," he said.
All the drivers agreed that reducing the commission would be more effective instead.
Mr Suryanto, 34, who is a part-time Grab driver, said: "If Grab wants to help drivers during these difficult times, it should either take a 10 per cent commission or no commission."
Mr Singh said that the commission should be lowered to 15 per cent permanently, while Mr Gill proposed a variable commission rebate of between 15 and 20 per cent. 
"For example, if the trip is S$20 without any commission deduction and there is a rebate of 20 per cent, the driver will take home S$24 and that will really help," Mr Gill said.
Business was so bad for him that Mr Gill said he has returned his car and will take a break from driving for a month since he cannot cover his costs.
WHAT COMMUTERS SAY
Passengers interviewed by TODAY said that they do not mind paying the extra S$1 in the first month to help the drivers, but some may be unwilling to do this after June when Grab starts taking a cut of the fares.
Ms Andrea Pak Chan, 34, a counsellor, said: "Grab's first approach to address the reduced income of the drivers was to pass the responsibility to the consumers. Have other means been considered?"
Teacher Emily Ng, 48, said: "Helping the drivers is okay but… how is it fair to consumers like me? If Grab wants to help drivers, they should not transfer the cost to consumers."
As a regular Grab user for her transport needs, Ms Ng said that she "definitely will compare price" moving forward. 
Civil servant Alex Gan, 25, said that he has since downloaded the Tada mobile application for rides, especially after seeing that Grab will still take a cut after raising fares.
Others agreed that Grab should lower its commission instead to help the drivers tide through this time.
Fresh graduate Nicholas Fong, 27, said: "It is good that Grab wants to let the drivers earn more during this period by not taking 20 per cent commission on that S$1, but it is not indefinite.
"Increasing the base fare in the long run will increase Grab's profit margin exponentially, so this is not just a measure to tide over this period but feels like a permanent price hike."
Finance manager Sylvan Fam, 40, said: "As an ex-Grab driver, I feel that a reduction in commission will help drivers more. As it is, there is already a reduction in passengers. By increasing the fare by S$1, I think it will further discourage passengers from taking rides. If so, how will it help the drivers?"
When told of what drivers and passengers have said or suggested, Grab repeated again the incentives, benefits and other rebate programmes it has in place for drivers.
One benefits programme rewards selected drivers based on a tiered structure, giving them fuel discounts and food vouchers, for example.
It also said that it is "committed" to passing on road tax rebates in full to those drivers who are GrabRentals hirers. 
On the point that it is pushing costs to passengers, Grab said that it is fully funding some of the new initiatives announced on Tuesday, such as the rental rebates through GrabRentals, the tiered cash rebates for drivers and the incentives for delivery jobs in designated high-demand areas.