To ease hawkers into digital world, sector players suggest orders from delivery apps be combined and made in person
SINGAPORE — To help older hawkers who are unfamiliar with the latest technology, a suggestion has been raised for a hybrid delivery model, in which someone gathers orders from online delivery platforms, goes to a hawker centre and places the orders in person with the hawkers.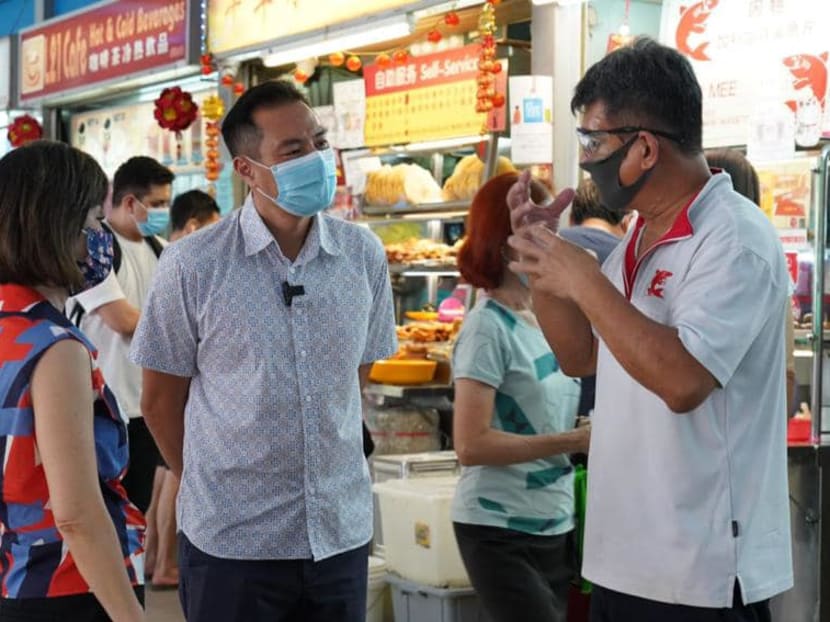 A workgroup focused on helping hawkers go digital held its first discussion with hawkers and food delivery platforms
During the meeting, they identified areas of concern for hawkers who have yet to join such platforms
The workgroup will now study how best to help these hawkers in areas such as cost and marketing 
 
SINGAPORE — To help older hawkers who are unfamiliar with the latest technology, a suggestion has been raised for a hybrid delivery model, in which someone gathers orders from online delivery platforms, goes to a hawker centre and places the orders in person with the hawkers.
This was one of the ideas that arose from a discussion on Thursday (June 17) among hawkers, representatives of food-and-beverage (F&B) delivery platforms and government officials on how to help Singapore's hawkers use mobile applications for delivery services. 
This was the first such discussion organised by a new workgroup that is focused on helping hawkers digitalise. It is led by Dr Amy Khor, Senior Minister of State for Sustainability and Environment, and Mr Tan Kiat How, Minister of State for Communications and Information.
Speaking to reporters during a virtual doorstop interview after the discussion, Dr Khor said that there is a need to support hawkers to tap digital platforms to supplement their business and expand their customer base.
"The pandemic has really accelerated the trend of food delivery services, and we think this is expected to continue even beyond the pandemic." 
To date, more than half of the 6,000-plus food stall owners from hawker centres operated by the National Environment Agency (NEA) or NEA-appointed operators are on online delivery platforms, Dr Khor disclosed.
When asked if she had a specific target in mind, she said that the goal would be for as many hawkers as possible to get on the platforms.
FOUR 'PAIN POINTS' IDENTIFIED
Mr Tan noted that the discussion identified four main "pain points" that hawkers face in trying to get on board the apps.
The first was that there needs to be better coordination of delivery orders within hawker centres. 
To address this, an idea was raised to have the delivery provider collate all orders for stalls within the same hawker centre, and then have a staff member physically go to the hawker centre to place the orders.
The second is that delivery providers do not always make it possible for customers to order from several stalls within the same hawker centre in one order. It would make more sense for this to be a norm because families often order from different stores when dining out together, Mr Tan said.
"We have char kway teow from one store, curry puff from another store, sugar cane drink from another store... so (the question is) how we can bundle the food together in a way that helps the different stores," he added.
The third difficulty was that of the costs and commission charges that merchants have to pay delivery platforms when they sign on to be partners. One concern that was raised, Mr Tan said, was whether hawkers could mark up the prices of the dishes they sell on the delivery platforms while still keeping hawker food affordable for Singaporeans. 
The final challenge was "activating demand" — that is, ensuring that there is enough demand for hawker food among users of delivery apps.
"Ultimately, if more people are ordering on online platforms, it helps to lower costs for everyone," Mr Tan said. 
He added that people have to recognise that the costs have to be shared across different players — consumers, delivery riders, platform providers and the hawkers themselves.
THE STEPS AHEAD
After this discussion, Mr Tan said that the workgroup will now focus on three tasks.
First, it will look at how to better support hawkers in learning how to use new technology.
Second, the workgroup will study how best to price hawker food on delivery platforms and ensure that the sale proceeds from orders reaches hawkers quickly.
Finally, it will look at how to "supercharge" demand for hawker food and tailor unique solutions for individual hawker centres, as each hawker centre is unique.
"We can help them (with) marketing, branding and reaching out to the precincts around the hawker centre," he said.
One way would be to work with committee volunteers, Mr Tan added, noting that ground-up initiatives such as Hawkers United — a public Facebook group where hawkers can promote their food — could be tapped.
Mr Anthony Low, the chairman of the hawkers division from the Federation of Merchants' Associations Singapore (FMAS), said that he found the discussion fruitful. He added that several hawkers have told him that they have hesitated partnering with delivery platforms because they are worried that they would not be able to cope with the technology.
They are also concerned about having to cope with offline and online orders simultaneously, and about the high commission charges they would have to pay delivery platforms.
Mr Low, however, said that he has been trying to encourage these hawkers to step out of their comfort zone, adding that the FMAS' hawkers division is looking to conduct courses to help hawkers learn the ropes of using social media and digital platforms.
"Using online delivery platforms is the trend now. The hawkers have to learn, because if they don't learn now, they may lose out in the end."