Eat cake and burn fat: More keto-friendly food options as diet gains traction here
SINGAPORE – Baker Delcie Lam, 34, embarked on a ketogenic diet earlier this year in hopes of shedding some weight after giving birth. Just days into the low-carbohydrate, high-fat diet, she became increasingly grumpy.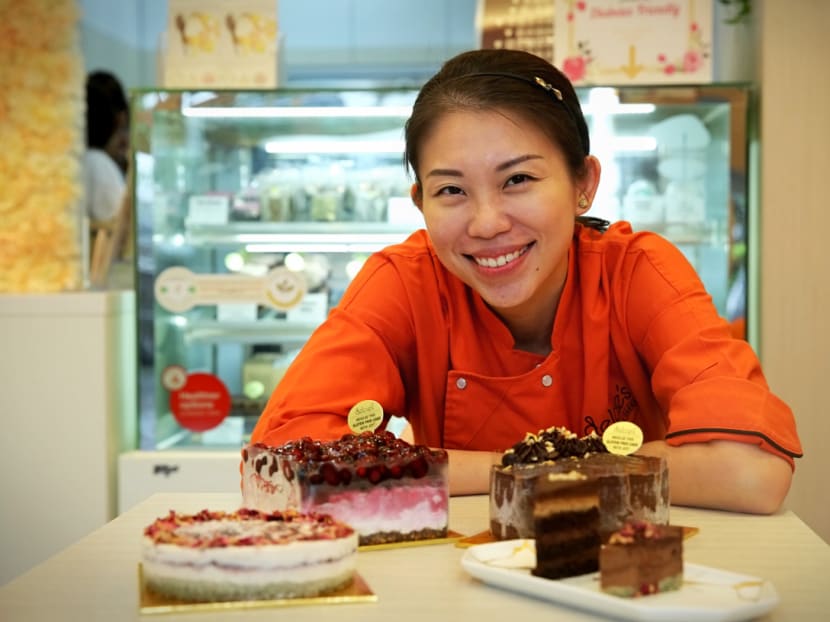 SINGAPORE – Baker Delcie Lam, 34, embarked on a ketogenic diet earlier this year in hopes of shedding some weight after giving birth.
Just days into the low-carbohydrate, high-fat diet, she became increasingly grumpy.
The main sticking point was having to give up her daily cake fix. High-carb desserts are a big no-no for dieters striving to get their bodies into a state of ketosis, which is when one burns fat instead of carbohydrates for energy.  
"I usually eat a slice of cake every day but when I went keto, that wasn't possible. I had to cut out rice and my usual kopi (coffee with condensed milk) too, so I was in a rather bad mood," said Ms Lam, who runs a plant-based bakery Delcie's Desserts and Cakes and is the author of a recipe book.
It spurred her to bake for herself and research and develop keto-friendly dessert recipes for her bakery. A trial of a keto-friendly opera cake in May was a hit with customers, many of whom were on the diet.
The low-sugar chocolatey treat, made using plant-based protein, contains only about a-tenth of the carbohydrates – around 50 to 60 grams – found in regular chocolate cake.
As interest in the ketogenic diet grows here, so has demand for low-carb food options.
Ms Lam is among a small but growing group of local entrepreneurs who have jumped on the bandwagon in this niche food market.
In July, BenBanter, the first local food brand dedicated to a low-carb lifestyle, made its e-commerce debut.
Owned by Singapore-based health and wellness company Spinnach Holdings, it offers a range of snacks and meal alternatives formulated to reduce or cut out sugar, carbohydrates and vegetable oils.
"Orders were few in the beginning but we gradually acquired more customers, many of whom have become regulars. Our month-on-month orders have been growing at double-digit percentages," said founder Mark Myerson.
Priced from S$10.30, BenBanter products are currently available online at benbanter.com, and places like Watsons and Mahota.
Mr Myerson improved his health by following a low-carb diet and hopes that the availability of such food products will make it easier for others on a keto or low-carb diet.
EXTREMELY LOW-CARB, BUT NOT FOR EVERYONE
People on a ketogenic diet usually consume extremely low carbohydrate content, commonly less than 15 per cent of their total diet composition compared to the under 35 per cent for those on a low-carb diet, said Dr Ben Ng Jen Min, consultant physician and endocrinologist at Arden Endocrinology Specialist Clinic.
The carbohydrates intake of a healthy individual is typically around 45 to 60 per cent of his caloric needs, or 200 to 270 grams for someone on a 1,800 calorie diet, said Ms Bibi Chia, principal dietitian at Raffles Diabetes and Endocrine Centre.
Some research suggests that the diet is effective against metabolic syndrome and other related chronic diseases.
While advocates swear by its health benefits, including improvements in energy levels and rapid weight loss, critics say the strict diet is unrealistic, unsustainable and might even be dangerous in the long run.
Dr Ng said the diet has shown promise in certain groups of patients, particularly those with Type 2 diabetes and non-alcoholic fatty liver disease.
Given that the typical Singaporean diet tends to contain more carbohydrates and sugar than needed, a lower carbohydrate diet can improve energy levels and overall blood sugar levels, and lower the risk of diabetes-related complications, said Dr Ng.
However, he does not encourage many of his patients to go completely ketogenic.
"It is important to highlight that a ketogenic diet is not for everyone. Certain groups of patients, particularly those with kidney disease, advanced liver or kidney disease, may not benefit from it and may, in fact, suffer more significant health-related complications if they were to embark on the diet," said Dr Ng.
High-protein diets may worsen conditions like gout, he said.
Additionally, the long-term effects of a Keto diet are still uncertain, Dr Ng added.
"It may help some people lose some weight at the beginning, likely due to a negative energy intake versus output. It shares many similarities to an Atkin's diet but the downside is that it is not sustainable," said Ms Chia.
Cutting out carbohydrates might lead to a lack of energy and, if severe, can lead to ketoacidosis, Ms Chia warned. Ketoacidosis is a serious complication of diabetes that occurs when the body produces high levels of blood acids called ketones.
Another issue that health experts have with the diet is that keto dieters tend to misconstrue "burning fat with fat".
"The problem in some cases is that the individual replaces carbohydrates with even more unhealthy alternatives, such as saturated fat that, in turn, causes rising cholesterol levels. But if we were to replace carbohydrates in our lives with good sources of fat and protein, or even better sources of carbohydrates, we will get healthier," said Dr Ng.
High intake of saturated fat might increase bad cholesterol levels and the risk of heart problems, said Ms Chia.
Those on a ketogenic diet should have regular health screening, for example, to check cholesterol levels, she said.
Dr Ng said anyone considering a lower-carbohydrate diet should be discerning about their food choices, and replace carbohydrates with healthier alternatives such as healthy fat and lean meat. Those with medical conditions should also discuss with their doctors before embarking on the diet.  
DIFFERENT REACTIONS TO THE DIET
Those who have tried the keto diet reported mixed outcomes.
Fitness trainer and online fitness show host Tyen Rasif, 22, who recently went on a week-long ketogenic diet, said it was "the worst diet" she has tried.
Although she lost almost 2kg in a short span of time, Ms Rasif struggled with the brain fog that came with it. She also developed a bad case of constipation.
"I don't think this diet works for people who do intense workouts. The diet is also expensive as it involves a lot of high-fat meats like beef and salmon," she said.
Ms Sundarri Poobalan, 39, who was on the diet for a year in 2014, said more food options would make it easier for people to maintain the diet in Singapore, where meals are traditionally rich in carbohydrates.
She had gone on the diet in a bid to improve her asthma condition. "The diet reduces inflammation and it helped improve my night coughs. I also lost 7kg in three months," said Ms Sundarri, an office manager.
Baker Ms Lam went off the strict diet after losing 6kg within a month.
But she intends to continue expanding her bakery's keto-friendly vegan cake range, for which prices start from S$70 to S$95 for a six to eight-person serving.
It took 50 trial bakes to "ketonise" her recipes as she had to ensure they have a low net carbohydrate content, a high dose of healthy fat and medium protein content.
It is impossible to achieve zero carbohydrates as even protein-packed nuts, such as almond, contain some carbohydrates, she said.
Her low-carb, low-sugar creations are also suitable for diabetics.
"My customers had expected the cakes to taste weird but most of them, even those who are not on the keto diet, felt they were awesome. We're getting enquiries on our keto-friendly cake range) almost every day now," said Ms Lam.
"Whether or not the keto diet trend is here to stay, it's for anyone who wishes to enjoy a healthier piece of good cake and not just empty calories. Plus, it would also benefit many of my customers who have diabetes," she said.