ElderShield to be renamed CareShield Life with higher, lifetime payouts from 2020
SINGAPORE — The enhanced ElderShield insurance scheme will be renamed CareShield Life from 2020, and will dole out higher and lifetime payouts to severely disabled Singapore residents — up from a cap of six years.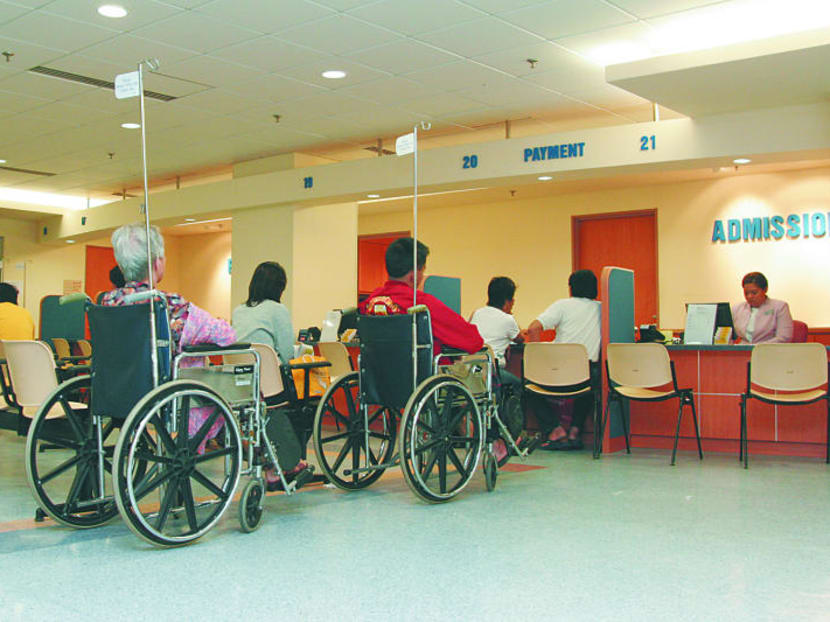 SINGAPORE — The enhanced ElderShield insurance scheme will be renamed CareShield Life from 2020, and will dole out higher and lifetime payouts to severely disabled Singapore residents — up from a cap of six years.
Unlike the existing opt-out ElderShield scheme, enrollment in CareShield Life will be compulsory. The first cohort to be enrolled are citizens and permanent residents aged between 30 and 40 in 2020, with all subsequent cohorts automatically enrolled once they reach 30 years old.
Those born before 1980 can opt to join the scheme from 2021.
The Government, which on Sunday (May 27) accepted the committee's full set of recommendations, has pledged to help lower- to middle-income residents by providing them with means-tested premium subsidies of up to 30 per cent.
The enhanced severe disability insurance scheme promises bigger initial cash payouts — S$600 per month instead of the current S$400 — which reflects current costs of nursing homes, and home and community care.
It will also go up by 2 per cent per year in the first five years' of implementation.
Graphic: Ministry of Health
But these higher payouts will come at a cost. Premiums will concurrently go up by 2 per cent per year for the first five years, with subsequent adjustments to be determined by an independent CareShield Life Council.
Premiums will also now be "spread over a longer duration during Singaporeans' working years" from age 30 to the current re-employment age of 67 — up from the existing range of 40 to 65.
Explaining that there is "no free lunch", ElderShield review committee chairman Chaly Mah said the increase in payouts have to be balanced by an increase in premiums.
Policyholders who require bigger payouts have the option of buying supplementary plans from private insurers, said Health Minister Gan Kim Yong.
Speaking to reporters on Saturday, Mr Gan said review is an "important step" in the Government's preparations for an ageing population, including rolling out MediShield Life in 2015 and increasing capacity in nursing homes.
Adding that the name change is useful, Mr Gan said: "It reflects more accurately what the scheme does — it primarily focuses on long-term care, and it's basically a collective risk-pooling insurance scheme."
Graphic: Ministry of Health
ENSURING PREMIUMS REMAIN AFFORDABLE FOR ALL
Policyholders will continue paying premiums through Medisave, with the Government promising that premiums will remain affordable for all.
Up to two-thirds of Singapore resident households will benefit from permanent means-tested subsidies of between 20 and 30 per cent for lower- to middle-income residents.
Those earning a monthly per capita household income of S$1,100 or less will get a 30 per cent subsidy rate, while those earning between S$1,101 and S$1,800 will be subsidised 25 per cent. Those earning between S$1,801 to S$2,600 will receive 20 per cent in subsidies. This echoes the premium subsidies that lower- to middle-income families receive under MediShield Life.
Singapore citizens who join the new scheme in the first five years will also receive up to S$250 in transitional subsidies to help them pay for premiums.
While Mr Mah explained that the 2 per cent annual premium increase for the first five years takes into account inflationary adjustments, Mr Gan stressed that premiums will remain affordable for everyone.
"So far, we have tested our assumptions based on current scenarios to make sure premiums would always be within the means of our families regardless of their income. Going forward, the independent council will take this into account as well," the minister added.
Graphic: Ministry of Health
WHAT WILL CHANGE?
This change will benefit those who remain severely disabled, which according to Ministry of Health (MOH) estimates could be one in two healthy Singapore residents aged 65 or above.
With MOH's predicting that about three in 10 Singaporeans will live a decade more after they suffer a disability, and some 38 per cent of ElderShield policyholders currently claiming payouts for the full five or six years, Mr Mah added: "The lifetime payout gives assurance to those who are disabled, so they don't have to worry whether payouts will run out if they live longer."
The claims process for CareShield Life will be simplified, with first-time disability assessment fees for claims waived.
The pool of accredited assessors — which currently include 107 general practitioners who conduct assessments in their clinics, and 13 who do house calls — will also be expanded to include occupational therapists, physiotherapists and nurses.
The impact of cognitive impairments on functional ability — such as dementia — will be considered in the disability assessment framework for claims.
The Government will also take over management of CareShied Life on a non-profit basis from NTUC Income, Great Eastern and Aviva, the three private insurers currently providing ElderShield coverage.
ENCOURAGING AND SUPPORTING EXISTING COHORTS TO OPT IN
With subsidies and instalment plans, the Government plans to encourage existing ElderShield policyholders and those who previously opted out of ElderShield to join CareShield Life.
More details on opting into the new scheme, including subsidies and how much they will pay for premiums, will be revealed in the second half of this year.
"The needs (of the older cohort) and backgrounds are quite diverse, so they will need different ways to cater to their long-term care needs. That's why we want to roll out the arrangements for them later, so in the meantime they can focus on understanding CareShield Life," Mr Gan noted.
ElderShield began in 2002, paying out S$300 or S$400 a month to policyholders who cannot independently perform at least three out of six activities of daily living — eating, bathing, dressing, transferring (from the chair to bed, for instance), going to the toilet, and walking or moving around. The payouts last for five or six years, depending on when policyholders joined the scheme.
The scheme was last reviewed in 2007, before the current 14-member review committee was set up in October 2016.
While many had called for the criteria of severe disability to be expanded, Mr Mah, who also chairs the Singapore Accountancy Commission, explained that reducing it to at least two activities, for example, would have pushed up premiums by about 30 per cent.
"We felt that it would become unaffordable to many people," said Mr Mah.