On the up: Electricity and gas bills, petrol, food prices for 2018 and 2019
SINGAPORE — Electricity and gas bills, petrol costs, and food prices are expected to go up for the rest of this year and into the next year. This comes on the back of higher oil prices and concerns over weather conditions affecting the production of Singapore's key food import sources.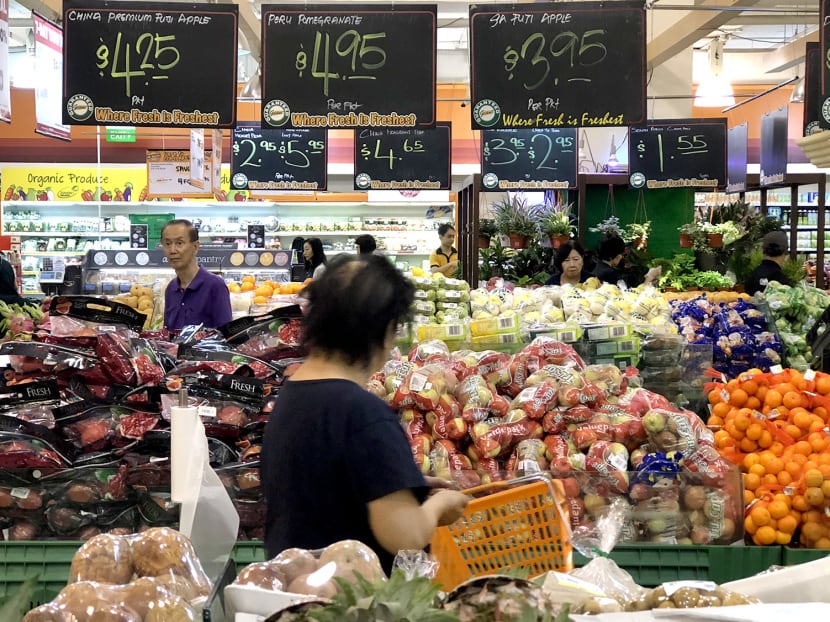 SINGAPORE — Electricity and gas bills, petrol costs, and food prices are expected to go up for the rest of this year and into the next year. This comes on the back of higher oil prices and concerns over weather conditions affecting the production of Singapore's key food import sources.
The Monetary Authority of Singapore (MAS) expects these external sources of inflation to push the inflation rate to 2 per cent for the rest of the year, and maintain through the first half of 2019, it said its bi-annual macroeconomic review released on Friday (Oct 26).
As for domestic sources of inflation, the central bank said that a faster pace of wage growth in 2018 and 2019 — on the back of an improving labour market — could contribute to inflationary pressures.
Prices of essential services are also expected to increase significantly next year with the hike in the foreign domestic worker levy, and with bus and train fares also likely to go up. 
HIGHER OIL AND FOOD PRICES
A confluence of tightening oil inventory balances, strong global economic growth and heightened geopolitical risks have led to global oil prices soaring to above US$80 (S$110) a barrel in early October, stated MAS in its review.
With uncertainty surrounding the impact of United States' sanctions on Iranian crude oil exports, MAS expects oil prices to average at US$74 this year, much higher than its estimate of US$66 in its April review.
The bulk of the pass-through of higher oil prices to households' electricity, gas and petrol costs would have occurred in the third quarter of this year, said the authority.
However, it expects oil prices to stabilise in 2019, leading to a lower contribution of oil-related items to inflation. The progressive roll-out of the open electricity market island-wide from next month would also help households to reduce electricity prices, it said.
MAS also expects prices of imported food to rise slightly next year due to higher demand and the possibility of unfavourable weather conditions in Singapore's key food import sources.
As Australia is Singapore's second largest import source for dairy products, a further intensification of the drought there could result in increased prices.
International rice prices are also expected to increase due to greater consumption. Domestic rice prices have already gone up by 3.6 per cent in the third quarter, compared with the same period a year ago.
Weather agencies have said that the possibility of El Nino conditions developing between late this year and early next year have increased, cautioned MAS.
"On the whole, there are signs that food import prices are picking up across a range of items, and these should pass through gradually to food inflation over subsequent quarters." 
DOMESTIC SOURCES OF INFLATION
Expectations for faster wage growth would mean higher labour costs for companies, adding to inflationary pressures, the central bank said.
Explaining the link between wage growth and inflation, Mr Francis Tan, United Overseas Bank's investment strategist, said: "If companies' wage costs are moving up, naturally they want to pass them on through the final retail price."
However, he added that real wages in Singapore, which excludes increases from inflation, have been positive every year since the global financial crisis in 2008.
That is because a company's factors of production are not limited to labour costs, but also other factors such as the capital cost of machines.
Real wage growth happens when other costs of production do not rise as much as labour costs, said Mr Tan.
The challenging retail landscape will partly offset upward pressure on consumer prices, while lower Certificate of Entitlement (COE) car premiums and lower accommodation costs could prevent prices from going up.
Structural challenges in the retail space, arising out of competition from e-commerce, could "blunt the ability of retailers to pass on higher costs", said MAS.
Lower COE premiums have also led to a reduction in car prices. The sale of rental vehicles after the exit of ride-hailing app Uber could have attracted buyers to the used car market, further driving down prices of used cars and COE premiums in the coming months.
Declines in housing rentals contributed to accommodation costs falling by 2.7 per cent year-on-year in the third quarter of the year. MAS expects rentals to continue to fall, albeit at a slower pace, for the rest of this year and next.
TRADE TENSIONS
MAS' economic outlook has become "more uncertain" since the last review, due to trade tensions between US and its trade partners.
While the tariff wars between both countries have had "limited impact", the central bank said that the "negative spillovers are expected to impact the Singapore economy in the latter part of this year and beyond". 
Hence, it expects Singapore's economy to expand at a slower pace for the rest of this year and in 2019, with the Gross Domestic Product (GDP) to register within the upper half of the 2.5 to 3.5 per cent forecast range for the whole of this year, and to moderate slightly next year.
However, some of the impact could be mitigated as there is evidence of diversion of export orders, and a relocation of production facilities by US firms from China to South-east Asia.
MAS said that Singapore may benefit from this diversion due to its hub status.
Besides potential negative impact from the trade war, the maturing of the global economic and tech cycles at a similar time is another factor MAS expects to weigh on Singapore's GDP growth.
It therefore expects growth in the trade-related clusters, which includes manufacturing of electronics, to wane and for the modern services cluster to contribute more significantly to overall GDP.