As English becomes the dominant language in more Malay families, some are reversing course
SINGAPORE — Mr Andy Mirza, a 42-year-old lecturer at a tertiary institute, says that he exclusively speaks English to his two sons, aged 11 and 8, because he is "more comfortable with the language".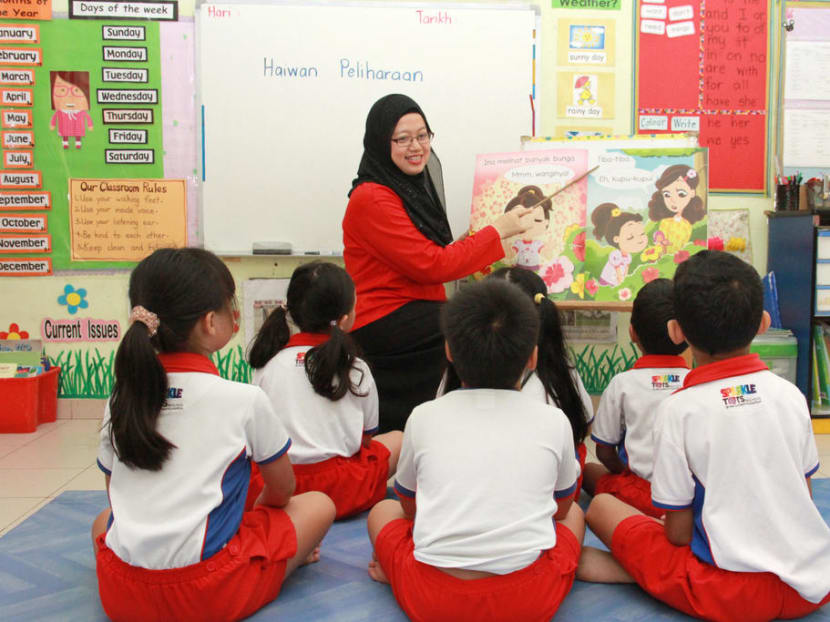 SINGAPORE — Mr Andy Mirza, a 42-year-old lecturer at a tertiary institute, says that he exclusively speaks English to his two sons, aged 11 and 8, because he is "more comfortable with the language".
Another parent, Nanyang Technological University lecturer Walid Jumblatt Abdullah, says that he and his wife speak to their four-year-old son almost exclusively in English as it "comes naturally to us".
These two families are part of a growing number of Malay households that speak English instead of their mother tongue at home, with their proportion more than tripling over the last 20 years. 
Theirs is a bigger jump compared with Chinese and Indian households.
While Mr Andy said in an interview with TODAY on Wednesday (Oct 23) that the Malay language is still relevant, he feels that English is more important as it will help his children communicate when they enter the working world.
He added that it is also important for them to have a good grasp of English to score well in subjects such as science and mathematics.
Asserting that it is difficult for Malay parents to teach and speak to their children in both languages, Mr Andy said that he prefers to teach his sons English first and then let them learn Malay from their teachers when they enter primary school.
Dr Walid, 34, admitted that he is "very concerned" that his son will not be competent in his mother tongue, and so both he and his wife are making a more conscious effort to teach Malay to their son, by borrowing Malay books from the library, for instance.
Parents and educators said that it is a delicate balancing act, as while Malay households recognise the importance of English, they realise that the Malay language remains an important part of the community's culture and heritage.
The proportion of Malay households speaking English as their main language has shot up from about one in five households (18 per cent) two decades ago to more than two out of three households (67 per cent) now, according to Ministry of Education figures cited by Prime Minister Lee Hsien Loong on Tuesday.
In comparison, 71 per cent of Chinese households speak English as their main language at home now, up from 42 per cent two decades ago. For Indian households, the percentage has increased from 55 per cent to 70 per cent over the same period.
Mr Lee, who was speaking at the 40th anniversary celebration of the Speak Mandarin Campaign, said that Singapore was losing its bilingual edge.
Malay parents have mixed views on how they will deal with teaching their children the two languages.
Some told TODAY they will prioritise English in their households to ensure their children perform well in school while others are taking steps to expose their children to the Malay language at a younger age.
Experts also said that with the increasing use of English within the community, it will be harder for teachers to teach Malay, with the home remaining the best environment for a child to pick up the language.
IT TAKES A VILLAGE TO TEACH THE LANGUAGE
Playwright Alfian Sa'at, who writes in both English and Malay, said that while the figures seem "alarming", this might not mean that Malay has been completely excluded from use.
Mr Alfian said that with the increasing importance of English, society cannot "have its cake and eat it, too".
"If English is going to give students an important social capital to get ahead in life, then I think we can't at the same time say that your mother tongue is important," he said.
"I think we have to be prepared that there will be one primary language that is structurally and institutionally used in Singapore, and the other language will have to take a secondary position."
Nevertheless, with the increasing primacy of English, Malay language teachers here face a mammoth task.
Associate Professor Roksana Bibi Abdullah from the National Institute of Education's (NIE's) Asian Languages and Cultures Academic Group, said that teaching students with varying competencies in the language, including those who cannot speak or write in Malay, is a challenge.
Assoc Prof Roksana, who is also the vice-chairperson of the Singapore Malay Teachers' Cooperative, said that Malay teachers often act as "mobile dictionaries", helping students translate words from English to Malay.
Students also tend to think in English and translate to Malay, resulting in inaccurate sentence structures and word choices.
Ms Rahayu Mahzam, chairman of the committee in the Malay Language Council that organises the Malay Language Month, said that the key is to be able to "switch and preserve the use of the language when we need to, and not to lose it".
When it comes to teaching the language, the Member of Parliament for Jurong Group Representation Constituency said that the approach by the movement has been to firstly make parents understand and appreciate that they need to protect their culture and identity through the use of the language; and secondly, encourage the regular use of the language with children.
Mr Alfian said that one cannot expect anyone to master languages in the same way, and that it is more important that people achieve a competency that allows them to express themselves, get what they want and communicate with others.
For Assoc Prof Roksana, the responsibility of ensuring that Malay remains relevant for future generations should not be borne by teachers alone.
"No matter how hard teachers work to plan interesting and meaningful Malay language lessons, learners' mindsets towards the relevance of the language need to be addressed first," she said.
"It is the whole village's responsibility to make children believe that the learning of both English and Malay, or other mother tongue, be regarded as equally important in the development of a modern, progressive and cultured society."
ENGLISH FOR SCHOOL, MALAY FOR HOME
Still, there are young Malay parents who are already taking pains to teach their children their mother tongue from a young age as they anticipate that their children will be exposed to English as they get older.
Madam Siti Radziah Abd Razik, 33, was prompted to speak Malay to her three children, aged between one and five, after noticing that the younger generation "tends to forget how to speak Malay" as they get older due to their exposure to English.
To avoid this situation, she speaks to her own children in Malay and will let them learn English when they start school.
Mr Masagos Muhammad Nadhir Mokhtar, 29, chose to send his two-year-old daughter to a preschool that offers Malay so that she will receive a good grounding in the language. He also wants his daughter to converse with her grandparents and Indonesian domestic helpers in Malay.
"I think (picking up) English won't be a problem for her, but Malay may be a problem because there will be fewer opportunities for her to converse in Malay in school," he said.