ESM Goh Chok Tong retires from politics, will not be standing in coming GE: PMO
SINGAPORE — Emeritus Senior Minister Goh Chok Tong will not be standing in the coming General Election on July 10.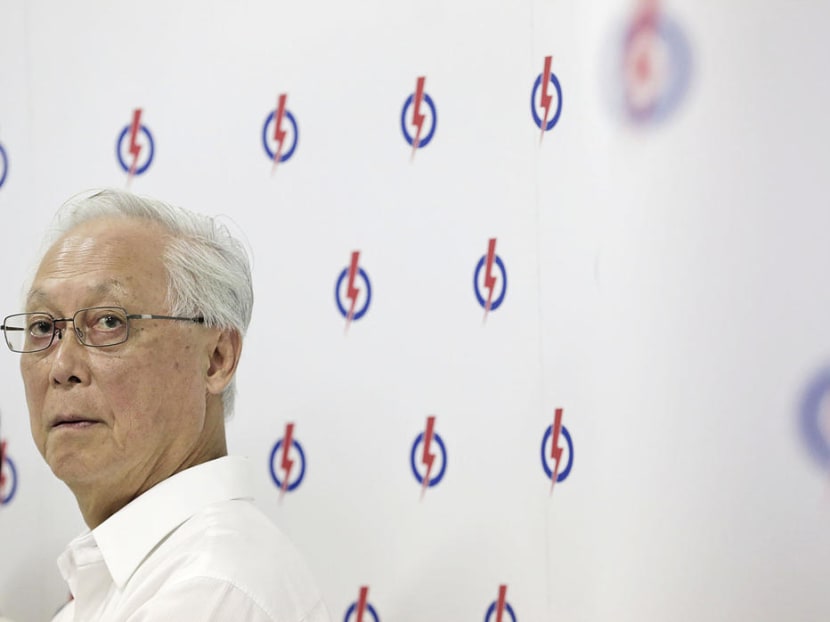 ESM Goh has been Marine Parade MP for 44 years, winning 10 GEs and one by-election 
Decided "with heavy heart" to retire whilst he is healthy and able to help his successor ease in 
PM Lee Hsien Loong accepted Mr Goh's decision "with sadness"
Also lauded Mr Goh's leadership and contributions to Singapore
Said he will "always be personally indebted" to the former PM for his guidance and mentorship

SINGAPORE — Emeritus Senior Minister Goh Chok Tong will not be standing in the coming General Election on July 10. 
In a letter addressed to Prime Minister Lee Hsien Loong dated Wednesday (June 24), Mr Goh, 79, said that he had made the decision "after much thought and with a heavy heart", having served as Member of Parliament (MP) for the Marine Parade constituency for 44 years.
"Marine Parade is my second home. I love the people," Mr Goh wrote. 
"Many have urged me to stand for another term. But I should not. I would not have the same energy when I cross into my 80s." 
In a reply letter on Thursday, Prime Minister Lee Hsien Loong said he accepted Mr Goh's retirement decision "with sadness".
Both the letters were released to the media by the Prime Minister's Office on Thursday. 
In his letter, Mr Goh said that he preferred to retire as MP now whilst he is healthy and is able to ease his successor's transition into Marine Parade Group Representation Constituency (GRC). 
He recommended that Dr Tan See Leng, 55, who has been understudying him for almost two years and helping him with Meet-the-People sessions and other social projects, take over from him.  
Dr Tan, who was unveiled as a People's Action Party (PAP) candidate on Thursday (June 25), is the former chief executive officer of IHH Healthcare, a Malaysian–Singaporean private healthcare group. 
In his letter, Mr Goh noted that smooth and systemic leadership succession is key to Singapore's political stability.
"Competent and trusted leaders with the heart for public service are critical to secure Singapore's place in an increasingly turbulent world," said Mr Goh, adding that he "strongly supported" Mr Lee's planned leadership succession at the national level. 
"The 4G team led by Heng Swee Keat has been tested and strengthened in the crucible of Covid-19. We must look for more good men and women to join the team. Likewise, we should start building up the core of the 5G team," he wrote.  
Mr Goh said that it had been his "greatest honour and privilege" to have served the PAP, the residents of Marine Parade and all Singaporeans for the past 44 years.
"I will continue to contribute to Singapore in other ways," he added.
Mr Goh will become senior adviser to The People's Association on a pro bono basis and will continue to chair the governing body of the Lee Kuan Yew School of Public Policy. 
In his reply on Thursday, PM Lee thanked Mr Goh for his "calm and steady" leadership through crises such as the Asian Financial Crisis in the late 90s and the 2003 severe acute respiratory syndrome outbreak.
"Your contributions continued after you stepped down as PM. In Parliament, you weighed in during key debates, including on integrated resorts and ministerial salaries," wrote Mr Lee.
"You guided the younger MPs, providing them with historical perspective and inculcating in them the values and ethics of public service."
Mr Lee also highlighted Mr Goh's contributions to Singapore's financial sector as chairman of Monetary Authority of Singapore (MAS), where Mr Goh remains a senior advisor. 
Referring to Mr Goh's contributions on the diplomatic front, Mr Lee said: "Internationally, you built bridges for our people, opened doors for our businesses, and flew our flag high."
When Myanmar opened up, Mr Goh's personal relationship with the leaders gave Singapore companies an entry to seize economic opportunities there, he said. 
Mr Lee also credited Mr Goh with initiating the Tianjin Eco-City and Guangzhou Knowledge City as well as helping to get the Comprehensive Economic Cooperation Agreement with India signed as a result of the "trust and goodwill" he had built up in that country over the years. 
In his three-page letter, Mr Lee noted however that "it is in Marine Parade that you have left the most personal imprint on the lives of individual Singaporeans". 
Marine Parade, said Mr Lee, was a newly reclaimed area — and a "large but blank canvas on which our hopes and dreams could be projects — when Mr Goh was first elected in 1976. 
"Marine Parade has become a vibrant waterfront town filled with warmth, which people of all ages are proud to call home. The story of Marine Parade is the story of Singapore — out of nothing, we created something special. You made that happen," said Mr Lee. 
Mr Lee recalled how Mr Goh proposed having Residents' Committees in Marine Parade and when that project succeeded it was replicated in more than 800 RCs and Neighbourhood Committees islandwide. 
Towards the end of his letter, Mr Lee said that he would "always be personally indebted" to Mr Goh. 
"You brought me into politics and have guided and mentored me all these years. It was my privilege to be your deputy throughout your premiership," wrote Mr Lee. 
He added that he looked forward to regular lunches with Mr Goh even after he had retired from Cabinet. 
"Your advice, based on a lifetime of experience, helped me clarify my thoughts and avoid many unnecessary errors," said Mr Lee. 
"Ours was a fruitful comradeship that spanned the entirety of my years in politics and most of yours — a close relationship between two prime ministers that would be the envy of many countries."
Mr Lee also put up a Facebook post on Thursday thanking Mr Goh, describing him as a "dear mentor, colleague, comrade and friend" and wishing him a happy retirement. 
Deputy Prime Minister Heng Swee Keat also paid tribute to Mr Goh in a Facebook post on Thursday (June 25). 
Recalling the global financial crisis in 2009, Mr Heng said that he was glad to have the "wise counsel" of Mr Goh during this period when he was managing director of MAS and Mr Goh was the chairman. 
"He taught us that we must face difficult decisions head-on. Having thought through the options, we must have the courage to do what is right. It was a lesson that stayed with me and continues to guide much of my work," wrote Mr Heng. 
"After I entered politics in 2011, ESM Goh continued to be a good mentor, with his signature mix of wisdom and humour. He cares greatly for the people around him — his residents, younger Cabinet colleagues, fellow Singaporeans. His commitment to serve is inspiring," Mr Heng added.
"ESM Goh has left an indelible impression on all of us. Even though he will not be part of the next Parliament, I am sure ESM will continue to keep Singapore and Singaporeans close to his heart."
Mr Goh was first elected into Parliament in 1976 and was re-elected in nine subsequent general elections and one by-election.
Between 1979 and 1990, he served as the minister of various ministries including trade and industry, health and defence.
He was appointed deputy prime minister in 1985 and succeeded Mr Lee Kuan Yew in November 1990 as Singapore's second prime minister — a post he held from 1990 to 2004.