More reaching Everest's peak, but risk of death not any lower, say Singaporeans who have made the climb
SINGAPORE — While there have been advancements in mountain climbing equipment and more helicopters for high-altitude rescues, Singaporeans who have made it to the top of the world warned that climbing Mount Everest is not any easier than it was years back.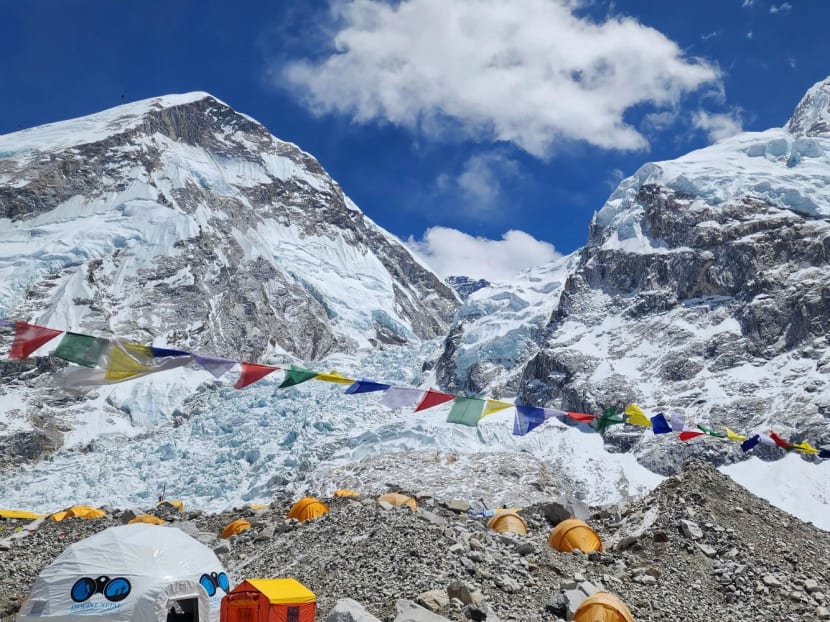 Advances in mountain climbing gear and rescue capabilities over the years have not made climbing Mount Everest any easier
Three Singaporeans who have reached the peak spoke to TODAY on the dangers of making the ascent after a 39-year-old Singaporean climber went missing 
Harsh weather, accidents and even plain bad luck make the trek dangerous, they said
Training and preparation can only increase the odds of survival, they added
Social media posts by those who have made it to the top may have caused some to underestimate the journey, one climber said
SINGAPORE — While there have been advancements in mountain climbing equipment and more helicopters for high-altitude rescues, Singaporeans who have made it to the top of the world warned that climbing Mount Everest is not any easier than it was years back.
They spoke to TODAY on the dangers of attempting the ascent after 39-year-old Singaporean climber Shrinivas Sainis Dattatraya went missing last week.
Beyond the harsh weather, accidents and sometimes plain bad luck, they said THAT those seeking to scale the mountain and make it back home safely must train themselves well — but sometimes, years of experience can mean little when faced with the harsh conditions of the mountain.
Mr David Lim, owner of motivational speaking company Everest Motivation Team,said: "It's not just about making it up to the peak. The most treacherous part is getting back down and home." 
In 1998, Mr Lim led Singapore's first expedition team to the peak of the world.
While he has since put the ropes and ice picks behind him, the 58-year-old said that much has changed, but not the risk of death.
Eleven climbers have lost their lives to the treacherous climb this year so far. Two are missing, including Mr Shrinivas, who is an executive director at real estate firm Jones Lang LaSalle.
Mr Shrinivas' wife told The Straits Times on Sunday (May 21) that he had high altitude cerebral edema (Hace) — which is when fluid accumulates in the brain and can be fatal.
The number of fatalities this year is double the average of five deaths every climbing season that lasts two months.
Mr Lim said: "When you're in the death zone (above the 8,000m point of Mount Everest), the first course of rescue in an emergency is self-rescue. Perhaps you stumble down, with the help of those in your exhibition team or other teams to perform an ad-hoc rescue.
"But this can be difficult, and sometimes it can put others in danger. Just spending a night... at that altitude — your chances for survival might not be great."
On the medical side of things, Hace and high altitude pulmonary edema — which is when fluid fills up the lungs — can hit at least 3,200m above sea level.
Dr Kumaran Rasappan, 39, a consultant with the department of orthopaedic surgery at the National University Hospital, said that this can be caused by a variety of factors, including genetics, acclimatisation, experience traversing mountains and the rate of ascent.
"It can strike anytime, even at lower altitudes," he told TODAY.
The way to increase the odds of survival for someone with these two illnesses? Get them down to ground as fast as possible, he said.
And that can be a tricky endeavour, the experts said, considering the height of Mount Everest. Emergency rescue helicopters today can only reach around the 6,400m mark of the 8,848m-tall mountain.
A DOLLARS GAME FUELLED BY SOCIAL MEDIA
Dr Kumaran, who reached Mount Everest's peak in 2012 and has a diploma in mountain medicine, said: "Everyone has their reasons to climb up Mount Everest. But ask most experienced climbers and most would not want to traverse up. 
"Climbing Everest is not the hardest, yet costs a lot of money. It doesn't have the most beautiful view and it is too crowded."
However, the highest peak is one of the most well-known mountains. And more are reaching it.
Between 2010 and 2019, two-thirds of first-time Everest climbers got to the top, up from just a third in the 1990s, The Economist newspaper reported in 2020.
News agency Reuters reported in 2019 that a record-breaking 344 people reached the top of Everest on May 23 that year, a 40 per cent increase from the previous record of 245 summits on May 19, 2012.
In 2019, four deaths on Mount Everest were attributed to overcrowding — standing in line to get to the top depletes oxygen supply at a height where there is just a third of the oxygen found at sea level.
The risk has not deterred more people from making the attempt. This year, Nepal issued a record 454 permits, up from 408 in 2021.
The higher permit numbers are accompanied by a growing competition among guides based in Nepal to profit from helping hopefuls to the submit. A trip alone can cost more than S$70,000.
With high competition, some guides might cut corners, pushing climbers to go past their limits so as to achieve world titles, Dr Kumaran said. This also makes for good publicity, Mr Lim said. 
Mr Lim also noted that with more money, some parts of Mount Everest can be easier to reach. For example, there are now helicopter rides up to the Mount Everest Base Camp some 5,545m above sea level.
"In 1998, helicopters were solely for rescue reasons. And in the '90s, there was only one helicopter that could traverse at around the 6,000m mark," he recalled.
"The helicopter was stripped down to be as light as possible, and it was piloted by an excellent pilot. But now, helicopters can bring you through part of the journey."
The increasing number of people successfully traversing Mount Everest — and posting about their feat on social media — may have led some to underestimate the climb.
Ms Sim Yihui, who co-led the Singapore Women's Everest Team in 2009, said: "When there are more people attempting the mountain, there will ultimately be an increase in the people summiting the mountain, which will no doubt shift people's thoughts on how difficult it is to climb Everest. 
"Think about the increase in the number of climbers on the mountain like an increase in traffic on a road. When things are multiplied, the risk of accidents and death will also be increased."
The steep price tag has also shifted how people view their Nepali guides, also known as sherpas.
Dr Kumaran said: "You often hear of people arguing with their guides en route, and insisting they continue traversing even if the situation is against them… Some have even attempted to sue their guides for not making it to the top.
"People need to remember that the guides are not there to make sure you reach the summit. They are there to keep you safe."
PREPARE MENTALLY FOR POSSIBLE DEATH
Beyond that, climate change has also made parts of the trek more dangerous — melting snow and ice has loosened rocks, increased avalanches and made ice blocks unstable to travel.
Despite the dangers, the occasional query from climbing hopefuls is often met with advice and reality checks, rather than warnings against making the assent.
Ms Sim said on behalf of her team: "In our sharing, we caution aspiring climbers that they must first be prepared physically to climb, and secondly, they must be prepared mentally for the possibility of dying on the mountain."
She added that they advise hopefuls to train and traverse various mountains to increase the likelihood of success on Mount Everest.
"This is not to discourage them from climbing but rather to impress upon them the gravity of their decision to climb a mountain."
Dr Kumaran said: "Some see climbing Mount Everest as a life mission, putting everything they have towards reaching the peak. It's a gamble that can pay off — but pushing yourself too far without self-awareness can reduce the odds of survival."