'We want to give back to society': Ex-convicts buy, hand out groceries to needy residents
SINGAPORE — He was part of a group of young men who made headlines in 2010 for going on a gang-related slashing rampage in Bukit Panjang, which landed several other youths in hospital.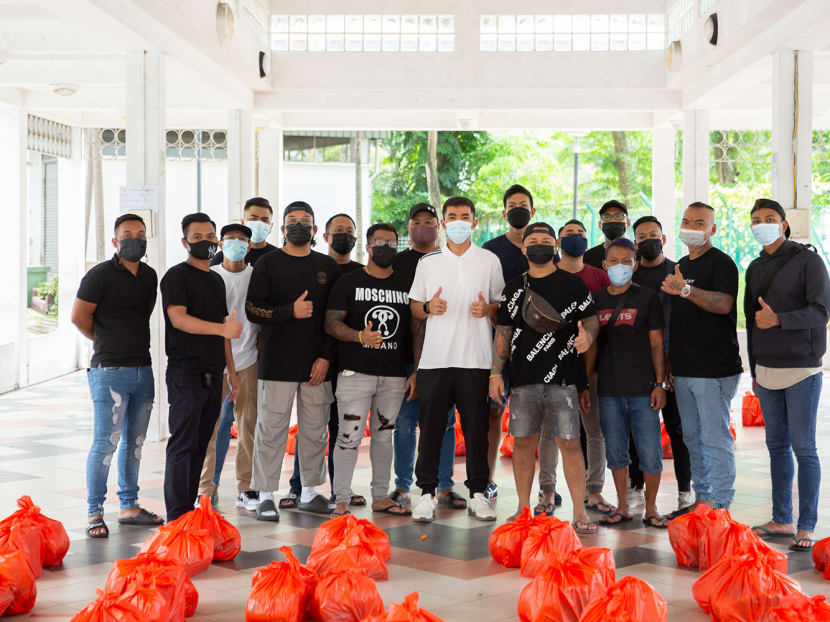 Mr Johari Mohd Salleh, 27, began the ground-up initiative late last year and roped in fellow ex-convicts
They held their third and largest charity drive on Sunday afternoon in their North Bridge Road neighbourhood
They said it was their wish to give back to society after their past wrongdoings
They plan to do this more often in the future at other areas in Singapore
SINGAPORE — He was part of a group of young men who made headlines in 2010 for going on a gang-related slashing rampage in Bukit Panjang, which landed several other youths in hospital.
Now, Mr Mohd Firdaus Abdul Rahim wants to give back to the society he had wronged more than a decade ago.
Along with other ex-convicts, the 36-year-old gathered near rental blocks along North Bridge Road on Sunday (April 17) afternoon, where they went door-to-door and handed out about 100 red plastic bags — stuffed with groceries and essential items — to residents.
Mr Firdaus, who was released from the Criminal Law Detainee scheme in November 2020 and now works for e-retailer Lazada, recently joined his friend Johari Mohd Salleh's efforts to give back to the community.
Mr Johari, 27, came up with the initiative late last year and has since roped in about 30 ex-convicts, many of whom also currently live or used to live at the North Bridge Road public housing estate.
He told TODAY that they had raised about S$2,000 among themselves to buy most of the items. These include cane sugar, biscuits, face masks, and dates to break fast during the holy month of Ramadan.
Mr Johari himself is no stranger to being on the wrong side of the law, having been sentenced to probation in 2014 for robbery, and then serving time in the military detention barracks after breaching his probation conditions.
He renounced his gang affiliations early last year.
When asked what inspired them to turn over a new leaf, Mr Firdaus said that his parents died when he was detained.
Upon his release, he realised that many elderly people lived in his neighbourhood, and he wanted to help them when he could not help his mother and father.
"Last time, we did a lot of bad things," he added with a laugh. "Now, we want to give back to society."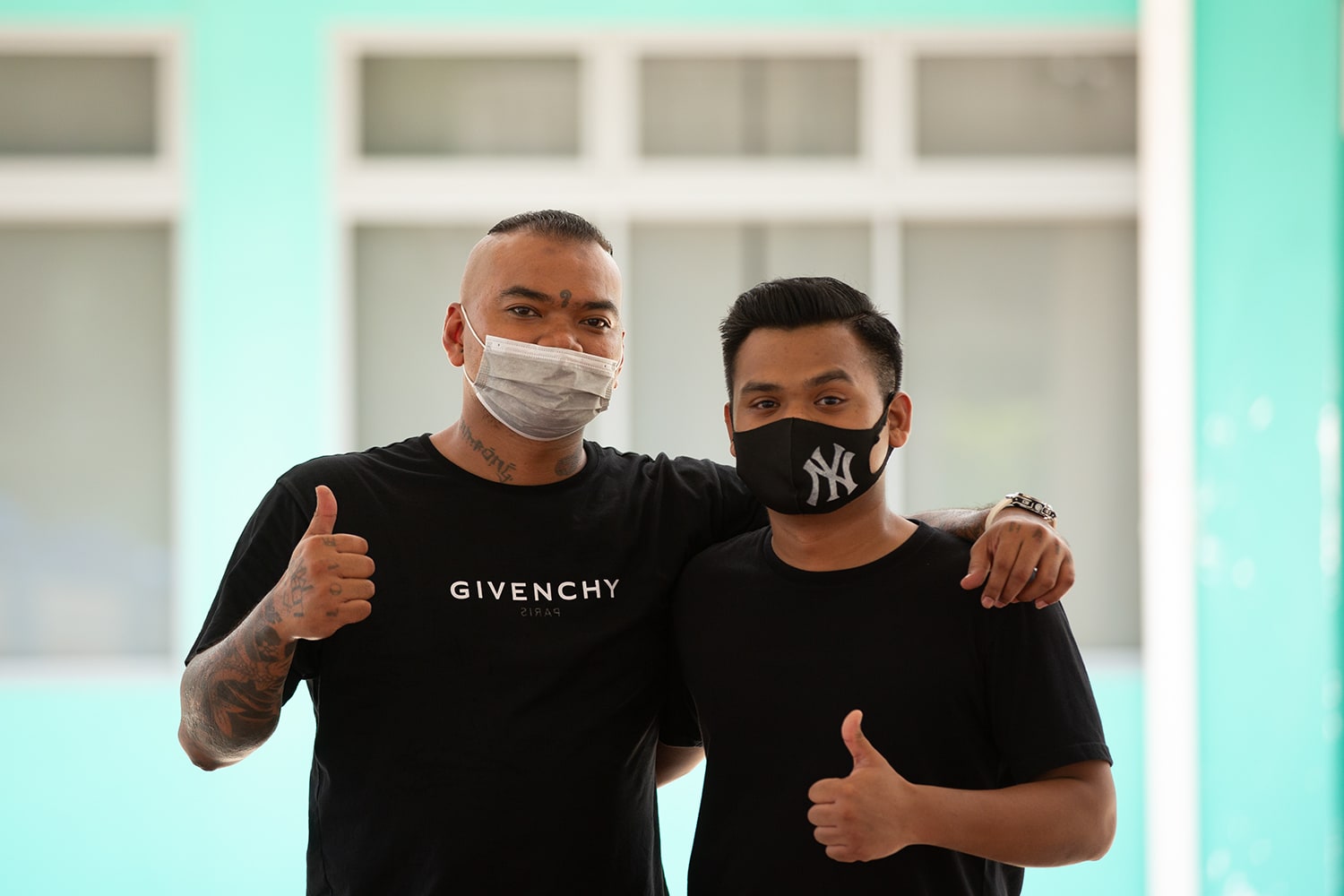 Another ex-convict, Mr Muhd Noh Faizal Sa'at, 32, told a similar story — his wheelchair-bound mother had died in 2020 while he was in prison for drug trafficking offences.
Mr Muhd Noh made the news in 2017 when he was given more jail time and caning for attacking a fellow Changi Prison inmate, who lost an eye after the assault.
He was released a year ago. Now working as a warehouse supervisor, a job he had found through a neighbour, he is expecting twins with his wife in July.
Late last year, the couple gave briyani to residents and staff at Muhammadiyah Welfare Home where he used to stay. This led him to join Mr Johari's initiative after learning about it from Mr Firdaus, he said.
Mr Muhd Noh had renounced his gang ties in 2019, having joined a secret society when he was 14 because of the desire to belong to a brotherhood.
His supervising officer, a senior reintegration officer from the Singapore Prison Service, turned up on Sunday to check out the event. He told TODAY that he was proud of the ex-convicts.
"This is totally their own initiative. It's rare for them to do this without some form of incentivisation," said the officer, who did not wish to be named as he is not authorised to speak to the media.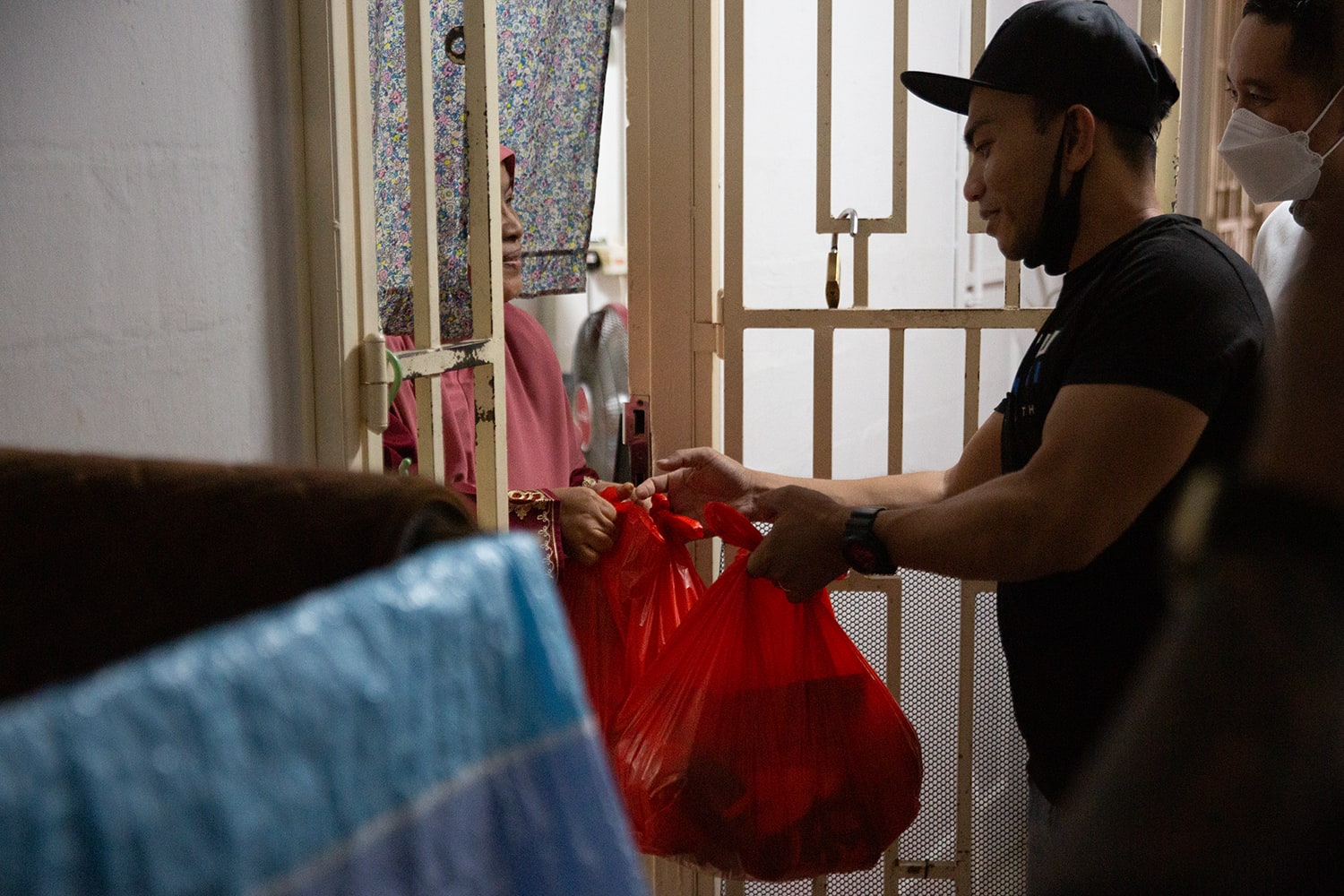 Mr Johari, who currently works as a warehouse assistant, said that they intend to have more charity drives in the future, possibly in areas like Boon Keng and Bukit Merah. He also hopes other ex-convicts will join in.
This was their third charity drive and their largest so far. Last week, they had given out 100 packets of chicken rice donated by Zoul's Corner restaurant.
On both occasions, they were accompanied by a familiar face — Mr Amrin Amin, former senior parliamentary secretary for Home Affairs and ex-Member of Parliament.
Mr Amrin, who described himself as a friend of their cause, said he thought it was a "remarkable endeavour" and that their motivation stemmed from the desire to prevent youths from making the same mistakes.
"I think it also sends a very powerful signal to society. People with tattoos, people with a past, they may not be all bad. That's why we must give them a chance and see the best in them," he added.