Executive condo sales launch in Sengkang draws crowds hoping for lower prices during economic slowdown
During this time when people are generally avoiding crowded areas or large gatherings due to the Covid-19 pandemic, one after another, property hunters were heading to the showroom of Ola, an executive condominium (EC) in Sengkang, on a weekday.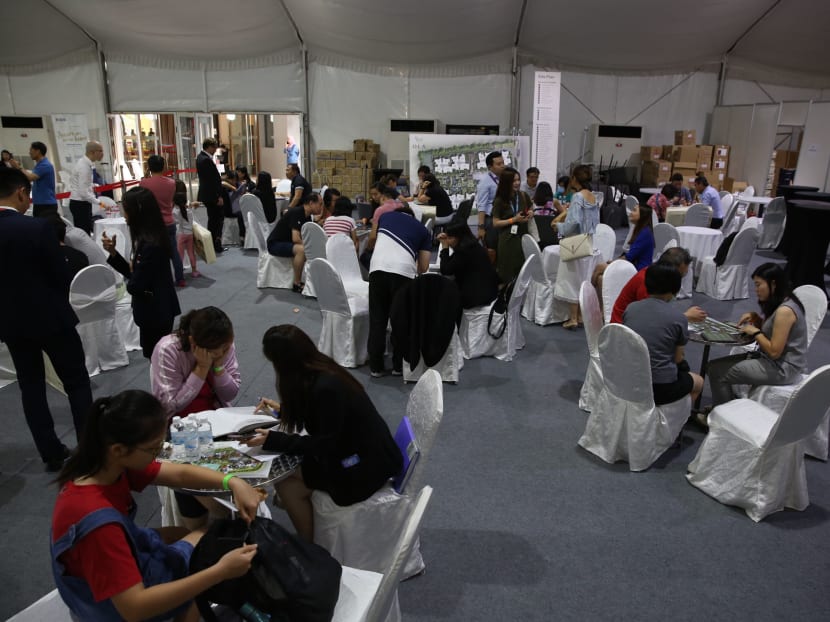 SINGAPORE — During this time when people are generally avoiding crowded areas or large gatherings due to the Covid-19 pandemic, one after another, property hunters were heading to the showroom of Ola, an executive condominium (EC) in Sengkang, on a weekday.
The preview of the new housing development located along Anchorvale Crescent, just opposite Sengkang General Hospital, took place on Thursday (March 19). Potential buyers told TODAY that they were eager to "take advantage" of the economic downturn to buy a property.
When TODAY arrived at 5pm on Thursday, 600 people had been there since the opening at noon, the public relations team of developer Evia Real Estate said.
By closing time at 9pm, 1,000 people would have visited the showroom, it estimated. The same number of people is projected to turn up on Friday.
Mr Lawrence Lee, 40, a property agent who went for the viewing with his family, said: "The developers are afraid of pricing their properties high during this time because no one will buy. So if I don't buy during the downtime, when is a better time?
"If the market is very good, the property prices will go up. It makes sense for me to jump at this chance."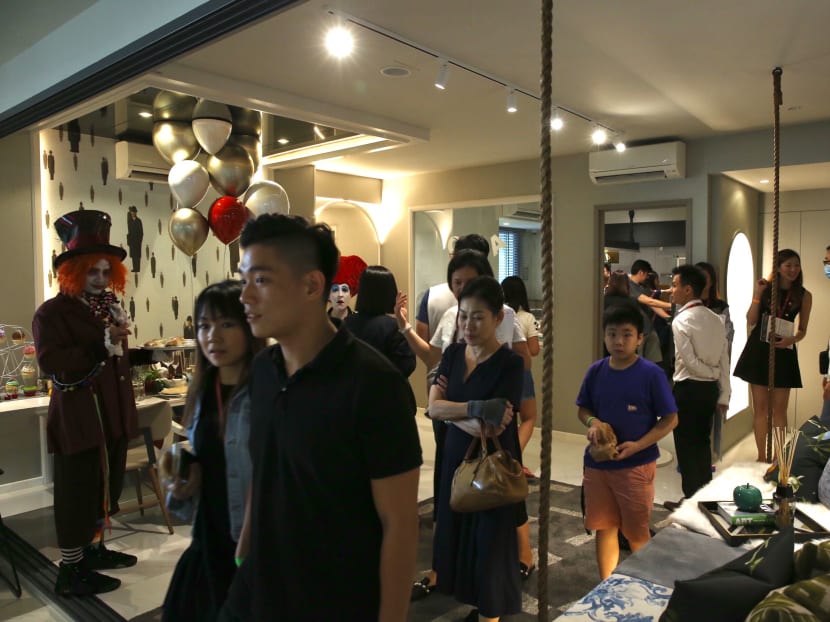 Mr Vincent Ong, managing partner of Evia Real Estate, said that if developers are not "sensitive" or "flexible" during this time, they will be in "big trouble".
"The thing about the economic uncertainty is that people are worried about jobs and how this whole thing will play out. So our response to this is that we continue to maintain maximum flexibility. We will show compassion for people in this time," he said.
"That is why this EC is priced very affordably. More than half or nearly half of the units are priced equal to or lower than existing EC units," he added.
ECs are public-private housing hybrids built by private developers and they usually feature amenities found in private condominiums such as swimming pools.
At Ola, prices for the three-bedroom and "three-bedroom + one" premium units start from S$999 per square foot (psf). These apartments are 926 sqf to 1,055 sqf.
For the four-bedroom units that are 1,389 sqf, they start from S$976 psf. 
About 15 per cent of Ola's 548 apartments — to be built across nine 16-storey blocks — will be priced below S$1 million. 
These prices have already been reduced by 2 per cent to keep buyers' interest during this time, Mr Ong said.
Mr Jeremy Foo, 34, a public relations director who was at the showroom, said that "it is just the right time" to move to a bigger home.
"I don't think the economic situation right now will stop people from getting an upgrade (in housing) if the circumstances of their lives permit. With the economy going down, it might be better for people like us — young couples who are looking for an upgrade but with a good value," Mr Foo said.
The show gallery was opened to the public on Feb 15 for them to see the project landscape as well as the facilities and services that would be available. The project is expected to be built and ready for occupation before the end of 2023.
From Feb 15 to March 1, those who were interested in the property could submit e-applications.
Then on March 19 and 20, the e-applicants along with walk-ins are welcomed to view the three-bedroom and four-bedroom units.
To manage the crowds, safety precautions were put in place, the gallery's team said.
E-applicants were informed the day before that they could take along just one guest to the showroom.
Aside from taking down the personal particulars of visitors for contact tracing and doing temperature checks, staff members of Evia Real Estate were also stationed at the entrance to ensure that a maximum of 250 people were in the gallery at any one time.
Coloured bands were given out to track each group of 250 people. After the 250 had left, the show units were disinfected and sanitised before the next group could enter.
At the queues, stickers were placed 1m to 2m apart to guide people waiting in line on how far apart they should stand.
Hand sanitisers were strategically placed around the premises as well.
Mr Suresh VT, 45, was rather excited to be there. The government-built flat he now owns is ageing and he is looking to get a new place. However, he is still deciding if this is the right time to buy.
"I feel that the economy will worsen further. I don't know what else is going to happen in the coming months. While we have needs, like moving away from our ageing property, this is a big concern," the chemical engineer said.
He will have to take a loan for this purchase, so job security is another issue that he has to think about.
Mr Elamaran Thiyagarajan, 32, who works in the risk management department in a bank, attended the viewing even though he knew there would be a crowd. This was because this development would be one of the few ECs this year, he said.
"EC projects don't come around so often. And the pricing, for us, it just meets our budget. Anything above this, I won't invest in a private property, so it's just what we're looking for."