Explainer: Australia is on fire — how bad are the bushfires and what can Singaporeans do to help?
SINGAPORE — Fires currently raging in Australia have already burnt out an area equal to the size of about 80 Singapores, as the country battles one of its worst bushfire seasons.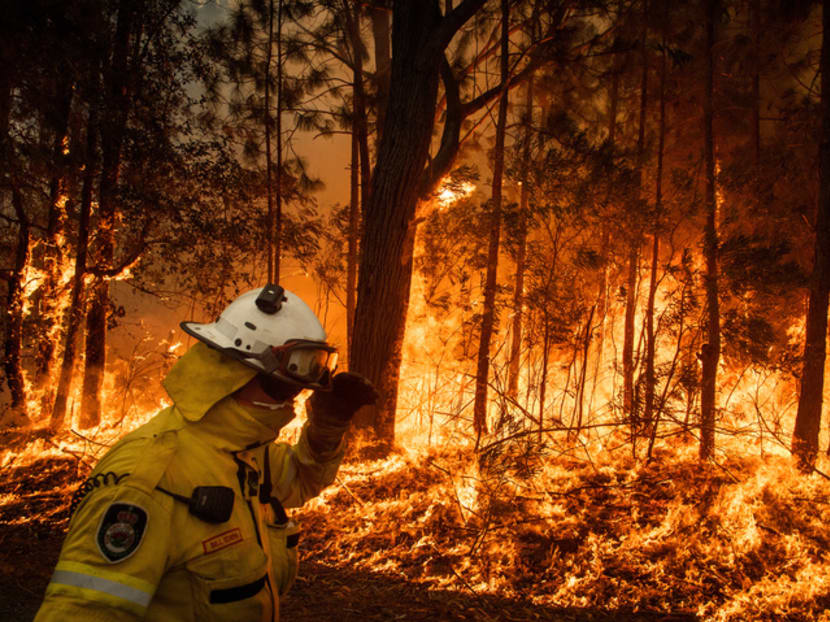 SINGAPORE — Fires currently raging in Australia have already burnt out an area equal to the size of about 80 Singapores, as the country battles one of its worst bushfire seasons.
While the past year saw devastating fires in the Amazon rainforest, the scale of the Australian bushfires has already exceeded those infernos in size.
Over 60,000 sq km of land has been burnt so far, about seven times the size of the Amazon fires.
The blazes are mostly concentrated on Australia's east coast, with New South Wales (NSW) the hardest hit state. Significant fires have also hit Queensland and Victoria. Australia's largest cities, Sydney in NSW and Melbourne in Victoria, have also been affected by smoke haze from the fires.
Bushfires are not new to Australia. The hot and dry weather, especially over the summer months from December to February, makes it easy for blazes to start and spread.
However, severe weather conditions have made firefighting conditions more difficult and have led to the fires spreading more rapidly — average temperatures across Australia have hit an all-time high of over 40°C and the country is facing one of its worst droughts in decades. The fires also started much earlier than usual, with significant blazes in September in NSW.
Many experts believe climate change has played a key role in bringing about the tinder-dry and hotter than average conditions, just as the climate emergency has led to more extreme weather conditions around the globe.
Australian officials have said the fires will continue to burn for months. On Tuesday (Jan 7), the NSW Rural Fire Service reported that 130 fires were still burning across the state alone.
TODAY takes a closer look at the fires, which have claimed dozens of lives and devastated wildlife in Australia.
HOW BAD IS IT?
Twenty-five people have died so far, with thousands of homes damaged, and in many cases destroyed. Australian officials have estimated that more than 67,000 people have left or been evacuated from fire-ravaged areas in Victoria, mainly in the east of the state.
The bushfires have also taken a terrible toll on wildlife.
Wildlife experts estimate that about 480 million animals — mammals, birds and reptiles — have been killed by the fires so far.
This huge toll is expected to rise, Professor Chris Dickman — a biodiversity expert at the University of Sydney — told the BBC, as it is likely that some of the animals which survived the fires may die later due to the lack of food and shelter.
Ecologists are also concerned that the infernos could wipe out entire species, some of which are currently endangered.
For instance, the critically endangered Kangaroo Island dunnarts and glossy black cockatoos on Kangaroo Island — a popular tourist destination in South Australia — are under threat as the fires have burned extensive areas of critical habitat. Thousands of koalas on the island are also believed to have died.
Meanwhile, up to 8,400 more koalas — 30 per cent of the population — in the NSW mid-north coast have also perished due to the crisis, Australia's Environment Minister Sussan Ley said.
UNHAPPINESS WITH THE AUSTRALIAN GOVT'S HANDLING OF THE CRISIS 
Australian Prime Minister Scott Morrison has been lambasted for his handling of the ongoing crisis. He was widely criticised for taking a holiday in Hawaii as the fire emergency unfolded.
Initially, Mr Morrison had resisted the idea of compensating the volunteer firefighters who were taking time out of their work to help with relief efforts.
However, he has since said that eligible volunteers would receive A$300 (S$279) a day, and up to A$6,000 if they helped for more than 10 days during this fire season.
About 3,000 firefighters are in the field battling the blazes, many from volunteer NSW Rural Fire Service brigades and Victoria's volunteer Country Fire Authority.
On another front, Mr Morrison had also resisted calls for the federal government to play a major role in what is largely a state responsibility.
But on Saturday, he announced that the government would call up 3,000 army reservists over the coming weeks to assist with relief efforts. The navy has also been deployed to rescue residents stranded on beaches near fire-ravaged townships, whose road access has been cut off by the fires.
Mr Morrison's government has also received flak for downplaying the effects of climate change on the bushfires. It has insisted that there is no direct link between the current climate crisis and the unprecedented scale and ferocity of the the bushfires raging around the country.
Mr Morrison once carried a piece of coal into the national Parliament as a demonstration of his support for the coal industry, a major exporter.
Australia, with a population of about 25 million, contributes 1.3 per cent of the world's carbon emissions but is the second-largest emitter per capita behind the United States.
HOW CAN SINGAPOREANS HELP?
On Tuesday, the Republic of Singapore Air Force (RSAF) deployed two Chinook helicopters to assist the Australian Defence Force with relief efforts, Defence Minister Ng Eng Hen said in a Facebook post.
The Singapore Red Cross has also pledged S$50,000 in humanitarian aid to support the affected communities while Singapore-based conglomerate ComfortDelGro — which has operations Down Under — has established a fund with an initial sum of A$250,000 (S$232,181) to assist its employees and the Australians affected by the bushfires.
The Singapore Red Cross said it has also set up a fund-raising page to allow Singaporeans to make donations. These donations would be sent on to their counterparts in the Red Cross in Australia. Alternatively, the public can also donate to support firefighting brigades, such as the NSW Rural Fire Service, in their work.
Singaporeans can also choose to adopt injured koalas from the Koala Hospital, based in the NSW regional town of Port Macquarie. The small fee will go towards care and rehabilitation for the sick koalas, some of which are burn victims.
IS IT STILL SAFE TO TRAVEL DOWN UNDER?
It has largely been business as usual for tour agencies in Singapore as tourists in Australian cities such as Melbourne and Sydney have remained unaffected by the blazes apart from the impact of smoke haze, which has been quite severe on some days, especially in Sydney and the Australia's capital, Canberra.
The agencies also told TODAY that while they have received calls from concerned customers, no one has cancelled their tour packages and, for now, they do not expect their programmes to be affected by the fires.
Ms Alicia Seah, director of marketing and communications at Dynasty Travel, said most of their customers who booked tours during the December period last year have returned from their holidays.
"Moving forward, the next departure period will be during Chinese New Year. We are monitoring the situation and will take the lead from the Australian authorities," said Ms Seah. 
Mr Rob Stables, Country Manager at STA Travel, said that most of their customers are students travelling or returning to Australia to commence their studies and would have accepted a place at university months ago.
"We will be monitoring the level of inquiries we receive for Australia but given most people study in the cities, rather than rurally, we don't anticipate there being a huge impact on the number of students travelling to Australia," he said. ADDITIONAL REPORTING BY MATTHEW LOH