Explainer: Can students be caned in schools and can parents take action against educators?
SINGAPORE — The police are investigating a case of a Primary 6 student who was caned by his school's discipline headmistress. The student's mother had made a police report after seeing cane marks on her son's arm and leg.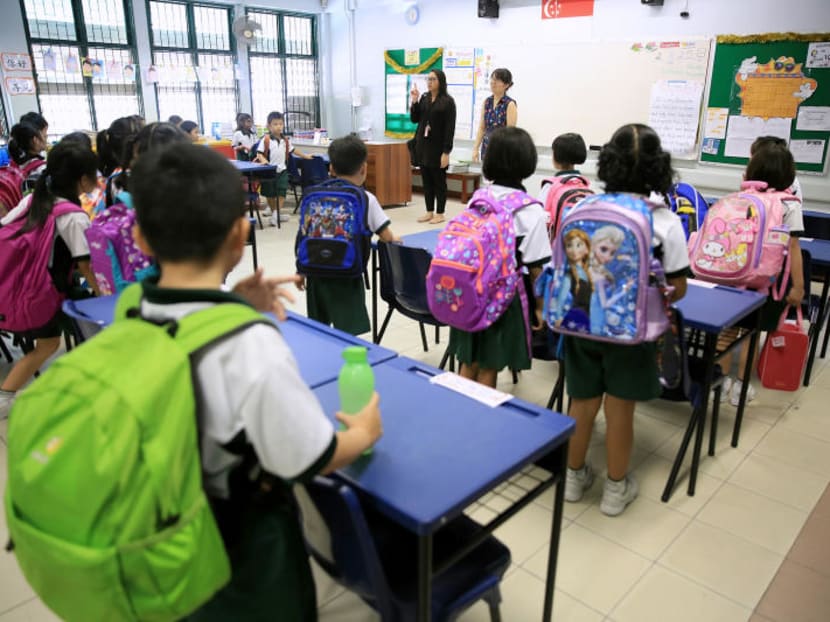 SINGAPORE — The police are investigating a case of a Primary 6 student who was caned by his school's discipline headmistress. The student's mother had made a police report after seeing cane marks on her son's arm and leg.
On Thursday (Sept 5), Chinese evening daily Shin Min Daily News reported that the police case was filed on Tuesday, and that the boy and a classmate were caned after they allegedly had an argument.
The mother was quoted as saying that she had filed a complaint to the Ministry of Education (MOE) because the disciplinary action goes against its guidelines.
The police are now investigating the case as voluntarily causing hurt.
So is caning a disciplinary measure allowed in schools?
WHAT THE RULES SAY
The answer can be found in Article 88 of the Education (Schools) Regulations of the Education Act. It states that no corporal punishment shall be administered on female pupils.
As for male students, corporal punishment "shall be administered with a light cane on the palms of the hands or on the buttocks over the clothing".
Article 88 also says: "No other form of corporal punishment shall be administered to boy pupils."
"Where there is more than one teacher in a school, corporal punishment shall be inflicted by the principal only or under his express authority," it states.
Principals as well as teachers, some of whom are in charge of discipline, told TODAY that a school's disciplinary measures are clearly stated in a handbook for students, which are then shared with parents.
Caning is one of the disciplinary measures considered for "very serious offences", they said. Others include detention, suspension and even expulsion.
For schools, serious offences include cyber bullying, theft, vandalism, cheating in examinations, smoking in school as well as fighting in and out of school.
WHAT SOME SCHOOLS CHOOSE TO DO
The educators, who spoke on the condition of anonymity as they are not authorised to speak to the media, said that some schools have completely removed corporal punishment, while others still retain it though it is used as a "last resort".
One secondary school principal said that in using corporal punishments, the approach is more "corrective than punitive".
For some schools such as Zhenghua Secondary School which have removed corporal punishment, they replaced it with what is called "restorative practices".
Essentially, it involves asking the student to reflect on his or her actions. They would be counselled and asked what they have to do to make things right.
Some schools would list their disciplinary policy on their websites, saying that they reserve the right to decide on the best possible consequence for each offence committed. It is not explicitly stated that they have to inform parents before meting out the disciplinary actions.
However, educators interviewed said that some schools do inform parents. A primary school principal said that it is important for educators to work with parents, and communicating to them the disciplinary measures will also "foster trust".
WHAT EDUCATORS SAY
MOE provides schools with guidelines with regard to disciplinary measures, but educators said that schools can exercise discretion in deciding the appropriate punishment and there is no one-size-fits-all approach.
In January this year, Schoolbag — a blog site set up by MOE to provide parents, educators and the general public on the latest policy announcements, among others — published an article titled Six Discipline Questions Answered. 
The article interviewed five present and former principals as well as the heads of department overseeing student management from primary and secondary schools.
Asked whether MOE determines the guidelines or it is up to each school to decide, Mrs Jasmail Singh Gill, former principal of Unity Primary School, said that while the ministry identifies a broad list of major and minor offences, each school decides the disciplinary measures on its own.
Educators were also asked whether schools have cut down on corporal punishment because they fear backlash from parents. Mrs Sharma Poonam, principal of Changkat Changi Secondary School, told Schoolbag that schools need to decide on the best course of action and to do that, "we need to be open and listen to (students) explain what they did".
"We really put a lot of work into this, getting eyewitness reports, looking at records of the student's past behaviour, and so on," she said. "We need to look into their background. Sometimes misbehaviours are due to poor decision-making. Our approach is to educate the children."
DO PARENTS HAVE A CASE AGAINST SCHOOLS?
Lawyers told TODAY that in the event parents make a police report against a teacher over the alleged use of corporal punishment, there is no case if the actions fall within the perimeters of Article 88 of the Education (Schools) Regulations of the Education Act.
However, if a teacher goes beyond that, then parents might have a case.
Mr Rajan Supramaniam, a criminal lawyer at the legal firm Hilborne Law LLC, said that when a police report is lodged, the police would investigate first and assess if there is a criminal offence involved. If there is, it will then make recommendations to the Attorney-General's Chambers.
Criminal lawyer Diana Ngiam from law firm Quahe Woo & Palmer said that there is a potential for both a criminal and civil case to run concurrently. In a civil case, parents could sue for damages, for instance. "It depends on what the parents want out of it," she added.
In 2014, in letters to the media, some parents discussed the issue of disciplinary standards in schools and questioned whether corporal punishment should be used.
An MOE official later responded that "no learning can take place unless there is discipline".
Ms Lim Huay Chih, who was then MOE's director of school planning and placement division, said in a letter in May 2014: "When students misbehave, teachers admonish, correct and counsel them. In instances of serious or repeated misconduct, the student may be punished.  
"In severe cases, schools are allowed, under the Education (Schools) Regulations, to impose corporal punishment. Punishment is always complemented with counselling and follow-up guidance."
Ms Lim noted that when it comes to disciplinary actions, schools and teachers are guided by the long-term interest of students.