Explainer: Cupping therapy caused horrific burns to Yanxi Palace actress, but is it always risky?
SINGAPORE — Last week, Chinese actress Deng Sha shared shocking pictures of red marks and blisters on her back and arms, with some images showing pus oozing from her infected wounds.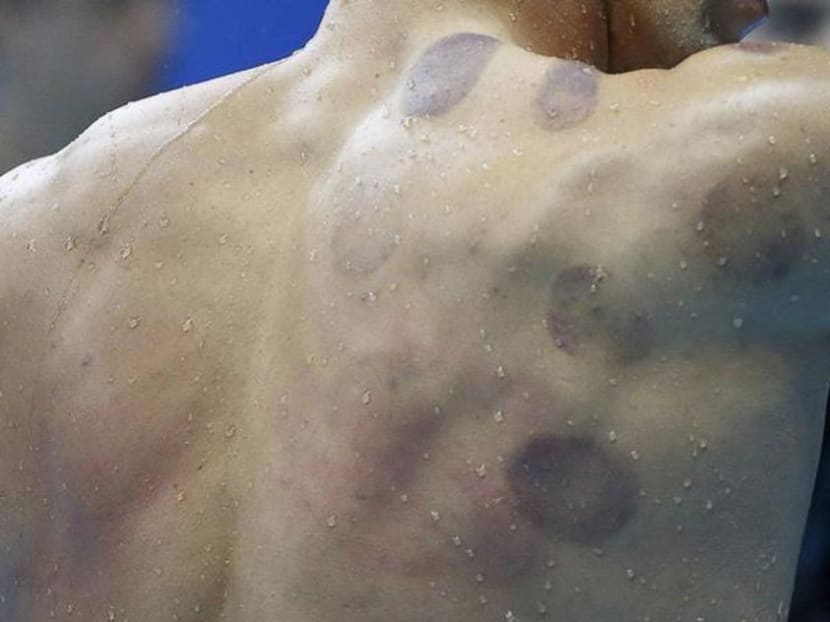 SINGAPORE — Last week, Chinese actress Deng Sha shared shocking pictures of red marks and blisters on her back and arms, with some images showing pus oozing from her infected wounds.
The actress from the hit drama series Yanxi Palace had gone for a massage and cupping therapy last week (Dec 9) after a film shoot in China, but her experience was far from relaxing. Ms Deng's wounds were later diagnosed as second-degree burns and will definitely leave scars, her doctor reportedly told the actress.
The news shone a spotlight on fire cupping therapy. The UK's Daily Mail, citing medical professionals, dismissed cupping as "pseudoscience" and that it "creates more risk for accidents then potential benefits".
Speaking to TODAY, six academics, doctors and traditional Chinese medicine (TCM) physicians in Singapore weighed in about the ancient practice of cupping, also known as Ba Guan. It is a widely adopted technique by practitioners everywhere, including Singapore. 
But they also raised their concern over a growing number of spa businesses and fly-by-night masseurs who offer cupping therapy even though they are not accredited TCM practitioners or professionally trained.
TCM physicians are licensed and regulated by the TCM Practitioners Board, a statutory board under the Health Ministry.
WHAT IS CUPPING THERAPY?
Cupping generally involves placing cups made out of bamboo or glass on a person's skin and using an alcohol-fuelled flame to create a partial vacuum within the cups. This creates a suction pressure over the skin area, and the resulting warmth improves blood circulation and relieves muscle tension, said Ms Tjioe Yan Yin, senior physician at Nanyang Technological University's TCM Clinic.
The technique is believed to be first used thousands of years ago, with records showing ancient civilisations in the Middle East, Egypt and China using cupping for health purposes. Ms Tjioe said that in China, the earliest record of its use dates back to the Warring States period from 475 to 221 BC.
The suction force leaves the unmistakable circular red marks on the person's skin, which will slowly disappear after a few days.
Ms Victoria Tan Wan Yan, a physician at the clinic Pulse TCM, said cupping is one of the mainstays of TCM practices, along with acupuncture and herbal medicine prescription. It costs between S$50 and S$80 per treatment.
There are several different types of cupping therapy. One variant of Ba Guan involves small pin-sized incisions into the skin. The physician then places the cups on top of the incisions in order to draw out a small amount of blood during the cupping process. This is known as wet cupping, said Ms Tan.
DOES IT WORK?
Studies about the efficacy of cupping therapy remain inconclusive due to the difficulties involved in designing a high-quality medical study. A 2015 review of cupping said the procedure may provide some relief for chronic neck or back pain, but added that it could not draw firm conclusions due to limited evidence.
Nevertheless, several people swear by its ability to help them recover from aches or pains. In 2016, the popularity of cupping grew worldwide after American Olympian swimmer Michael Phelps was seen with red dots on his body due to his therapy. Actresses Gwyneth Paltrow and Jennifer Aniston are also known fans of what Western media call "cupping detox".
Ms Tjioe said: "Cupping therapy uses TCM meridian theories to regulate Qi (Mandarin for 'vital energy') and blood flow, remove cold and dampness, reduce swelling and pain and thus is considered part of TCM acupuncture treatment."
It is used to improve general wellness and prevent illnesses, as well as to treat common ailments such as bodily pains, menstrual cramps and the common cold, she added.
Ms Tan added: "(It) is a popular treatment amongst athletes and patients with chronic muscular aches, such as rheumatoid arthritis. The popularity is due to the almost immediate effect of the treatment to relieve muscular aches and pains and congestion."
IS CUPPING SAFE?
In general, cupping is not dangerous if performed properly by a trained physician, said several TCM physicians. 
Senior physician Duan Chun Li, who founded Peace Family TCM Clinic, said in Mandarin that licenced physicians will assess each patient's tolerance level to the suction force and have various techniques to lessen any discomfort.
Cupping is not for everyone. Physicians are trained to identify patients who cannot undergo cupping, such as those with skin conditions like eczema or those who have recently consumed blood-thinning medication, she added.
As cupping is sometimes combined with acupuncture, which can only be practised by physicians licensed by the TCM Practitioners Board, it is also critical for the procedure to be done in a hygienic manner. 
Potential risks include skin blisters and burns if cupping is not administered properly, said Raffles Chinese Medicine physician Tay Jia Yin.
There are safety risks involved too, given the considerable use of highly flammable alcohol spirits.
Mount Elizabeth Hospital dermatologist Dr Eileen Tan, who has treated burn injuries from cupping in the past, said these burns can be caused by inexperienced practitioners who may have applied too much alcohol inside the cup or left the hot cup in contact with the skin for too long.
"Scarring can be prevented if proper treatment is instituted quickly by a doctor or dermatologist," said Dr Tan.
WHO CAN PERFORM CUPPING?
Said Ms Tjioe: "As fire cupping involves the use of fire and alcohol, if handled inappropriately, it can cause blisters and burns. If handled appropriately, the treatment is safe. We strongly advise individuals to seek cupping therapies from licensed TCM practitioners to safeguard their interest."
The training ensures that physicians know of the fire hazards involved during the procedure, as well as the aftercare, all of which form part of the examination that TCM practitioners have to undergo when being licenced by the TCM Practitioners Board. Licence holders have to renew their licences annually.
However, there is a growing number of spa businesses, massage parlours and home masseurs offering cupping services, the TCM practitioners cautioned. These establishments often market their cupping services in a similar manner to accredited TCM physicians, touting the same health benefits.
Ms Tan said: "Consumers are generally guided by the shopfront and advertisements, hence it is no wonder they are not aware of the licensing requirements as the number of salons offering cupping is growing and when offered the service, they will naturally assume it is legitimate."
While cupping is technically a form of acupuncture, which is regulated by the TCM Practitioners Board, TODAY understands that these businesses are unlikely to run afoul of the law as long as the business does not explicitly say it is a form of TCM or acupuncture.
However, their lack of expertise in cupping can result in injuries, Ms Duan said. "There are just too many of these operators already," she added when asked how prevalent they are in Singapore.
But not all feel that regulating the activity of cupping therapy is the right way to go, since it has traditionally been a household skill for thousands of years, said Econ Chinese Medicine senior physician Ong Chwee Ting.
Therefore, it is a case of caveat emptor, or buyers beware, said Madam Ong. Customers are encouraged to verify whether a physician is licenced on the TCM Practitioners Board website before they visit the clinic, she said.