Explainer: How to use Covid-19 self-test kits, how they work and what they cost
SINGAPORE — As Singapore comes to terms with the endemic nature of the coronavirus that causes Covid-19, getting tested for Covid-19 will soon be as easy as going to a pharmacy to buy a self-test kit that delivers results in 10 to 15 minutes.
Covid-19 self-test kits will go on sale at selected stores from June 16
TODAY tried three test kits to see how they work
Doctors and manufacturers gave handy tips and advice on what to watch for when using them
It is important to read the instructions for each kit carefully and follow them
The other thing to note is that the test kits have a relatively short shelf life
SINGAPORE — As Singapore comes to terms with the endemic nature of the coronavirus that causes Covid-19, getting tested for Covid-19 will soon be as easy as going to a pharmacy to buy a self-test kit that delivers results in 10 to 15 minutes.
As of Wednesday (June 9), the Health Sciences Authority (HSA) has granted interim authorisation for four self-test kits, and the Ministry of Health (MOH) said a day later that they will be sold by pharmacists at Guardian, Unity and Watsons stores from June 16.
Just how easy or difficult will it be for a layperson to learn to use the testing device? And will the process, which involves sticking a swab into the nostrils, be too unbearable for people to do it properly and safely on their own?
TODAY tried samples for three different test kits.
Two are the HSA-approved ones, the Abbott PanBio Covid-19 Antigen Self-Test and the Quidel QuickVue At-Home OTC Covid-19 Test.
One is by Camtech Diagnostics, which is pending HSA's approval. The firm is a technology solutions provider to the bio-defence and clinical diagnostics sectors.
The following are the answers to some common questions after using the test kits.
Q: Will it hurt much?
The self-test kits do not require users to insert the swab as far into the nose as the professional swabbers do. It just needs to touch the nasal passage about 2cm inside the nostrils, or what is known as the anterior nares.
At this depth, the swab went as far as to give a ticklish sensation. 
It is unlikely to elicit the discomfort of getting water up the nose, as had been experienced among people who took the polymerase chain reaction (PCR) test, which are more uncomfortable because it involves swabbing the back of the nose, at the nasopharyngeal region.
Q: If they don't go as far in, are they still accurate?
The self-test kits are as accurate as antigen rapid tests already in use for pre-event testing since they are more or less the same thing but packaged differently.
And it is already known that antigen rapid tests, which detect traces of the coronavirus by looking for virus proteins in the body, are less sensitive than PCR tests, which detect the genetic material of the virus and is the gold standard for Covid-19 testing.
Antigen rapid tests usually work best in the early stages of infection and have a sensitivity of about 80 per cent for cases with higher viral loads, but they have been useful in enabling faster detection of possible cases since results are known within 30 minutes.
PCR tests take up to 48 hours from swab registration to notification of results.
However, under the hands of an untrained person, there might be a higher chance of false negatives emerging due to incorrect sample preparation or testing process.
So it is important to read the instructions carefully.
Dr Leong Hoe Nam, an infectious disease specialist at Rophi Clinic in Mount Elizabeth Novena Hospital, said that even if the test has been done previously, double-check on the procedure because people tend to skip steps due to over-confidence.
He also said to be sure to go at least 2cm into the nostril and it is fine to go beyond 2cm.
Q: What are the steps to using the test kit?
The instructions to use the test kits may vary slightly depending on their designs. 
It is best to refer to the instruction sheets provided by each manufacturer.
However, they usually come with similar components such as a swab, a test strip and a buffer solution in a tube.
Some kits, such as Quidel's, come with two sets of the test strip.
This is so that users may confirm their negative status by testing themselves twice over two to three days. The time gap between the tests should be 24 to 36 hours.
Here is a simplified version of Abbott's instructions, which is largely similar to that of Camtech Diagnostics as well as the other two HSA-approved test kits that are produced by SD Biosensor:
Swab both nostrils by inserting the soft end of the swab straight back into the nostrils until some resistance is felt, slowly rotating the swab, and gently rubbing it along the insides of the nasal passage at least five times

Insert the swab into the tube, swirl it in the fluid five or more times while pushing against the wall of the tube. Pinch the swab tip through the tube walls to remove any remaining fluid. Leave the swab in the tube, and secure the top of the tube with the cap provided

Remove the test device from its protective package and place it on a well-lit, flat surface. Squeeze five drops of liquid from the tube into the round well on the test device after ensuring that there are no bubbles in the liquid

Wait 15 minutes before reading the result
Note the timeframe for results:
Quidel's results show up in 10 minutes and have to be read in no more than five minutes as the results may become inaccurate after that 

Abbott's should not be read after the 20-minute mark

The SD Biosensor Sars-Cov-2 Antigen Self-Test Nasal should not be read after the 30-minute mark
Q: How does one interpret the results?
Covid-19 is detected if two lines show: Both the Control (C) line and the Test (T) line.
The C and T are indicated on Abbott's, Camtech's and SD Biosensor's kits.
In the Quidel kit, they show up as blue and pink lines respectively.
The T line is the critical indicator. It shows that the test kit had managed to pick up coronavirus proteins. 
Instructions for the Quidel and Abbott kits suggest that users "look closely", pointing out that the presence of any T line, no matter how faint, is a positive result. 
Abbott also states that the C line, which appears when the test was performed correctly, may appear within a few minutes, quicker than the T line would.
So, it is important to wait before the given time is up before getting an answer on how many lines are showing.
If no C line appears, the test did not work and is considered invalid.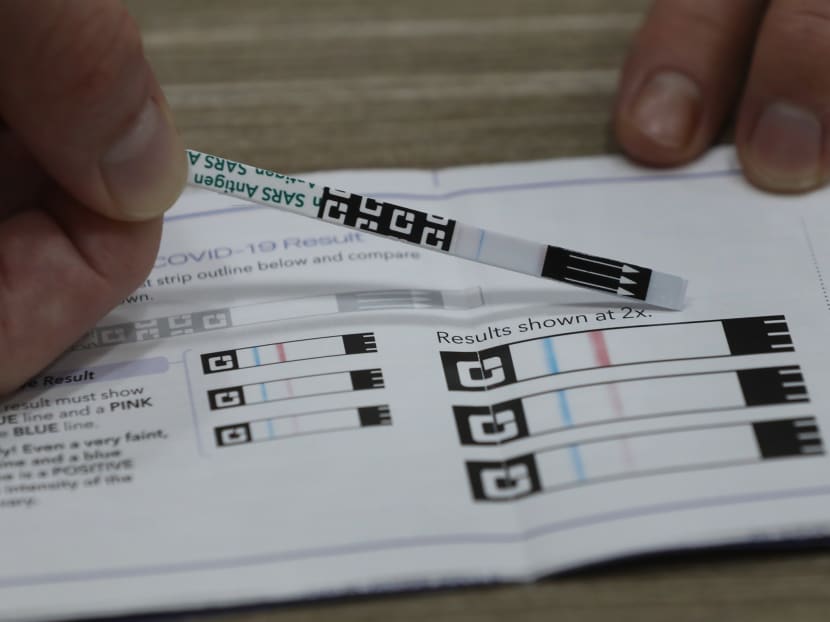 Q: How and when would false positives emerge?
Dr Leong from Mount Elizabeth Novena Hospital said that some of the self-test kits can be as exacting as more than 99.5 per cent in correctly identifying individuals without Covid-19. 
However, false positives may still occur — though rare — because of another protein in the human nasal sample cross-reacting with the binding antibody in the test kit.
Q: What do I do if I am tested positive?
MOH said that those with a positive result should immediately approach a Swab and Send Home Public Health Preparedness Clinic for a confirmatory PCR test.
They are then required to self-isolate until they receive a negative PCR test result.
Q: Are there any other precautions to take?
Camtech Diagnostics cautions that negative results do not rule out an infection because the incubation period for the virus may vary from two to 14 days. A patient's antibodies only appear after symptoms arise, and the earliest time to be able to visually detect the virus using the kit is five days after the onset of symptoms

Check if the kit has expired because it has a relatively short shelf life. For instance, the Quidel kit that TODAY came across expires by March 30 next year, or 11 months and eight days from the date of manufacture. Abbott's expires by Feb 6 next year, or nine months and 12 days from its manufacturing date

Do not contaminate the swab tip by touching it

The C line will still show up if no sample is collected, so make sure to adhere closely to the swabbing instructions to get enough sample from the nose
Q: Who might need to use the test kit?
Those who do not present acute respiratory infection symptoms, but suspect that they are exposed to Covid-19, having been to places where a confirmed case had been, for instance.
Employers, as well as those running long-term care facilities, dormitories and schools may also use them to support their operations to ensure that their facilities remain safe.
Q: Is the self-test kit for everybody?
Yes, but MOH said that people with acute respiratory infection symptoms should visit a doctor for a full diagnosis and a PCR test instead of relying on a self-test kit that enables an antigen rapid test.
Abbott said that children under 14 years old should be supervised or supported by an adult when using the self-test kit.
Dr Kuok from Camtech Diagnostics said that children aged eight or nine and above should be able to use it themselves, though the only worry is if they poke too deep into their nostrils and hurt themselves in the process.
Q: How much does a kit cost?
Watsons Singapore reportedly said that it will be selling the Abbott and Quidel kits at about S$10 to S$13 each.
Mr Ang Kok Ming, business manager of Quantum Technologies Global, which distributes Quidel, said that the kit comes in twos, so it may cost S$20 to S$26 a box.
The test kits come in boxes of 10s for Abbott and 25 for Quidel as well.
Dr Kuok Meng-Han, founder and managing director of Camtech Diagnostics, said that his firm aims to sell two kits in one box for S$10 to S$13 after gaining HSA's approval, cheaper than the others because its kits are manufactured in Singapore.
Q: Will there be a shortage of such test kits?
Abbott said in a press release on Thursday that it is expecting to make "millions" of the kits available in Singapore over the coming months.
Mr Ang of Quantum Technologies also said that his firm plans to import as many as is needed to meet the demand.
Dr Kuok said that it is "not a problem" for Camtech Diagnostics to ramp up its supply of such kits. "We are able to produce millions as well."