Explainer: What is low-carbon hydrogen and what are the challenges in S'pore's plan to use it to supply power?
SINGAPORE — As part of Singapore's efforts to reach net zero emissions, the country is turning to low-carbon hydrogen to supply up to 50 per cent of its power needs by 2050.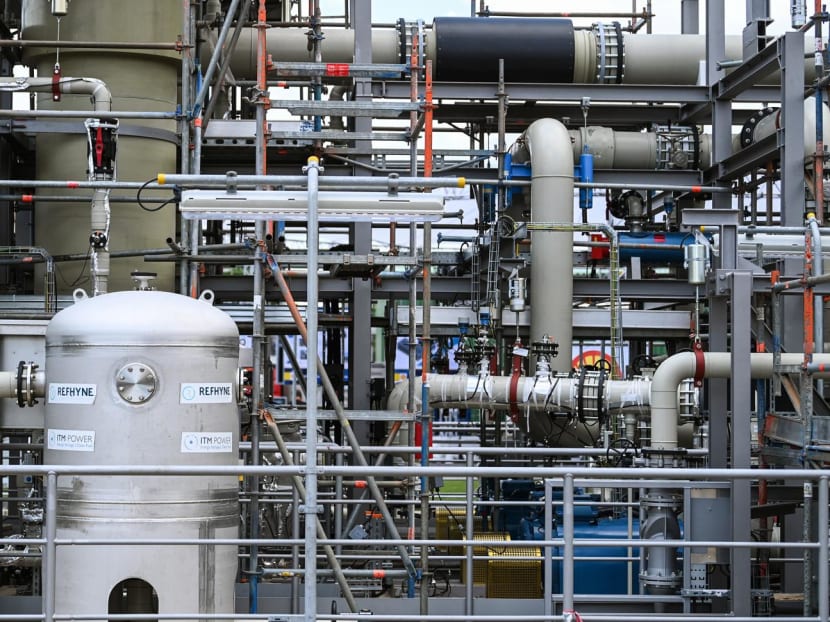 Singapore aims to use hydrogen to supply up to 50 per cent of its power needs by 2050
This move is part of the country's efforts to reach net zero emission by 2050
Experts said that using hydrogen as a clean energy alternative here "makes good sense"
However, they said that costs and infrastructure may be potential challenges 
SINGAPORE — As part of Singapore's efforts to reach net zero emissions, the country is turning to low-carbon hydrogen to supply up to 50 per cent of its power needs by 2050. 
This was announced by Deputy Prime Minister Lawrence Wong on Tuesday (Oct 25), during the Singapore Energy Lecture at the Singapore International Energy Week. 
Hydrogen is touted as a clean alternative to natural gas. This is because hydrogen produces heat and electricity with only water vapour as a by-product.
On the other hand, natural gas produces waste products such as carbon dioxide and methane — which are greenhouse gases that contribute to global warming.
Currently, natural gas provides for more than 95 per cent of Singapore's energy needs. 
"If technology continues to advance, we foresee that hydrogen can supply up to half of our power needs by 2050, alongside domestic renewable energy sources and electricity imports," Mr Wong said.
TODAY spoke to experts to find out how low-carbon hydrogen is produced, whether it is suitable for usage here and the potential challenges Singapore may face in its long-term plan to adopt it. 
WHAT IS LOW-CARBON HYDROGEN AND HOW IS IT PRODUCED? 
Hydrogen is the most abundant chemical element in the universe, existing as a gas at normal temperature and pressure. 
It can be produced through a variety of ways such as from natural gas and in nature through chemical reactions. 
Professor Chan Siew Hwa, co-director of the Energy Research Institute at the Nanyang Technological University, said that the most typical way of producing hydrogen is through the electrolysis of water. 
Through this process, electricity derived preferably from renewable energy sources is used to split water into hydrogen and oxygen molecules. 
This is known as "green hydrogen".
On the other hand, "blue hydrogen" and "brown hydrogen" — the most environmentally damaging of the three — are produced using natural gas. 
Blue hydrogen involves the process of capturing and storing carbon dioxide emissions underground while brown hydrogen does not have this additional process. 
Green hydrogen is generally regarded as low-carbon, while there is some debate on whether blue hydrogen qualifies as such.
One study by researchers in the United States has suggested that blue hydrogen could release more carbon than burning natural gas.
Hydrogen is an energy carrier, which means that it allows the transport of energy in a usable form from one place to another, similar to electricity. 
Dr Victor Nian, co-founder and chief executive officer of the Centre for Strategic Energy and Resources, said that the use of hydrogen as a clean energy carrier dates back to the 1960s. 
"The most prominent use of hydrogen as fuel is with the space exploration industry in which hydrogen is used as rocket fuel." 
ADVANCES IN HYDROGEN-RELATED TECHNOLOGY 
Experts noted that there have been numerous advancements in using hydrogen as a clean energy alternative in recent years. 
Mr Alvin Ee, a research associate at the Energy Studies Institute in the National University of Singapore, said that the research and development of components and processes within the hydrogen value chain is very active.
"A recent report by the International Renewable Energy Agency indicates that between 2005 and 2020, more than 10,000 patents were filed in relation to the electrolysis of water…Some of these patents focus on increasing efficiency and reducing costs." 
Electrolysis of water is the key process for generating hydrogen using green energy sources. 
Agreeing, Prof Chan said that recent advancements include improved efficiency and cost of hydrogen production, hydrogen storage, transporting hydrogen and conversion of hydrogen into power. 
"These advancements in technology would allow practical use of hydrogen as a source of energy." 
Dr Nian said that hydrogen-relevant technologies are on track to demonstrate commercial viability, with companies such as Mitsubishi and Siemens developing gas turbine technologies that can use hydrogen as fuel. 
HOW VIABLE IS HYDROGEN AS A CLEAN ENERGY ALTERNATIVE FOR SINGAPORE? 
Mr Ee said that using hydrogen to meet Singapore's power needs "makes good sense" because the country has had a long and successful experience working with liquefied and piped natural gas. 
"Hydrogen can be generated under a wider range of conditions or with fewer land constraints than some other alternatives. In this regard, hydrogen can be potentially deployed or available more easily." 
However, Dr Nian said that the country would likely have to depend on hydrogen imports to fulfil its hydrogen strategy since it does not have sufficient renewables to produce hydrogen domestically. 
On the other hand, Prof Chan pointed out that hydrogen "is a clean and green energy carrier, which we can import virtually from any renewable energy rich countries". 
Depending on the distance, hydrogen can be transported by piping for shorter distances or by shipping for long distances.
Dr David Broadstock, a senior research fellow and the head of the Energy Economics Division at the Energy Studies Institute said that the announcement by Mr Wong is a "bold commitment" by Singapore to elevate hydrogen as a major future energy source.
WHAT ARE THE POTENTIAL CHALLENGES? 
However, adopting hydrogen to meet Singapore's power needs may not be a smooth process. 
Experts spoke about factors such as costs and infrastructure that may hinder the usage of hydrogen here. 
Dr Broadstock said that an important point of consideration is the readiness of domestic infrastructure.
"To bring hydrogen into the mainstream at this scale will require upgrades to existing pipelines, as well as potential new building of storage and local processing facilities," he added. 
"Given the market conditions and concerns over commercial viability, there may be some reluctance by private sector firms to commit to providing such infrastructure." 
Agreeing, Prof Chan said: "The mass deployment of hydrogen will require new infrastructure to import, store and convert the hydrogen into power for use. The latter will require green financing rendered to the industry, as the investment is huge." 
Dr Nian said that collective efforts in the region may be needed.
"Given the potentially limited consumption quantity of Singapore, successful industrial scale hydrogen adoption would require the region to collectively advance hydrogen development to make it attractive for hydrogen exporters, investors, project developers and technology vendors."