Explainer: The reasons for the Taliban's swift takeover of Afghanistan and possible implications for Southeast Asia
SINGAPORE — Thousands of Afghans rushed into Kabul's airport over the last two days, in a desperate attempt to leave the country after the Taliban, an Islamic militant group, took control of Afghanistan by installing itself in the capital's presidential palace.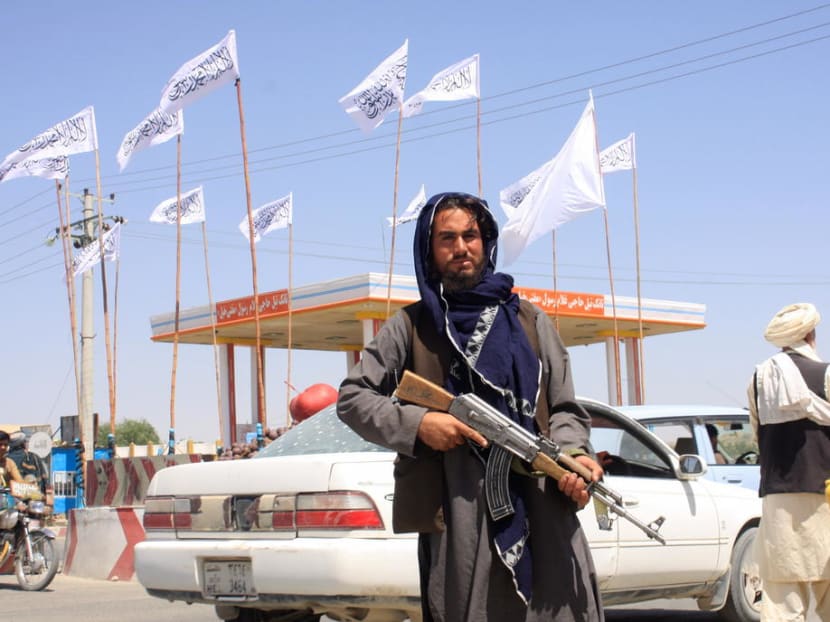 The rapid fall of Afghanistan to the Taliban after US forces withdrew has shocked the world
Singapore's Internal Security Department said developments there are a concern but there is no immediate direct threat to Singapore
Academic experts agreed but warned the events could lead to an upswing of terrorism activity in the Southeast Asian region
This could eventually have implications for Singapore, they added
SINGAPORE — Thousands of Afghans rushed into Kabul's airport over the last two days, in a desperate attempt to leave the country after the Taliban, an Islamic militant group, took control of Afghanistan by installing itself in the capital's presidential palace.
The Taliban claimed victory and declared that the 20-year war against the Afghan coalition government, which has been backed by the United States, was over.
Its president Ashraf Ghani fled the country last Sunday (Aug 15) when the insurgents entered Kabul.
In response to queries from TODAY, a spokesperson for Singapore's Internal Security Department (ISD) said that the ongoing developments in Afghanistan are a concern even though there is no information of a specific terrorist threat to Singapore arising from the situation there.
However, terrorism experts contacted by TODAY said there is a heightened risk that there may be a revival of terrorist groups in the wider Southeast Asian region.
In an interview with The Straits Times, Foreign Affairs Minister Vivian Balakrishnan said Singapore hopes that the political transition in Afghanistan would be peaceful with minimum bloodshed.
TODAY looks at what this change in power means for the world, and the implications for Southeast Asia, including Singapore.
THE TALIBAN AND ITS LINK TO AFGHANISTAN 
The Islamic militant group, made up of students who studied in traditional Islamic schools, emerged as a prominent faction when Afghanistan plunged into civil war a few years after forces from the former Soviet Union withdrew from the country in 1989.
The original militants of the organisation were already fighting against former Soviet forces throughout the 1980s after the former communist state invaded Afghanistan in 1979.
The Taliban eventually took power over Afghanistan in 1996 and declared the country an Islamic emirate and were known for committing gross human rights violations. Critics pointed in particular to the oppression of women and girls, who were barred from attending school.
Their reign ended in 2001 when the US invaded the country as a response to the attacks in New York and Washington on Sept 11, 2001, because the Taliban had provided sanctuary to Al-Qaeda, another Islamic militant group responsible for orchestrating the attacks.
While the initial goal was to counter terrorism in the country, US forces stayed on in the country to help them establish a new government, given that the Taliban did not officially surrender and continued launching targetted attacks.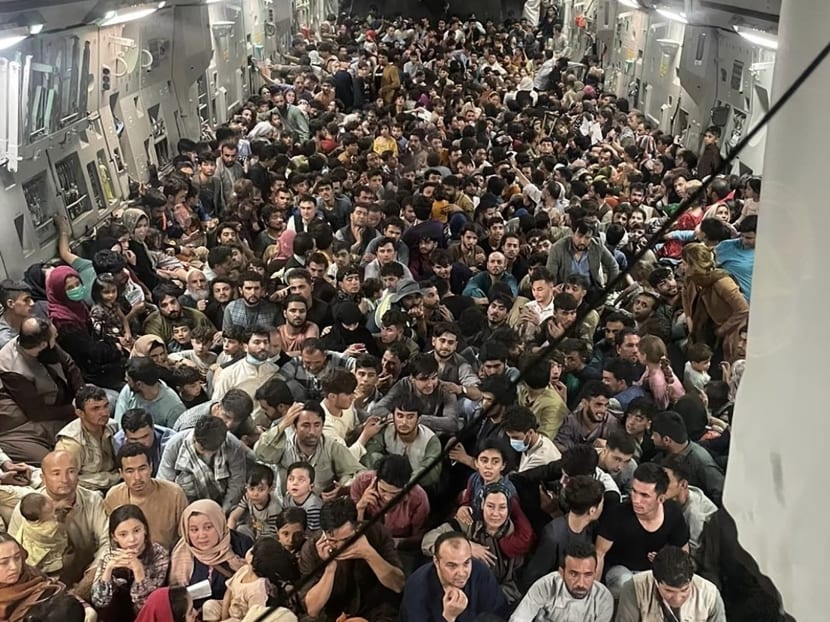 WHY THE TALIBAN IS TAKING OVER POWER
Dr Jonah Blank, an academic visitor at the Middle East Institute, a think-tank under the National University of Singapore, said US President Joe Biden felt that the US had largely achieved its initial goal when Al-Qaeda leader Osama bin Laden was killed by American troops in Pakistan in 2011.
Dr Blank had worked directly with Mr Biden on Afghanistan issues as a senior staff member of the US Senate Foreign Relations chaired by Mr Biden in the early 2000s.
Successive US administrations have tried to withdraw their troops from the country, with former president Donald Trump agreeing to a full withdrawal by May this year and Mr Biden saying that the withdrawal would start in May and be completed by Aug 31.
Throughout the last few months as the US withdrew its troops, the Taliban started mobilising and began taking over more territory, eventually taking over Kabul last Sunday at a speed that shocked the world.
Singapore's founding prime minister, the late Lee Kuan Yew, remarked during an interview in 2009 with American journalist Charlie Rose that the US efforts in trying to establish a country out of Afghanistan was a distraction.
"There was no country for the last 30, 40 years. They've just been fighting each other since the last king was chased out, right? How on earth are you going to put these little bits together? It's not possible," he said.
HOW THE TAKEOVER HAPPENED SO QUICKLY
Endemic corruption among the Afghan political and military leadership, along with the Taliban making deals with local leaders there, were the main reasons for the failure of the US-led nation-building effort, terrorism experts said.
Mr Abdul Basit, research fellow at the S Rajaratnam School of International Studies (RSIS) under Nanyang Technological University, said that soldiers in the Afghan National Army were not given enough food, and their ammunition stolen and sold in the black market, often by their own military commanders.
"When soldiers see seniors stealing their food, they are never going to fight for them and lay down their lives. These commanders did not command any respect… They had the equipment, they had the training, but they did not have the will. If they don't have the will to fight, nobody can make you fight," he said.
Dr Blank from the Middle East Institute also noted that the troops had not been paid for months, with their military officers pocketing their salary.
"The commanders were frequently corrupt and incompetent, and saw little reason to stand up for a regime that was already in the process of collapsing," he said.
In the meantime, the Taliban has been bribing and intimidating army and police commanders, filling up its supplies and getting people to switch sides, the experts said.
WHAT THE CURRENT SITUATION IS
Though the Taliban had promised a peaceful transition, there is a huge amount of uncertainty and chaos unfolding in the country now.
The group is now in negotiations with government officials, including former president Hamid Karzai, but the outcome is anyone's guess.
If the outcome of the negotiations is a political settlement between the Taliban and other political leaders, the situation, though still grave, may seem slightly more hopeful, Mr Abdul said.
Dr Blank said that the Taliban has not declared Afghanistan as an Islamic emirate yet, but they are expected to do so very soon.
"So far, the Taliban refrained from taking Kabul by force — largely due to the presence of about 5,000 US troops and US air power. Once these forces depart, the Taliban will be in full control," he said.
Fears of what life was like under the Taliban and the repercussions for those who worked with the US has sent thousands of Afghans to the airport in a desperate attempt to flee possible persecution.
"The dreams of a good life have been shattered… They feel abandoned by the US," Mr Abdul said.
IMPLICATIONS ON THE WORLD
Mr Muhammad Faizal Abdul Rahman, a research fellow at RSIS, said that the reputation of the US as a reliable ally and security guarantor would be adversely affected.
"The idea that the US has abandoned the Afghan people would feature significantly in Russian and Chinese influence campaigns amid the great power competition," he added.
Secondly, radical Islamist groups around the world would likely be emboldened and they may either join the Taliban in Afghanistan or form networks with the militant group, just as it had happened with the militant group Islamic State in Iraq and Syria (Isis), the experts said.
An ISD spokesperson said that the security vacuum and escalating civil conflict could allow Al-Qaeda and Isis to regroup or establish safe havens, just like how they have exploited other conflict zones such as those in Syria and Iraq.
"These terrorist groups may call upon ideological narratives to draw recruits to Afghanistan as a theatre for jihad," the spokesperson said.
Mr Abdul said that possibly hundreds of prisoners — some of whom were formerly from Al-Qaeda and were locked up in Afghan prisons — have now been freed.
"This could fast-track Al-Qaeda's revival," he added.
It may also heighten rivalry with Isis and shape the global threat environment over the next decade, Mr Faizal from RSIS said.
IMPLICATIONS FOR SOUTHEAST ASIA
Reflecting ISD's view, terrorism experts agreed that Singapore is not yet directly threatened by developments in Afghanistan.
For one thing, the Taliban would be focusing on re-establishing governance in Afghanistan and portraying itself as a legitimate political entity to its neighbouring powers such as China, Pakistan and Russia, Mr Faizal said.
However, there would likely be repercussions in Southeast Asia given the heightened security risks.
Therefore, even though Singapore may not be directly threatened, it could be affected by any upsurge in terrorism in Indonesia or other Southeast Asian countries, Dr Blank said.
Mr Jasminder Singh, a senior analyst at RSIS, said that there is an Indonesian network affiliated to Isis operating in Afghanistan.
Given that there is also an Al-Qaeda affiliate in Indonesia, namely the Jemaah Islamiyah (JI), Mr Singh said that it could be competing for recruitment, funding and ideological space in Southeast Asia.
If the pro-Isis elements get inspired from recent events, there is a danger that the JI faction may become active again even though it decided, in 2010, to not undertake any more bombing until the situation is ripe, Mr Singh said.
Mr Faizal said that Singapore should watch the developments closely as a JI plot to attack Singapore 20 years ago involved Al-Qaeda in Afghanistan.
"We should also monitor if Taliban-related developments inspire homegrown extremists during the Sept 11 anniversary and cause patterns of Islamophobic content on social media that are harmful to inter-religious relations," he added.
Pointing to the lessons of history, the ISD spokesperson said that several hundred Southeast Asians went to Afghanistan during the Soviet-Afghan conflict and they developed links with Al-Qaeda and joined groups such as JI.
At least 11 Singapore JI detainees were known to have attended military training in Al-Qaeda camps in Afghanistan and they were involved in terror plots targeting Singapore when they returned.
One example would be an attempt to collaborate with an Al-Qaeda operative to mount suicide truck-bomb attacks against foreign embassies in Singapore, the spokesperson said.
"With the current developments, the Afghan region may again attract radicalised individuals seeking to participate in armed jihad. We expect social media to continue to play a key role in the radicalisation and recruitment of individuals to overseas conflict zones, including Afghanistan," the ISD spokesperson said.
"We would like to reiterate that the Government will not hesitate to take action against anyone who engages in, incites, or in any way supports or condones, terrorism and armed violence, be it in Singapore or abroad. This is regardless of the cause or ideology concerned."