Explainer: Singapore's first 5G standalone network is finally here. What's the buzz over it and how is it different from 4G?
SINGAPORE — Downloading a high-definition movie within seconds is now possible as Singapore joins the growing number of countries that have adopted the 5G network such as China, South Korea and the United States.
This article was written in partnership with Singtel.
Singtel's 5G standalone network promises to be 10 times faster than its 4G network and twice as responsive
The telco's 5G network covers over two-thirds of the island and is on track to provide nationwide coverage by the end of 2025
Applications run the gamut, from allowing immersive simulations to changing the way companies manage their factories
SINGAPORE — Downloading a high definition movie within seconds is now possible as Singapore joins the growing number of countries that have adopted the 5G network such as China, South Korea and the United States.
The latest fifth generation of wireless mobile technology not only features breakneck speeds, but nearly instant response times. Mr Kuan Wai Mun, Singtel's director of Radio Network Performance, said that all these factors are important in a city where data usage is rising, 
Singtel has been holding 5G network trials since September last year and in May this year, it launched its first 5G standalone network.
This means that Singtel uses independent 5G signals to transmit data, rather than partially relying on 4G gear like it did previously.
Speaking during a virtual event to highlight some usage cases of 5G last month, Mr Mark Chong, the firm's group chief technology officer, said that the standalone network has allowed them to unlock the true power of 5G and deliver the full suite of 5G capabilities.
But what exactly is 5G and how will it change our lives?
WHAT EXACTLY IS 5G?
"5G" refers to the fifth generation of wireless mobile or cellular technology. It is gradually being deployed around the world via telecommunications networks.
As a telco consumer, if you sign up for a 5G plan with a telco provider, you would be able to tap its 5G network, which will give you faster speeds and lower latency, and allow you to do more data-heavy activities over the internet that you would not have been able to do over a 4G network. 
Simply put, 5G is the latest manifestation of the ever-evolving wireless mobile technology.
Speaking at Singtel's virtual event, Communications and Information Minister Josephine Teo noted that each generation of mobile technology introduced something new to our lives.
The first generation in the 1980s gave us the very first wave of mobile phones, allowing us to make voice calls to each other. The ability to send text messages came with the subsequent generation in the early 1990s. 
The third generation in the early 2000s saw the introduction of the mobile web, while live video streaming was only made possible with the fourth generation from 2010 onwards.
Now the arrival of 5G is opening up even more possibilities. Singtel said that the technology has enabled it to pull off these projects, among other things:
A partnership with Formula Square to provide an immersive and lag-free experience of racing remote-controlled cars powered by 5G on Sentosa Island, by allowing users to sit in an indoor simulator as they control a car remotely on a track nearby.

4K, or ultra high definition, live streaming of the underwater creatures at the SEA Aquarium at Resorts World Sentosa. This can be viewed at Singtel's unmanned Unboxed pop-up retail store at SingPost Centre in Paya Lebar, and Singtel shops at Waterway Point in Punggol, Tampines Mall and the Comcentre off Orchard Road.

A productivity pass that will allow customers to create a virtual workstation and collaborate on complex projects such as video editing with their colleagues. The pass gives customers data-free use of the Zoom application on its 5G network, and it can be paired with the DeX software on selected Samsung mobile devices to turn them into a desktop-like computer.
Singtel is also working on delivering new entertainment experiences over 5G through collaborations between National Gallery Singapore and Esplanade – Theatres on the Bay.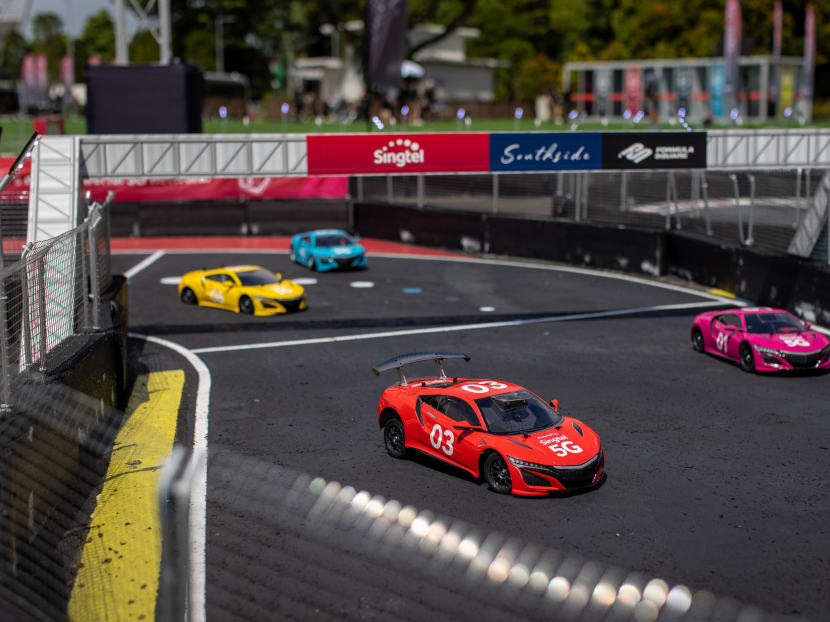 HOW MUCH BETTER IS 5G THAN 4G?
For starters, how fast is 5G? Mr Chong said that 5G network speeds can reach up to 1.2 gigabits per second (Gbps), which is 10 times faster than 4G.
But this may vary depending on devices, population density and other environmental factors such as whether one is indoor or underground.
As such, Singtel said that a typical download speed over a 5G network is between 100 Mbps (megabits per second) and 1 Gbps, while upload speed ranges from 35 to 90 Mbps.
In contrast, international mobile analytics firm Opensignal reported in June that Singtel's typical 4G download and upload speed were significantly slower at around 48.1 Mbps and 14 Mbps respectively.
In terms of latency, or a network's responsiveness, Mr Chong said that response times below 10 milliseconds are now possible with 5G.
This is about two times faster than the 28.6 milliseconds reported by Opensignal on Singtel's 4G network previously.
"Now why is this important? Mobile users are increasingly using immersive applications that require real-time responses," Mr Chong said, citing cloud gaming, as well as augmented reality and virtual reality applications, as some examples.
One other benefit that 5G presents to users in an era of increasing cyber attacks is more enhanced security through more advanced encryption and identity protection than was possible with 4G, added Mr Chong.
WHO IS IT FOR, AND HOW CAN IT BE USED?  
For a start, if you are someone whose daily activities involve real-time transactions or require an ultra high-speed network, then 5G technology is likely something you would appreciate. These could include stock traders and online gamers.
Over time, Mr Kuan said, more average users will likely see a need to jump on the 5G bandwagon as well.
Even now, with the ongoing Covid-19 pandemic, video calls have become commonplace in lieu of physical meetings, thus making it more important to have a fast and reliable network, he added.
This trend could be taken up a notch as 5G-enabled technology progresses, which could change the way people communicate with each other.
"In the future, instead of video calls, we could be speaking with each other through a virtual reality programme or some form of hologram," Mr Kuan said.
5G technology provider Ericsson, which is powering Singtel's 5G stand alone network, also highlighted a number of usage cases from their own factories around the world.
Dr Magnus Ewerbring, Ericsson's chief technology officer for Asia-Pacific, said that aside from providing real-time information to the company's workers, 5G technology has enabled them to use drones at the Ericsson USA 5G Smart Factory in Lewisville, Texas, which help with inventory management and carry out security scans around the premises.
In time, Dr Ewerbring expects the drones to be used for more activities such as guiding vehicles within the Ericsson facility.
He believes that industries will evolve and thrive in the coming years as new applications come to the fore, "thanks to the characteristics of the 5G system".
WHAT'S THE COVERAGE LIKE?
That said, fast connections mean nothing if there is insufficient coverage.
To date, Singtel's 5G network covers over two-thirds of Singapore: The whole of the Central Business District including areas such as Orchard Road, Somerset, Tanjong Pagar, Harbourfront and other areas where Singtel's customers use their data services frequently.
Singtel said that it is on track to provide nationwide coverage by the end of 2025. 
Customers looking to upgrade their mobile plans to get access to Singtel's 5G network may do so with its XO Plus plans, which start from S$68 a month.