Explainer: What lies ahead for Malaysia with its king rejecting its PM's state of emergency request?
SINGAPORE — Malaysia could be headed towards another round of political turmoil with its king rejecting Prime Minister Muhyiddin Yassin's request to declare a state of emergency and Mr Muhyiddin facing calls to resign.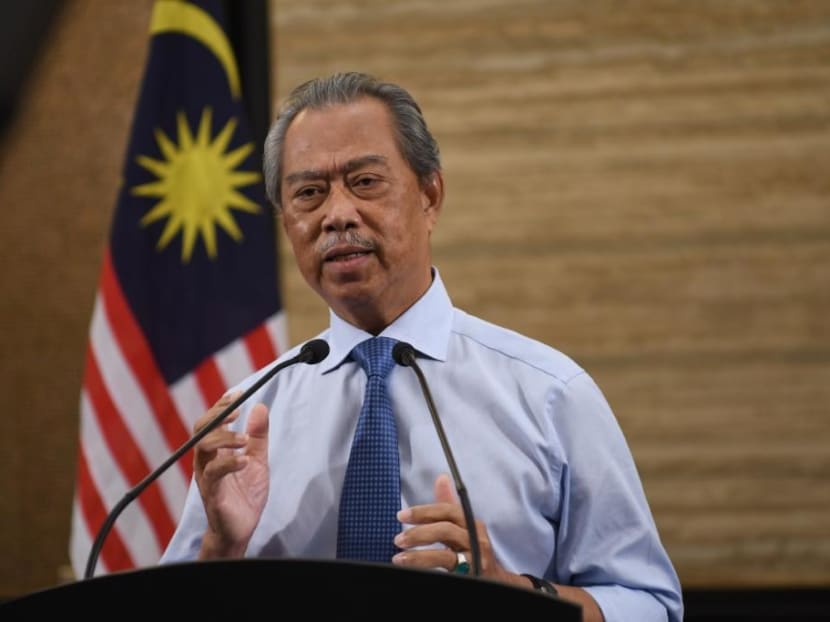 Prime Minister Muhyiddin Yassin's proposal for a state of emergency in Malaysia was not approved by the king
Analysts said that the king still largely supported his administration
All eyes are on how parliamentarians will vote on next year's national budget to be tabled in November 2020 
If parliament chooses not to pass the budget, Mr Muhyiddin's hold on power could be tenuous
SINGAPORE — Malaysia could be headed towards another round of political turmoil with its king rejecting Prime Minister Muhyiddin Yassin's request to declare a state of emergency and Mr Muhyiddin facing calls to resign. 
The surprise move by Sultan Abdullah Ahmad Shah on Sunday (Oct 25) left Mr Muhyiddin, his close advisers and other government officials scrambling, with reports of them meeting late on Sunday night and also Monday morning to strategise the next step forward. 
The request by Mr Muhyiddin to enact a state of emergency was purportedly meant to address the worsening Covid-19 pandemic in Malaysia, but critics are accusing him of using it to retain power. 
Mr Muhyiddin's premiership has been fraught with uncertainties since he came to power in February this year. It happened after a weekend of political wrangling within the Pakatan Harapan ruling coalition led to its collapse and the shock resignation of former Prime Minister Mahathir Mohamad. 
Perikatan Nasional, the new ruling coalition led by Mr Muhiyiddin, holds a very slim majority of two in Malaysia's Lower House, with only 113 seats out of a total of 222. 
SIGNIFICANCE OF THE PALACE'S STATEMENT 
The rejection of Mr Muhyiddin's request by Malaysia's king, officially known as the Yang di-Pertuan Agong, may have been a setback, but analysts said that the statement from the palace seems to favour him continuing to remain in power. 
The royal comptroller Ahmad Fadil Shamsuddin said in a statement on Sunday: "The government has managed the pandemic well and effectively, and the king believes the government under the leadership of Prime Minister Muhyiddin Yassin can continue implementing its policies and enforcement measures to curb the spread of the pandemic."
Dr Francis Hutchinson of research centre Iseas – Yusof Ishak Institute in Singapore said that the current administration has gained widespread recognition for handling the Covid-19 situation well, and a resignation from Mr Muhyiddin now would undermine ongoing containment efforts. 
Dr Hutchinson is the coordinator of the institute's Malaysia Studies programme.  
In his statement, Sultan Abdullah reminded all parliamentarians to stop all politicking and to not destabilise the existing government. He also said that Budget 2021, set to be tabled in parliament next month, would be crucial in addressing the Covid-19 pandemic. 
Parliament would have been suspended if the state of emergency request was approved. 
Ms Ariel Tan from the S Rajaratnam School of International Studies (RSIS) said that Malaysian citizens are now looking to the king to "serve as a check on the executive, any political adventurism and attempts to overreach and circumvent the parliament and the king's discretionary powers". 
"(The palace's statement) sought to freeze the frame and keep politics in animated suspension as far as possible by expressing support for the continuation of the current government and stressing the importance of the budget to be tabled in November," she said. Ms Tan is coordinator of the Malaysia Programme in RSIS that studies the country's key developments.
SIGNIFICANCE OF BUDGET 2021 
With parliamentarians set to vote for Budget 2021 when parliament reconvenes in November, its passing would in essence be seen as a vote of confidence in Mr Muhyiddin's administration, Dr Hutchinson said.
If the budget is not passed by a majority vote, then it will be difficult for Mr Muhyiddin to remain in power. 
Since he took over the reins, the prime minister has been facing several calls for a vote of no-confidence to be held, given doubts over how much majority he holds.  
WHAT COULD HAPPEN NEXT?
Analysts laid out three possible scenarios. 
1. Mr Muhiyiddin retains power 
The prime minister may still be able to form a government by coming to an agreement with Pakatan Harapan, now part of the opposition, Dr Hutchinson said. 
Ms Tan of RSIS also said that some opposition leaders have suggested that they are prepared to offer support for Mr Muhyiddin through a "confidence and supply agreement", albeit with conditions. 
A confidence and supply agreement is a political arrangement in a hung parliament in which the opposition agrees not to vote against a minority government to pass votes of confidence or budgetary matters. 
2. A new prime minister emerges 
Associate Professor Awang Azman of the University of Malaya, however, believes that Mr Muhiyiddin will be urged to resign and a new coalition government will be formed. 
This is because members of parliament from the United Malays National Organisation (Umno), who are supporting the Perikatan Nasional coalition, would choose to dissociate themselves from Mr Muhyiddin's actions.  
"Umno's move to leave Perikatan Nasional is important so as not to be seen as colluding with the idea of declaring a state of emergency, which is rejected by various (classes) of Malaysians," Assoc Prof Awang said. 
Opposition leader Anwar Ibrahim may get his chance to take over the helm as he had approached the king earlier this month and stated that he has the majority support of the parliamentarians. 
Once appointed, Mr Anwar can then form a coalition government, Assoc Prof Awang said. 
3. Call for a general election
While the king could dissolve parliament and call for a general election, analysts said that there is no appetite for it among voters and the political leaders at this point. 
Dr Hutchinson of Iseas – Yusof Ishak Institute said that it is not in the interest of Pakatan Harapan to head to the polls right now because there is a possibility that they may lose a portion of their seats to Umno or the Islamic Party of Malaysia, also known as PAS. 
Ms Tan of RSIS said that there is also the risk of Covid-19 spreading wider due to the large-scale election process, and the immense cost needed to hold an election during a time of great economic difficulties.
"Malaysian politics will be in a state of flux until at least some political parties are able to form a coalition with a secure majority. A reconfiguration to achieve this may only be possible after fresh elections, and perhaps not even then," she added.