Explainer: What is so 'green' about green loans?
SINGAPORE — Three banks here came together on Monday (Dec 16) to provide a loan to property developer Allianz Real Estate and private equity firm Gaw Capital Partners, to support their acquisition of Duo Tower and Duo Galleria, located above Bugis MRT Station.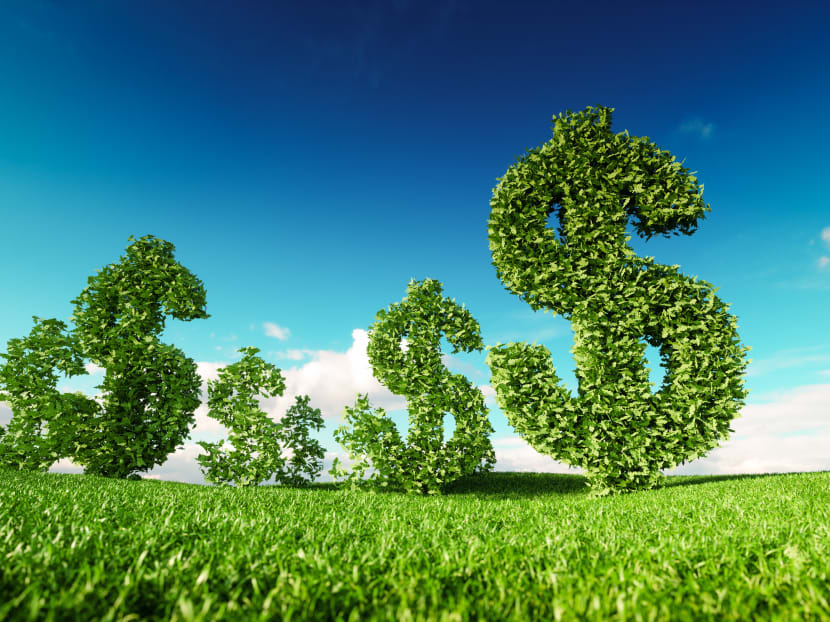 SINGAPORE — Three banks here came together on Monday (Dec 16) to provide a loan to property developer Allianz Real Estate and private equity firm Gaw Capital Partners, to support their acquisition of Duo Tower and Duo Galleria, located above Bugis MRT Station.
The S$945 million loan, which was offered by DBS, the United Overseas Bank (UOB) and Standard Chartered Bank, was no ordinary loan, but what is known as a "green loan".
Green loans, and other green financial instruments which support environmentally-friendly projects, have gained popularity in recent times on the back of greater environmental consciousness among the public and corporations.
In the case of Duo Tower and Duo Galleria, both buildings boast green features such as rainwater harvesting systems and low-emissivity glass, which helps to reduce the energy usage of a building.
The buildings are recipients of the Building and Construction Authority's (BCA) Green Mark Platinum Certification.
WHAT IS A GREEN LOAN?
Green finance refers to financial instruments, products and services which deliver investment returns as well as environmentally positive outcomes.
Green loans are a form of financial instrument which fall under green finance. They are used specifically to finance green or sustainable projects.
However, to be considered "green", a loan must tick a few boxes.
The loan has to satisfy four characteristics, known as Green Loan Principles, as set out in March last year by the London-based Loan Markets Association and the Asia Pacific Loan Market Association, which is headquartered in Hong Kong.
They are meant to increase transparency on how the money is used and on the environmental impact of the projects.
Clear environmental benefits: First, the projects that loans are funding should provide clear environmental benefits, which will be assessed by the borrower. These green projects should broadly cover areas of environmental concern such as climate change, natural resources depletion or loss of biodiversity.

Green projects that can qualify for funding include renewable energy products, sustainable water and wastewater management, and green buildings which are certified to have a positive environmental impact. 
 
Clear sustainability objectives: As part of the project evaluation process, the borrower of a green loan should inform its lenders of information such as the project's environmental sustainability objectives. The borrower is also encouraged to disclose any green standards or certifications that the project seeks to meet.
 
Dedicated account: Green loans should be credited to a dedicated account to maintain the transparency and integrity of the loan. The borrower is also encouraged to establish an internal governance process to track the funds.
 
Establishing a reporting mechanism: Lastly, borrowers should have readily available information on the use of proceeds which has to be reviewed annually, including a list of green projects to which the loans have been allocated, the amount allocated and the projects' expected impact.

Whether a project qualifies for a green loan is usually determined in consultation with a lender or a bank. Banks usually assess each project based on the above guidelines before deciding if a project qualifies for a green loan.
HOW IS IT DIFFERENT FROM OTHER LOANS?
Mr Mike Ng, head of structured finance and sustainable finance at OCBC bank, said that in terms of financial and commercial returns, a green loan is the same as a conventional loan.
"However, in the case of the green loan, the company is making a commitment that (money) from the loan will finance projects with a clear environmental benefit," he added.
A green loan is also different from "sustainability-linked loans", another form of loan that has gained favour in recent times.
Sustainability-linked loans
are not earmarked for any specific green projects, but can be issued to a company as capital. This means that a company may use the loan for any aspect of its business.
If the company can meet certain sustainability targets agreed with the lender, it will be eligible for reductions on the loan's interest rate or receive other financial incentives.
WHY TAKE UP A GREEN LOAN?
Mr Ng attributes this to the opportunity for companies to demonstrate their commitment to sustainable efforts.
"Generally corporations are motivated to show how they are supporting sustainable development and they are incentivised by policy-makers, investors, employees and consumers on their efforts. 
"With rising awareness on climate issues and sustainability, companies are interested in showing how relevant they are in the future, and green loans are a good way to show that they are serious about sustainability."
MORE GREEN LOANS IN THE MARKET
Green loans have become more popular since the guidelines were established last year. Some notable projects in Singapore include:
The South wing at Northpoint City, which uses low-emissivity double-glazed glass and recycled water for flushing toilets. OCBC and three other banks disbursed a S$785 million loan to Frasers Property in March for the project this year.

The upcoming Solaris @ Tai Seng, which will have bicycle parking lots to encourage green commuting and indoor sensors to detect carbon dioxide levels. HSBC and OCBC issued a S$248 green loan to property developer Soilbuild Group Holding for the building.

An upcoming six-storey hotel along Killiney Road featuring "climate-responsive features" will be built from a green loan issued to real estate investment firm Lucrum Capital last month by UOB.
Mr Ng said that green loans are commonly issued to property developers because banks want to ensure that an asset is "genuinely green" before approval. 
"Having the Green Mark (certification from BCA) gives (banks) this assurance that the underlying project provides environmental benefits and adheres to best industry standards," he added.
Mr Ng believes that green loans here may become more popular in industries related to renewable energy, clean transportation, water management and waste management.
He attributed the growing adoption of green finance here to the Government and regulators' efforts to promote it. 
Such efforts include a series of green initiatives announced by Education Minister Ong Ye Kung at the Singapore Fintech Festival last month to promote green finance, such as a US$2 billion (S$2.71 billion) green investment programme and the promotion of "green bonds" to support sustainable projects.
Mr Ng said that in addition to the Government's push to develop Singapore as a green finance hub, the banking industry is also developing its green financing capacity in the region. Interest by clients in green financing is also growing. 
With all three stakeholders — the Government, banking industry and businesses — coming together, Mr Ng said that he expects to see an increase in green financing activity here.