Explainer: What's strangling the global semiconductor supply, and why Singapore consumers should care
SINGAPORE — Consumers here may start to notice that certain high-tech goods, ranging from smartphones to cars, are being sold at higher prices, or that stocks for such goods are running out.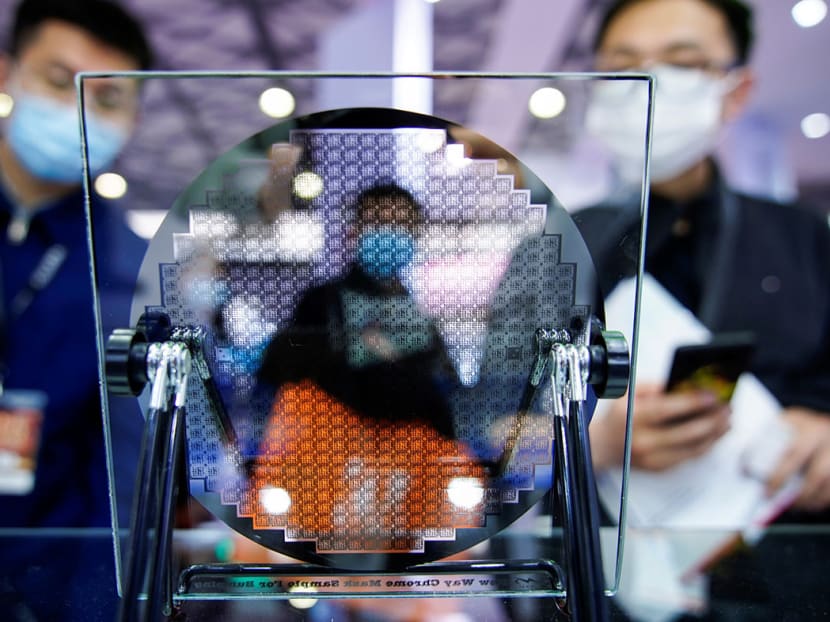 The Ukraine crisis and Covid-19 lockdowns in China are set to worsen the global semiconductor supply crunch
Consumers may see price increases for things ranging from lifestyle gadgets to even cars
However, as Singapore ramps up its capabilities in the field, it stands to benefit in the industry's long-term growth
SINGAPORE — Consumers here may start to notice that certain high-tech goods, ranging from smartphones to cars, are being sold at higher prices, or that stocks for such goods are running out.
The reason for this? The global semiconductor supply crunch that has been exacerbated by the Ukraine crisis and lockdowns in China.
TODAY spoke with experts to find out how geopolitical events and global developments have worsened the chip shortage, and how Singapore consumers will be affected.
WHAT ARE SEMICONDUCTORS
Semiconductors are the brains of modern electronics. They are found in practically all electronic devices ranging from smartphones and computers to advanced medical diagnostic equipment to cars.
Besides silicon, materials key to the manufacturing of semiconductor chips include palladium and rare gas such as neon — materials of which Russia and Ukraine are major exporters.
HOW UKRAINE-RUSSIA WAR AFFECTS SUPPLY
Assistant Professor Vivek Choudhary from the Nanyang Technological University's Nanyang Business School said that Russia supplies about 40 per cent of palladium used in the global production of semiconductors, while Ukraine supplies about 70 per cent of neon.
"Given the current situation and global sanctions in place, (the conflict) is likely to worsen the situation and also increase the price of the chips," he said.
During the Budget debate in Parliament last month, Trade and Industry Minister Gan Kim Yong had already warned that the war between Russia and Ukraine may have an impact on the semiconductor industry and the wider technology goods market, aside from energy costs.
Mr Rakesh Agarwal, partner at professional services firm KPMG, estimated that the semiconductor shortage would last for at least another one to two years due to the evolving coronavirus strains causing Covid-19.
"Certainly, the latest geopolitical developments have posed an impact, which could extend this timeline for a bit." 
OF CHIPS, CHINA AND COVID-19
China's pursuit of a zero-Covid approach, which is manifested in the recent lockdown of a few key cities, disrupted semiconductor production operations. 
Automotive companies including Volkswagen and Toyota, as well as semiconductor suppliers such as Foxconn, were among those immediately hit by the stoppage of work in mid-March, news agency Reuters reported.
Besides affecting production capacity for chips, the lockdowns could also compound supply chain costs in general.
Dr Johannes Schlingmeier, co-founder and chief executive of Container xChange, a global logistics tech company that deals with container leasing and trading, said: "Lockdowns in China will further reduce capacity and cause a surge in already inflated shipping prices." 
YEARS OF SEMICONDUCTOR SUPPLY WOES
Analysts interviewed by TODAY said that recent developments only served to aggravate existing supply issues — which started around the same time as the onset of Covid-19 — due to a confluence of factors.
Senior economist Irvin Seah from DBS bank said: "There are already supply side bottlenecks that have been ongoing for the last couple of years, and that has remained the main drivers of the spike up in prices."
Mr Rakesh Agarwal, partner at professional services firm KPMG, gave this timeline of the semiconductor supply issues:
At the onset of the pandemic during the second quarter of 2020, demand for electronics skyrocketed while the demand for automotive vehicles dwindled
As a result, carmakers cut their orders of semiconductors in early 2020, but the gap in demand was quickly taken up by electronics firms
The demand for passenger vehicles rebounded by the third quarter of 2020. However, chip manufacturers were already committed to supplying customers in consumer electronics and IT. Given the lead time needed to increase semiconductor production capacity, this resulted in a severe shortage across industries
The shortage of semiconductors continued in 2021, made worse by reduction in manufacturing capacity due to Covid-19-enforced closures of factories and safety measures
The trade disputes between China and the United States over the last couple of years, he added, had also significantly affected the global semiconductor supply chains.
Assistant Professor Vivek Choudhary from the Nanyang Technological University's Nanyang Business School pointed to raw materials-related factors that added to the woes, such as the droughts in Taiwan in 2021. This had affected the supply of ultraclean water, a key resource required for cleaning and fabrication during the manufacturing process.
HIGHER PRICES, DISRUPTED SUPPLIES FOR CONSUMERS
Asst Prof Choudhary from Nanyang Business School said that given the pervasiveness of semiconductors, the supply disruption "has the potential to increase" product prices.
Some costs, especially among lower premium products, may be passed to end consumers, he added.
Mr Agarwal of KPMG echoed this view, saying that consumers may expect to fork out more for "electronics and semiconductor-intensive items in the short run".
Global automakers have responded to the chip crunch by prioritising high margin cars and cutting back on low margin ones, but how this trickles down to car owners in Singapore might be less straightforward compared to other markets.
Associate Professor Walter Theseira, economics professor at the Singapore University of Social Sciences, said that one of the main ways other markets overcome the shortage is by dealers raising prices above the manufacturers' price.
However, taking into account the vehicle quota system in place here, Assoc Prof Theseira said that "the reduction in global supply is not consequential". This is because the number of new cars that can be sold here is limited by a quota anyway. 
He also said that any upward inflationary pressures on cars may not be as noticeable, since the Certificate of Entitlement that car buyers have to pay for makes up a bulk of a car's price tag.
Manufacturers could also cut back on certain frills; there have been reports of certain car models here being sold without features such as LCD screens and digital locks due to semiconductor supply issues.
Assoc Prof Theseira expects this to continue for the lower profit models for some time.
LONG-TERM BENEFITS FOR SINGAPORE
Despite the short-term woes for consumers here, it is worthy to note that Singapore has in recent years attracted investment to augment its capabilities in the semiconductors industry.
For example, GlobalFoundries, a major chip maker, in June 2021 announced an investment of over US$4 billion (S$5.4 billion) to ramp up its manufacturing capacity here.
In July 2021, Minister of State for Trade and Industry Alvin Tan during a Singapore Semiconductor Industry Association event highlighted that the country accounts for 5 per cent of global wafer fabrication capacity and 19 per cent of the global semiconductor equipment market share.
This puts Singapore in good stead to ride on the industry's growth, which Mr Agarwal of KPMG said is set to continue despite current challenges.
"The industry delivered an all-time high revenue of US$556 billion in 2021 and is expected to reach US$600 billion in 2022... growth of 10 to 15 per cent is expected in the coming decade," he said.
"Companies that make highly specialised equipment used to build chip foundries will anticipate immense success in the coming years, due to the forecast of increased demand."