Explainer: Why Amaravati project — touted as 'S'pore of India' — got scuppered and the impact on S'pore firms
SINGAPORE — When the Indian state of Andhra Pradesh needed a new capital city after it lost Hyderabad to another newly formed state in 2014, it looked to the city builders in Singapore for inspiration.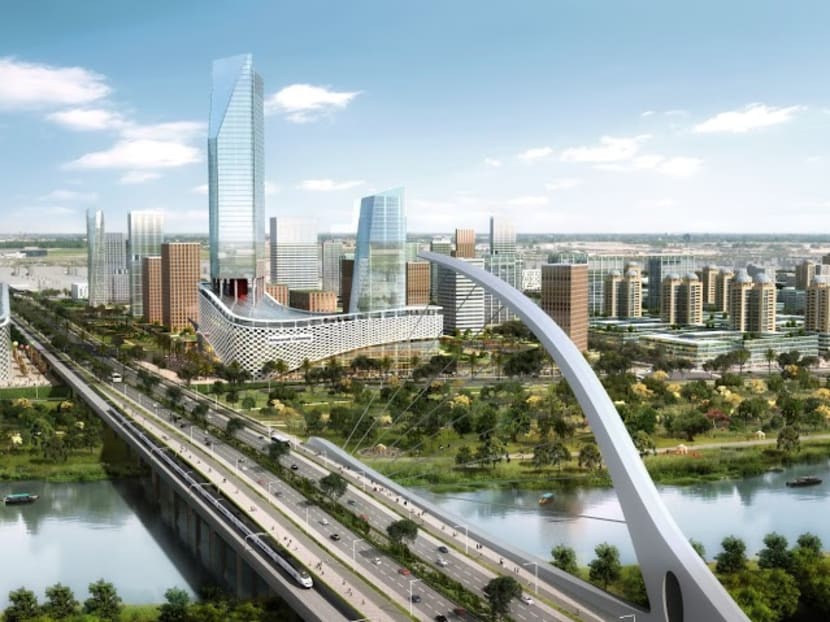 SINGAPORE — When the Indian state of Andhra Pradesh needed a new capital city after it lost Hyderabad to another newly formed state in 2014, it looked to the city builders in Singapore for inspiration.
After all, Singapore is a model city deemed one of Asia's most liveable, and Andhra Pradesh's then-chief minister Nara Chandrababu Naidu was "a longtime admirer of Singapore", a joint report by the Centre of Liveable Cities (CLC) in Singapore and the Indian government said last year.
Mr Naidu, who once said "other cities may be more beautiful, but Singapore is sustainable and liveable", asked Singapore to help build part of the new capital city of Amaravati from scratch, in what became the first government-to-government collaboration of its kind between the two nations.
But today, five years on, the plan brokered by the two governments is dead in the water after a regime change in the Indian state earlier this year. The state government, under new chief minister YS Jaganmohan Reddy, officially killed the Amaravati Capital City Start-Up Area — which Singapore was helping to build — via a government order on Monday (Nov 11).
TODAY picks through the ashes of the now-scuppered plan to find out why the plan fell apart and the impact on Singapore's businesses.
HOW THE PROJECT CAME ABOUT 
Amaravati, meaning "the home of gods", was so named due to an important Buddhist pilgrimage site nearby. It was chosen as the new capital after the state government was given 10 years to vacate its current capital of Hyderabad that it shares with the new state of Telengana.
Mr Naidu immediately sought assistance from Singapore, which had been looking to boost strategic and economic ties with India.
"I have very good relations with the Singapore Government, and I admire this Government because of its integrity, efficiency and continuous development," he said in an interview with the Ministry of National Development's CLC.
Singapore rapidly assembled a team spanning multiple agencies. A memorandum of understanding between Andhra Pradesh and Singapore was signed in December 2014.
Slated to cost 270 billion rupees (S$5.1 billion) and house 3.5 million people, Amaravati was to be Mr Naidu's "dream project" to create a Singapore-like capital city that would surely draw in the world's top investors.
Farmers in Amaravati paid hefty compensation to give up their land, and they would travel to Singapore in state-funded trips to learn about entrepreneurship and business practices.
By October 2015, a Singapore consortium — comprising CapitaLand-owned Ascendas Singbridge and Sembcorp Development — submitted a proposal to become the master developer of a 6.84 sq km "start-up area", which would form the commercial core of Amaravati.
The overall city plans closely mirrored Singapore's growth into a modern city with a Central Business District and Amaravati's own version of the MRT.
Several "deep dive" trips by Singapore agencies would be conducted over the coming years, looking into urban transportation, city planning, and water, power and waste management.
The Republic's involvement in this area became official in May 2017 with the appointment of the consortium as master developer of the city's commercial core.
DIFFICULTIES AROSE 
But after that the city made little progress, stalled by repeated delays and an alleged lack of political will, and ultimately scuppered following the regime change.
A 2018 report by wire agency Agence-France Presse described the lack of progress: "Half-finished settlements dot farmlands, most not connected by proper roads. Plans for the promised riverfront, housing and public transport have been marred by delays."
Officials overseeing Amaravati's development told the media at the time that contracts worth US$5 billion had already been issued.
Mr Naidu, who belonged to the Telugu Desam Party, then blamed the federal Indian government for reneging on promises that would have ensured "a stream of financial aid and incentives to bankroll the dream city", the AFP report said.
For these and other injustices, Mr Naidu went on a hunger strike in April this year. He had severed ties with Prime Minister Narendra Modi's ruling party in March 2018.
Some of Mr Naidu's critics charged that it was he who had sought to vaingloriously draw out the development of Amaravati for personal prestige.
One independent legislator, K Nageshwar, had said: "Naidu very clearly projected Amaravati more as an instrument of electioneering."
Amaravati's prospects unravelled further in May 2019, when political rival Jaganmohan Reddy led the YSR Congress Party to victory in the Andhra Pradesh state polls, defeating Mr Naidu.
During a visit to Singapore in September, India's foreign minister Subrahmanyam Jaishankar was posed a question by Ambassador-at-large Tommy Koh on whether the project was "sick, very sick or dead", the Straits Times reported.
It was a decision for the state rather than the federal government, Mr Jaishankar said in reply.
Soon, India's federal government also pulled its support of the project. Other lending institutions followed suit. The World Bank withdrew a US$300 million loan meant for the Amaravati project, with YSR officials blaming "rampant corruption" in Mr Naidu's party for the decision.
With the project effectively dead in the water, the Singapore consortium and the Andhra Pradesh joint development company Amaravati Development Partners (ADP) agreed to wind-up their commercial partnership on the start-up area of Amaravati.
Minister-in-charge of Trade Relations S Iswaran said on Tuesday: "We note that the newly elected Government of Andhra Pradesh has decided not to proceed with the start-up area given its other priorities for the state."
IMPACT ON S'PORE BUSINESSES
Such risks are par for the course when venturing into any overseas market, said Mr Iswaran, and companies recognise these risks and factor them into their investment decisions.
"In this instance, the Singapore consortium companies have stated that the project has cost them a few million dollars, and that its closure does not impact their investment plans in India," he said.
He added that Singapore businesses remain interested in the region and other Indian states due to their size and potential. "Our economic agencies will continue to help our companies internationalise by exploring opportunities in India and other overseas markets," he said.
A spokesperson from the consortium — Singapore Amaravati Investment Holdings — told TODAY that the project was meant to take place over two decades and in partnership with the Andhra Pradesh state government.
As to the costs incurred, the spokesperson added that they are limited to design services as the project was still in its early stages and the land in the Amaravati start-up area has yet to be made available to ADP for development.
"(The) costs incurred are limited to design services prior to commencement of execution works on the ground, amounting to a few million dollars," said the consortium.
'MANY OPPORTUNITIES REMAIN FOR S'PORE FIRMS'
Echoing Mr Iswaran's views, the consortium said the project's closures "should not in any way impact CapitaLand's and Sembcorp's investment plans in India, which remains a key market for both companies".
In response to a query from TODAY, Mr Ho Meng Kit, chief executive officer of the Singapore Business Federation (SBF), said that even with the termination of Amaravati, the state of Andhra Pradesh presented many opportunities to Singaporean businesses.
He noted that the state had a young population, India's largest agriculture and aquaculture industries, and the nation's longest stretch of coastline facing Singapore.
He said the Sunrise programme, unveiled in January this year and led by SBF, is aimed at encouraging more Singaporean businesses to explore investment opportunities in Andhra Pradesh and team up with local partners.
Mr Ho said Andhra Pradesh offered opportunities to Singaprean businesses in the areas of skills, education, ports and logistics, food processing, wholesale trade and cold chain, which refers to the equipment and processes needed to keep goods at low temperatures.
In response to a query from TODAY, an MTI spokesperson said on Tuesday: "The joint venture between the Singapore consortium and the government of Andhra Pradesh was a commercial arrangement between the parties. Similarly, the decision to cease the partnership was by mutual consent between them. The Singapore Government is not an investor in the project and no public funds were involved."