Explainer: Why Covid-19 vaccines may not completely eliminate viral spread
SINGAPORE — On March 15, 2003, a 17-year-old student returned to his boarding school in the United States from Beirut, Lebanon, where measles was known to be spreading.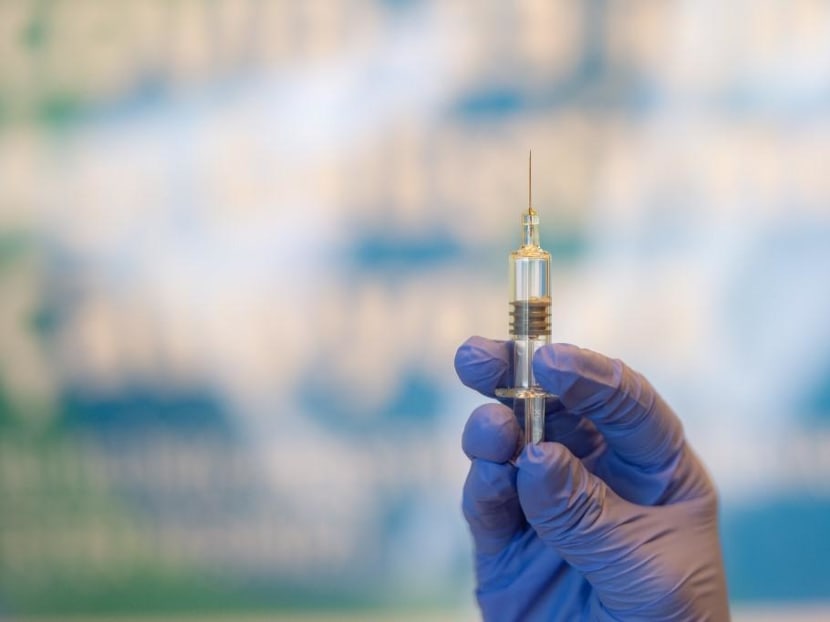 It is unusual for vaccinated persons to start clusters of infections, but it does happen, said experts
There were two recent clusters of new Covid-19 infections that involved fully vaccinated persons
No Covid-19 vaccines are proven to completely prevent someone from infecting others
But vaccines are still instrumental in the pandemic fight because they prevent severe disease
SINGAPORE — On March 15, 2003, a 17-year-old student returned to his boarding school in the United States from Beirut, Lebanon, where measles was known to be spreading.
He was vaccinated against the contagious disease, having received two doses of the vaccine — which has been available since the 1960s — as a toddler.
Yet, the day after he returned, the teen developed a cough, rash and fever and visited the emergency department of the local hospital in Pennsylvania five days later, where he was later diagnosed with the disease.
By that time, the boy had already started an outbreak. He infected four students and a dormitory houseparent in his students' dormitory, who then went on to infect others.
Eleven cases of measles were identified from the outbreak in a year that saw 42 confirmed cases across the whole of the United States. Only two from the Pennsylvania boarding school outbreak — twins who lived in the same dormitory as the teen — were unvaccinated.
Cases of vaccinated individuals who become responsible for an infectious disease outbreak are unusual, but they do happen, said several health experts that TODAY spoke to.
Professor Dale Fisher, a senior infectious disease consultant at the National University Hospital, said: "Measles has got incredible vaccine coverage and we still get a cluster of cases every year. We have to understand — vaccines won't just turn the pandemic off."
In Singapore over the past couple of weeks, there have been two clusters of new Covid-19 infections that involve fully vaccinated persons.
One cluster was at the Westlite Woodlands dormitory, where 22 recovered workers were confirmed to be infected with Covid-19 after a fully vaccinated 35-year-old Bangladeshi resident was detected with the disease. Five were found to be re-infections.
And on Wednesday (April 28), a fully vaccinated nurse at Tan Tock Seng Hospital also tested positive for the virus. Four others in her ward — a doctor and three patients — later tested positive too.
Epidemiological investigations for these cases are ongoing, so it is still not known if it was the vaccinated persons who were the index cases of their clusters.
Yet, these incidents and the recent surge in the number of locally transmitted cases have sown doubt among some people online who questioned the purpose of Covid-19 vaccines and Singapore's vaccination strategy.
Experts said the recent cases suggest the opposite — that it is vital more people are vaccinated against Covid-19.
Dr Leong Hoe Nam, an infectious diseases expert from Rophi Clinic, added: "No vaccine can have 100 per cent effectiveness. The point of vaccines is to cut down on the number of deaths, the number of people hospitalised, and the morbidity of the disease. This has been achieved with the Covid-19 vaccines today."
While the ability of vaccines to prevent further transmission of Covid-19 is still unproven, there are real-world signs that existing vaccines can help reduce the spread to low levels.
Associate Professor Hsu Li Yang, vice-dean of global health at the Saw Swee Hock School of Public Health, said: "They are the most cost-effective measure against Covid-19 at present.
"Achieving herd immunity does not mean that infections cannot happen or that Covid-19 will be eliminated. Rather, the spread of the virus will be more circumscribed and the death and disability toll of the virus will be considerably decreased."
HOW VACCINES STOP THE VIRUS FROM SPREADING TO OTHERS
Infections and diseases can still occur in vaccinated persons who are not able to mount an adequate immune response to the virus, such as through the production of antibodies.
There is also the question of how long the antibodies generated by the vaccines will take to decay.
Among other things, the body's immune system consists of B-cells that produce antibodies, along with T-cells, in order to mount a robust response against pathogens, said Dr Leong.
The vaccine works by "training" the body to produce Covid-19 related antibodies, so that the body remembers how to fight the invading coronavirus if the person is infected.
The two mRNA-based vaccines, Pfizer-Biontech and Moderna, currently approved for use in Singapore to fight the pandemic were shown to have 94 to 95 per cent efficacy in preventing symptomatic Covid-19 during their clinical trials.
Because they are not perfect, this means that after a person has received both jabs, there is still a chance a person will remain susceptible to Covid-19 and can still fall ill from the disease.
There will also be those who will not fall severely ill, but are symptomatic and could still spread the virus. Or, they could have reduced symptoms but the virus might potentially still spread asymptomatically.
Immunologist Ashley St John from the Duke-NUS Medical School's Emerging Infectious Diseases Programme added that everyone has a unique immune system and genetic background, so not all vaccines work the same way in each person.
"That exposure triggers the immune system to recall the memory response and hopefully produce higher concentrations of antibodies, and re-activate cells like T-cells that kill virus infected cells," she said.
"Vaccines that are effective in lowering the amount of virus that can be produced, or shortening the time you are sick, are important tools in controlling the pandemic."
DO COVID-19 VACCINES PREVENT INFECTIONS?
The fact is, in the history of infectious diseases, most vaccines do a better job stopping a pathogen from causing serious illness, thus granting "effective immunity", than they do in preventing further spread of the virus, said experts.
The latter is known as "sterilising immunity".
Said Assoc Prof Hsu: "Sterilising immunity — where even asymptomatic infection is prevented — is an ideal in vaccine development. When infection is prevented, transmission is naturally blocked as well.
"In reality, very few vaccines or infections confer long-term sterilising immunity, although they all prevent disease to a greater or lesser degree."
Covid-19 vaccines, such as Pfizer's and Moderna's, are not likely to be different, though there have also been studies showing that they may confer some form of immunity against passing the virus to others.
Simply put, just preventing symptomatic infection can help reduce Covid-19 spread, as is the case for many infectious diseases that have childhood vaccines, said Assoc Prof Hsu.
In the US, the Centers for Disease Control and Prevention found that the Pfizer and Moderna vaccines were 90 per cent effective at reducing the risk of asymptomatic infection in fully vaccinated individuals.
Real world data also suggests that transmission has been greatly reduced in many countries where a significant proportion of the adult population has been vaccinated, including Israel, United Kingdom, and the US.
The case counts in these countries have fallen correspondingly with their vaccine rollout.
However, it is also notoriously difficult to prove that vaccines can prevent viral spread because doing so requires exposing vaccinated people to the virus in a controlled setting.
A fall in the number of cases could also be the result of other measures, not because of the vaccine.
IMPLICATIONS FOR VACCINE STRATEGY
Nevertheless, the ability for vaccines to confer sterilising immunity is not necessary in the current pandemic, said experts.
Assoc Prof St John said: "We don't need sterilising immunity to prevent or strongly limit transmission of disease. Sometimes you can have a little bit of viral replication but not produce enough to spread to another person.
"Even the best vaccines only work to lower transmission if there is good vaccine coverage, so we not only need good vaccines but we need more people to take them.
"If we increase the numbers of people that are vaccinated, we have a good chance of avoiding the most serious concern related to Covid-19, which is severe disease," she added.
The question is whether the immunity produced by vaccination is good enough, said the immunologist.
Dr Leong added that if everyone is vaccinated, the effects of Covid-19 on a vaccinated population will not be severe, except in rare cases.
This means that the daily case counts of Covid-19 will hold a very different meaning than at the start of the pandemic, when the chances of dying from the disease was higher.
"Vaccines (essentially) relegate the virus to a common cold," said Dr Leong.
On a societal level, the ability for vaccines to reduce morbidity and prevent hospitalisations are instrumental in preserving Singapore's healthcare capacity too.
Said Dr Fisher: "We've always known vaccines are never 100 per cent effective, but it stops people from dying and very much reduces hospitalisations and things like this.
"Vaccines are not there to turn the pandemic off, and that's why all the other interventions are needed and why we can't reduce (safety) measures just because vaccines are available."
Case in point: Out of the 11 people infected with measles in the case of the Pennsylvania boarding school in 2003, only two — the twins who lived in the same dorm as the index case — were not vaccinated against the disease because of religious exemptions.
They were the only ones to require hospitalisation for dehydration, and no other complications were reported from the others.