Explainer: What is the XBB Covid-19 variant and should its rapid spread cause concern?
SINGAPORE — A new Omicron subvariant, known as XBB, has been behind the increase in Covid-19 cases here in recent weeks.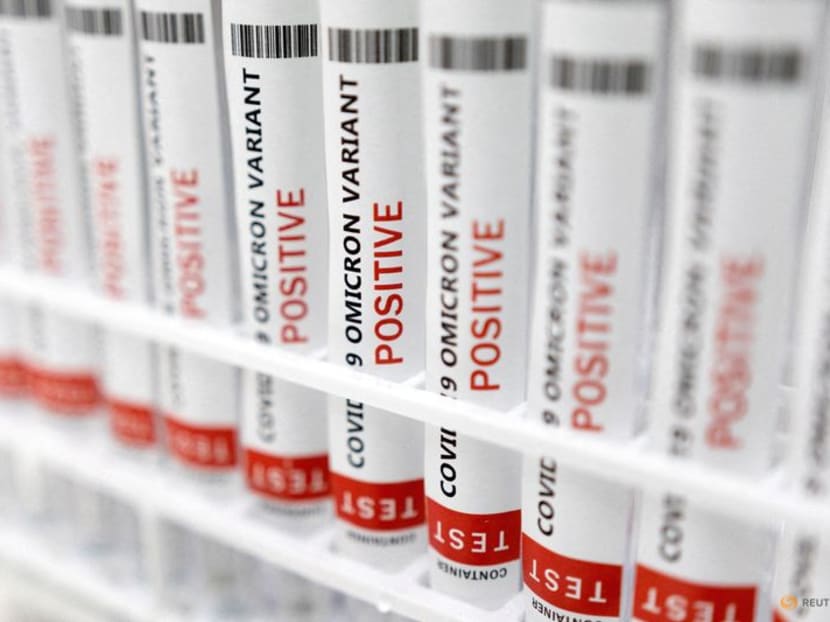 A new Covid-19 coronavirus strain called XBB has been behind the increase in infection cases here in recent weeks
It evolved from the existing BA.2 Omicron subvariant
However, experts said that it does not result in more severe outcomes
They believe that there is no need to retighten Covid-19 safety measures here
SINGAPORE — A new Omicron subvariant, known as XBB, has been behind the increase in Covid-19 cases here in recent weeks. 
Health Minister Ong Ye Kung said that this new strain is responsible for half of all daily cases now compared to none just three weeks ago.  
"So (it is) obviously outcompeting BA.2.75 and also BA.5," Mr Ong told reporters on Tuesday (Oct 11), after he had received his bivalent vaccine at the Commonwealth joint testing and vaccination centre. 
On the same day, the Ministry of Health (MOH) refuted rumours circulating on messaging platform WhatsApp that there is a rapid and large increase in Covid-19 cases here with severe illness and deaths due to the XBB strain.
"While there is an increase in local cases driven by XBB, including the post-weekend spike this Tuesday, the number of severe cases has remained relatively low," it said.  
But is this increase driven by the new strain a cause for concern and should Singapore retighten Covid-19 safety measures? 
TODAY spoke to experts to find out more. 
WHAT IS THE XBB SUBVARIANT? 
The XBB variant, also known as BA.2.10, evolved from the existing BA.2 Omicron subvariant strain. 
Dr Paul Tambyah, president of the Asia Pacific Society of Clinical Microbiology and Infection, said: "The XBB variant is the latest of a series of variants that has emerged in countries with high vaccination rates."
He added that it is the natural result of the virus' evolution to avoid the protection provided by immunisation. 
"All viruses evolve and become more transmissible and less virulent over time," Dr Tambyah said. 
Dr Sebastian Maurer-Stroh, director of A*Star's Bioinformatics Institute, said that the new variant is a result of an accumulation of changes in the virus' spike surface protein. 
"It is like the virus getting a new coat, and our immune system needs to learn again how to recognise it. Although this makes the virus stealthier, it is typically not more virulent."
When asked why XBB was named this way, Dr Maurer-Stroh said that XBB is not an official World Health Organization (WHO) name for variants. 
Instead, the name is being used by researchers and public health agencies to discuss the emerging variants before they have grown to globally relevant numbers. 
For example, they use letters and numbers such as B.1.1.529, which later became Omicron, the official WHO variant name.
Dr Maurer-Stroh added: "'X' here stands for a recombinant (one of the variations observed for the virus) and 'BB' for the chronological appearance." 
A recombinant virus is one that is produced by recombining pieces of DNA. 
HOW DANGEROUS IS IT? 
Experts agreed that the XBB variant is more transmissible than previous Covid-19 strains. 
Dr Tambyah noted: "Although we do not have all the genomic data on the current wave of cases, that (XBB being more infectious compared to other variants) is most likely the case as the number of infections has risen quite significantly over the last few weeks." 
Dr Leong Hoe Nam, an infectious disease expert from Rophi Clinic, said the fact that it has become the leading virus in Singapore shows that it can outrun and outdodge the other strains. 
"Just like how Omicron replaced Delta, but at a much faster pace," he said.
When asked if the strain would lead to more severe outcomes among those infected, the experts said that it is not likely the case. 
Associate Professor Alex Cook, vice-dean of research at the Saw Swee Hock School of Public Health, said: "So far, it doesn't seem to be leading to worse outcomes. Hospitalisation numbers are slowly going up, as we would expect with more cases, but so far, the growth in severe outcomes seems slower than the growth in cases." 
Dr Tambyah also noted that the number of cases in intensive care has "not risen appreciably" despite the increase in the number of cases. 
"Anecdotally, most of the patients I have seen infected in the last couple of days have (had) very mild (symptoms)," he added. 
However, Dr Leong said he suspects that this strain may be causing more people to get sore throat, which he has been noticing in his patients. 
WILL THE NEW BIVALENT VACCINE PROTECT YOU? 
Assoc Prof Cook said that for people who are not up to date with vaccinations for their age group, it would be sensible to get the bivalent vaccine, "unless you are recently recovering from infection and therefore already have pretty good immunity".
Agreeing, Dr Leong said that the vaccine should protect one from the XBB strain in theory, though it has not been proven in the laboratories or clinically yet. 
Dr Tambyah pointed out that based on laboratory data, the XBB variant seems to be able to avoid the protection of vaccines, including those targeting BA.1.  
However, he added that it is "reasonable" to get the new vaccine as a booster since it is possible that the next variant to emerge may be derived from BA.1. 
SHOULD SINGAPORE RETIGHTEN SAFETY MEASURES?
Despite the rise in cases driven by XBB, the experts said that there is no need to retighten Covid-19 safety measures here. 
Dr Tambyah said: "I think we should continue doing what we are doing right now. Focus on basic public health measures and ensure that those who are ill get the care that they need."
He also noted that the XBB strain does not appear to have an impact on the healthcare system. 
Both Assoc Prof Cook and Dr Leong agreed that tighter measures should only be reinstated if there is an excessive number of severe cases requiring hospitalisation and intensive care, and hospitals are unable to manage. 
Assoc Prof Cook added: "The main difference between now and late 2021 when the Omicron variant was first emerging is that by now, most of us have been infected, most are boosted and more kids are protected.
"Thus even when new variants emerge and cases go up, we still expect to have a lot of protection from severe outcomes. So we should not 'freak out' when a new wave starts."