A family photo to remember for Redhill Close residents, as estate empties out after 63 years
SINGAPORE — It began as a family project to help her two daughters remember their childhood home at 20 Redhill Close before it is eventually demolished or redeveloped.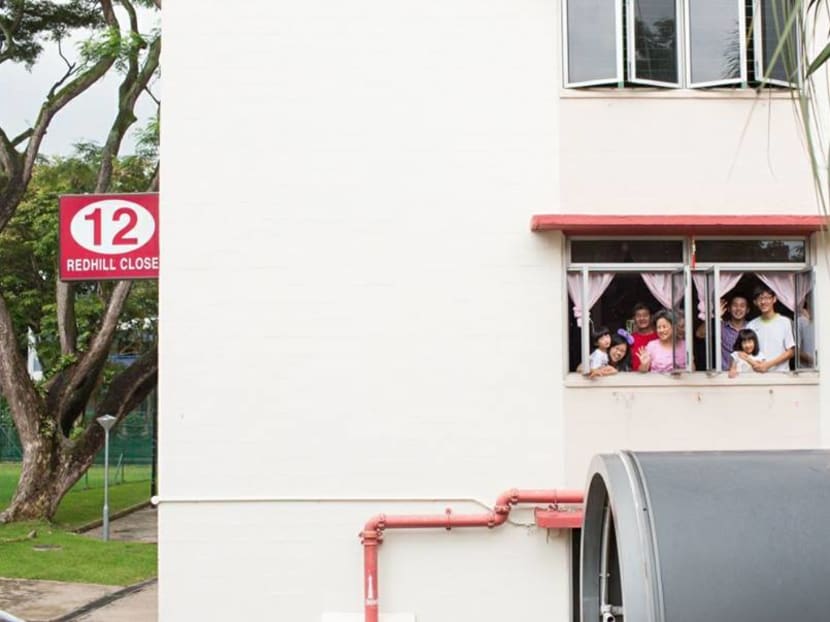 SINGAPORE — It began as a family project to help her two daughters remember their childhood home at 20 Redhill Close before it is eventually demolished or redeveloped.
But the family portrait that Ms Lee Yun Qin took with the help of a photographer friend Ms Joanne Tan soon blossomed into a documentary project involving over 50 families in their ageing estate.
For over 60 years, Redhill Close has been home to a number of Singaporean families, many of whom have lived in the 21-block, 878-unit estate, nicknamed "chek lau chu (Hokkien for seven-storey house), for generations.
Built in 1955, the white-and-yellow Housing and Development Board (HDB) flats with their trapezoid roofs and curved facades was earmarked for Selective En-bloc Redevelopment Scheme (SERS) in 2011.  
More than half of the residents have either relocated or moved to new replacement flats at Henderson Road. While residents told TODAY that they have to move out by January next year, some are still lingering due to the fond memories of their old homes.
Ms Lee, 37, who has lived in the apartment for close to a decade, said she had asked for a family portrait so her two daughters, who are four and seven, would have something to remember the flat they grew up in.
The three-room flat was the couple's first marital home, and her husband grew up in the estate, just a block away. She wanted to document it as she had lived in an attap house as a child, but had no memories of it as her family did not have any photos.
After receiving the photos, she thought: "Wouldn't it be nice if my neighbours also had a family portrait to remember their old homes and the estate? After all, we all have to move out sooner or later."
Ms Lee, a designer with a beauty brand, and Ms Tan then began knocking on her neighbours' doors last December, asking if they wanted a family portrait taken.
The duo spent the next six months working on what would eventually culminate in a documentary project, Remembering Redhill Close, that brought more than 200 residents together through an exhibition held in May along the sheltered walkways of the estate. 
"When we first started, we had a lot of doors close in our faces, some neighbours thought we were scammers out to cheat their money," said Ms Lee with a chuckle. 
But word soon spread around the estate after they started on the project with close neighbours and friends.
She added: "It also helped that over the period of Chinese New Year, when extended families (of elderly residents) were visiting, they tended to be more open. So we actually took a lot of family portraits then.
"One ah ma had so many relatives that we almost couldn't fit all them in the frame!"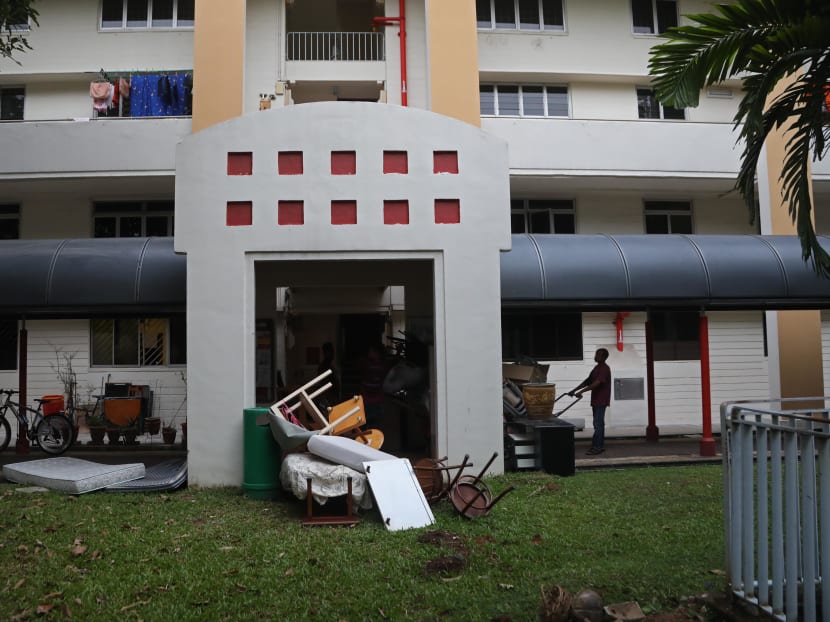 Her two daughters also accompanied them at times as they worked on the project during weekends, and that helped open doors.
"Some of the residents saw my daughters around, so they were more trusting (of me) and were open to having their portraits taken," she said.
Still, the pair never expected that they would end up helping over 50 families produce their family portraits.
"Sometimes, you will never know the value of a moment until it becomes a memory," said Ms Tan, 32.
"As we were taking photos of the residents in their favourite spot in their homes, some were telling us they've never had such a big family photo done, and others told us stories of the items they've been collecting.
"It was very humbling for us, to have them share stories like these with us, (as we were) complete strangers."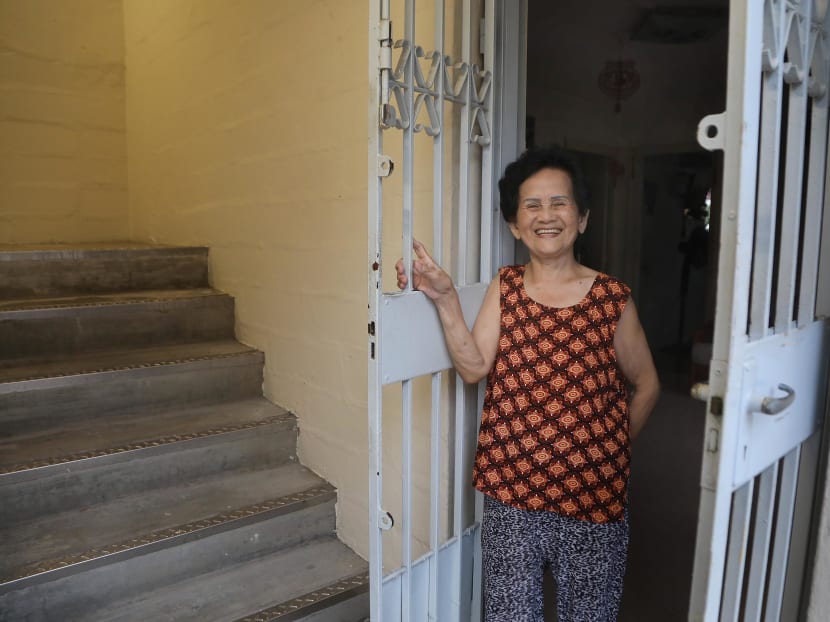 Both women worked on the project pro bono, and Ms Lee successfully applied for a grant of S$2,000 from the HDB Friendly Faces, Lively Places Fund to help with the costs of the exhibition. She used the money on materials, snack and drinks for residents for the exhibition.
The fund encourages residents to initiate community-driven, place-making projects that develop stronger place identity in their neighbourhoods.
OPEN DOORS, FRIENDLY NEIGHBOURS
Residents at Redhill Close told TODAY that they will miss the "friendly and helpful neighbours", as well as the estate's convenient location.
Mr Kee Chong Tat, his wife Mrs Cecilia Kee and their two young daughters, who are eight and 11, will be moving to a resale flat in Queenstown.
"I still remember when my girls were very young and I had to pop into the supermarket, the auntie upstairs would help me look after them," said Mrs Kee, 46, who is a housewife.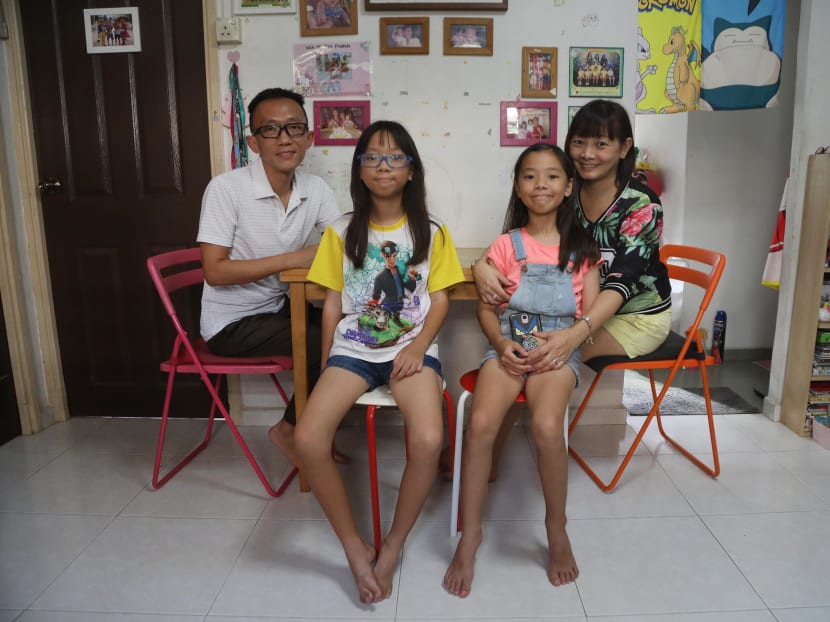 Mr Kee said such instances are "rare" in newer estates. He added: "The elderly are more easy-going…now people seldom open their doors, the corridors are less open and wide (so there is less conversation) too."
While they will miss their marital home, the couple acknowledged that the flats are ageing, and it it could be "dangerous" to continue living it such an old flat.
"The cladding on the walls of our kitchen actually collapsed a few months back, and the water from the old pipes is starting to affect the paint on our bathroom walls," said Mrs Kee.
Retiree Lim Lai Whay, 77, however, is not ready to move out of her home of over 40 years.
She will miss the convenience of having a food centre and wet market — the Redhill Market and Food Centre is less than 200m from her home — right at her doorstep.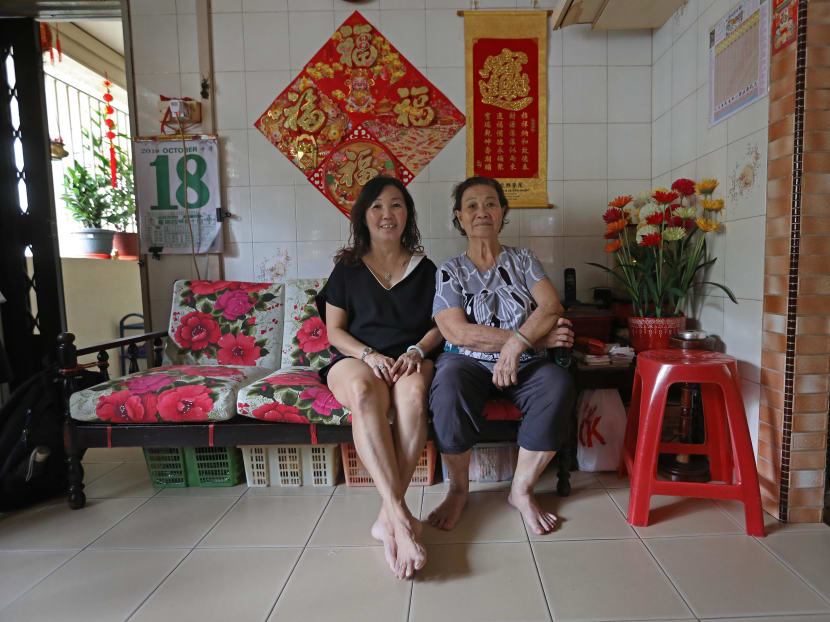 She said: "Over here, (going to) the market and hawker centre is all very convenient and easy. Over at Henderson, it's not so easy to get to the market. We also have to take a bus to the MRT."
But it is the memories of their old flat that are the hardest to leave behind.
Mdm Lim's daughter, Ms Daisy Tan, 55, said: "I used to squeeze in the room with five of my other siblings, climbing the windows.
"My mother's place is also where everyone will come for Chinese New Year, a lot of memories and traditions were created in this place."
Mdm Siow See Eng, 81, also told TODAY that she will miss the "market" and her neighbours.
"I gave birth to all my five children here, watched them grow up and eventually get married and move out, all my memories are here," she said in Mandarin.