Fancy a back rub? A robot can do the job
SINGAPORE — That knot in your back may someday be rubbed out by a robot.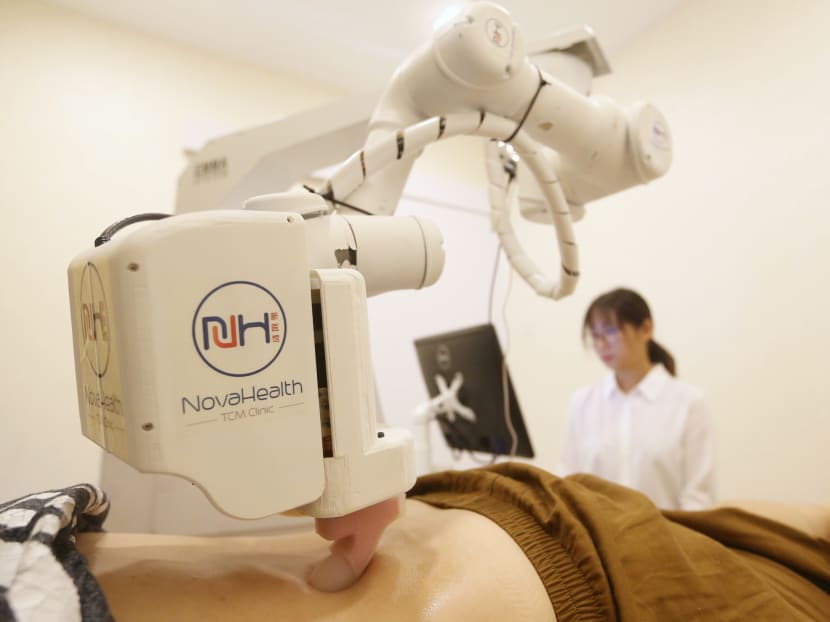 SINGAPORE — That knot in your back may someday be rubbed out by a robot.
At the moment, there is Emma the robot, which "started work" on Monday (Oct 9) at NovaHealth TCM clinic in One Raffles Place.
To help soothe tense muscles, Emma — short for Expert Manipulative Massage Automation — has a "palm" and "thumb" made of silicone, which are heated to mimic human hands. 
It is expected to treat customers with stiff backs or strained knees at the Traditional Chinese Medicine (TCM) clinic, which has become the first in Singapore to deploy the million-dollar robot for "tuina" (Chinese for acupoint massage).
Emma was created by AiTreat, a start-up incubated at the Nanyang Technological University. More than S$1 million was spent developing it over two years.
NovaHealth rents Emma at S$3,000 a month. With the robot in place, it only has a physician, a customer service officer, and a massage therapist working at the clinic. This manpower strength is two fewer than what is typically found at other such centres. 
To set Emma in motion, the physician just needs to spend a brief five minutes to mark out the patient's acupoints on a computer that is attached to the robot. It is tasked to massage the knees and backs — the only two problem spots it is able to tackle for now — while the therapist focuses on the neck, ankle or wrist massages.
Tuina is the most labour-intensive part of a TCM treatment, compared with acupuncture and cupping (where glass cups are used to apply suction and heat to parts of the body). 
In general, a TCM clinic pays a full-time massage therapist between S$3,000 and S$5,000 a month, depending on their experience, to do tuina.
At NovaHealth TCM, a 40-minute massage by Emma for lower-back pain costs S$68, while the therapist charges S$60 to S$150 for a 20-minute session. The charges for either a session with Emma or a therapist include fees for consultation and acupuncture.
Mr Zhang Yizhong, 34, chief executive officer of AiTreat, which developed the robot, said that Emma is programmed to apply a force of up to 50 Newtons, equivalent to roughly half the maximum force that a human being can typically exert.
NovaHealth's physician Calista Lim, 29, said that the robot usually starts with a force of 40 Newtons, and its strength can be increased or reduced by 10 Newtons according to the patient's needs. 
Property agent Ken Tay, 31, who was one of the first to try out Emma to ease his knee and back pain on Monday, said that Emma's massage is as good as what he would have experienced from a therapist.
He also enjoyed the silence during the session. "I don't like to talk to anyone during a massage, so I am more comfortable with Emma because it doesn't talk. It's so good I fell asleep," he told reporters.
TCM physicians contacted by TODAY were not convinced that a robot can fully replace a therapist, bearing in mind the complexity of certain tuina procedures.
Ms Loo Xiao Pei, 32, who works at Ann Yu Li Medical Hall, said that tuina involves twisting or putting a bone back in place for patients who have sprained their ankle or dislocated a bone. 
The practitioner of two years said: "(I feel that) at most, a robot can treat people with pure muscular problems (for people cannot raise their arm or turn their neck), but not bone problems."  
Her clinic typically charges S$40 to S$60 for a tuina massage to soothe back pain.
Another physician, who declined to be named because her clinic was part of Emma's trial, said that the robot can only be used as part of certain treatment procedures such as spinal alignment, where relaxed muscles would make it easier to administer treatment.
Ms Li Rong, 46, a freelance tuina therapist for more than 10 years, agreed that Emma's functions are limited. In tuina, she said, the focus is more on healing the patient's problem than as a means of relaxation, and Emma seems to address just the aspect of relaxation. 
"Many of my patients who turned to massage chairs, for example, still came back to me. I think the robot, at this point, still cannot grasp acupoints on its own. It does a more general massage, but accuracy in grasping an acupoint is highly essential in a good tuina treatment... You need to feel it with your fingers, and hit the sweet spot with confidence."
While the efficacy of a robot therapist is open to debate, AiTreat said that more than 20 companies operating some 1,000 clinics around the world have expressed interest in Emma. The start-up is in the midst of diversifying the robot's use to cover the treatment of Charcot-Marie-Tooth disease, a nerve disorder requiring a daily massage to slow down muscle degeneration, among other applications.
Mr Zhang said that when enough data is collected from massages given, such as each patient's level of muscle stiffness before and after a massage, Emma would be able to "learn" to deliver the optimal pressure to reduce muscle stiffness.
AiTreat, which employs 11 people, has a valuation of S$10 million after completing its seed funding, supported by venture capitalists from Singapore, China and the United States, including Boston's Brain Robotics Capital.