Farrer Park BTO: Keep 'birthplace of S'pore sports' free and accessible for all, urge legends Fandi Ahmad, Ang Peng Siong
SINGAPORE — For swimming legend Ang Peng Siong, his memories of Farrer Park stretch back to when he was just five years old; it was at the eponymously named swimming complex that Mr Ang's father taught him his first swimming stroke.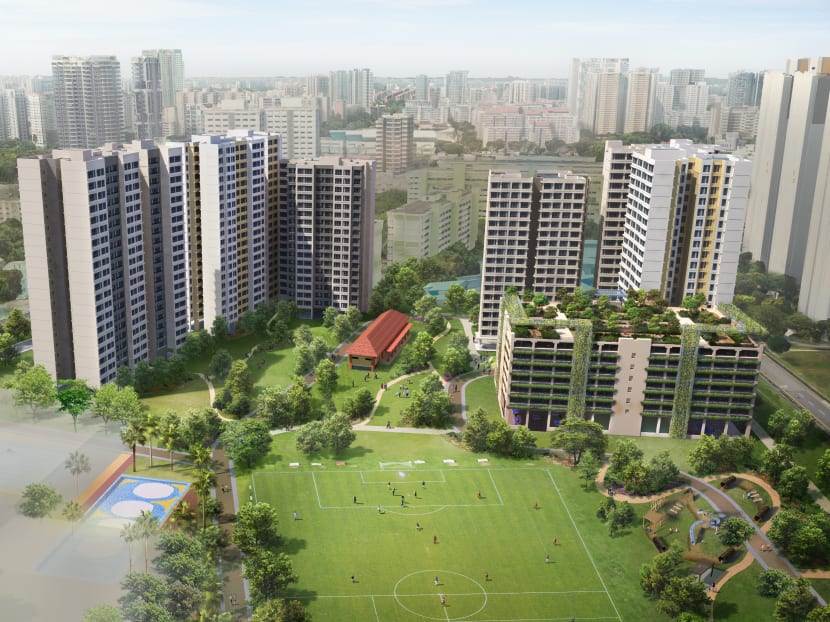 Property analysts say that the Farrer Park BTO project will see high demand
However, this is likely due to its prime location, rather than plans to build it with a sports theme
Athletes who trained there said they hope the authorities will retain some aspects of Farrer Park that made it appealing
Among them is the fact that Farrer Park's field was accessible to all, and could be used without booking
SINGAPORE — For swimming legend Ang Peng Siong, his memories of Farrer Park stretch back to when he was just five years old; it was at the eponymously named swimming complex that Mr Ang's father taught him his first swimming stroke.
But more than just a place where the 59-year-old spent his formative years, the two-time Olympian described Farrer Park as the "birthplace of sports in Singapore".
Not only was it a location for school activities, but the who's who of Singapore's sports scene, particularly for football, were there, too.
"You got to see Choo Seng Quee (Singapore's iconic football coach) running his training programmes and how strict he was with the players; the Quah family — Quah Kim Song, Kim Lye and the rest — and eventually Fandi (Ahmad)," said Mr Ang.
"So you really get that sense of, 'Hey, that's your sporting kampong.'"
'TICKS ALL BOXES'
And it is for reasons such as this that the authorities announced on Monday (April 25) that even as it goes ahead to convert Farrer Park into a new public housing estate, it is important to retain the location's sporting heritage.
To that end, about 20 per cent of the site will be set aside as open spaces for sports and recreational uses, with these facilities "seamlessly integrated" with the housing projects.
The facilities include a 1.2-hectare central green space comprising a field and park, and a new sports centre that will house swimming pools and other sporting facilities on the site of Farrer Park Swimming Complex.
However, property analysts said while these facilities are well and good, the real draw of this Build-to-Order (BTO) project is its location.
Bound by Dorset Road, Keng Lee Road, Hampshire Road and Race Course Road, the 10-hectare site is located on the city's fringe with the Little India and Farrer Park MRT stations nearby.
On top of this, amenities around the area, such as schools and eateries, are well established, said Mr Desmond Sim, the chief executive officer of real estate consulting firm Edmund Tie.
"Basically this means that all the boxes have already been ticked," said Mr Sim.
Agreeing, Mr Nicholas Mak, head of research and consultancy at real estate agency ERA Singapore, said the location of the real estate is still one of the key determinants of demand.
"The integrated sports facilities are 'nice to have' amenities. However, sports facilities alone are not enough to generate strong demand from homebuyers," he said.
Nevertheless, Ms Christine Sun, the senior vice president of research and analytics at real estate agency OrangeTee & Tie, said it is rare to find Housing and Development Board (HDB) flats being conceptualised and built according to a specific theme.
"Usually, thematic developments are found in private housing… and usually such developments may have a stronger appeal to buyers," said Ms Sun.
As such, she believes that the project — which will have around 1,600 flats — may also appeal to other Singaporeans, besides young couples, who are sports enthusiasts.
Observing that the nearby BTO launches for Kent Heights along Owen Road, River Peaks I and 2 at Rochor, and King George's Heights at Kallang-Whampoa saw an over-subscription for all three projects, Ms Sun said it could be likewise for Farrer Park.
In any case, Ms Wong Siew Ying, head of research and content at PropNex Realty, believes it is a good move by the Government to develop brownfield sites — which refers to land that was previously developed — to unlock their potential.
This is especially so for those located in prime areas within the central and city fringe area, such as Farrer Park.
"With mature estates such as the Central Area and Kallang-Whampoa enjoying high over-subscription rates at recent BTO launches – identifying and redeveloping these brownfield sites will help to ramp up housing supply and meet the high demand for public housing in these popular estates," she said.
Moreover, she said that some of the existing sports facilities are relatively dated and the number of active users could be diminishing – which could suggest that these facilities may be approaching physical and economical obsolescence.
"While some of the facilities may hold historical significance, redeveloping or repurposing them could be a good way to rejuvenate and breathe new life into this locality," she said.
The authorities said on Monday that the Farrer Park Swimming Complex cannot be retained as it shows signs of listing and it would not be cost-effective to refurbish it.
The analysts added that due to its close proximity — just over a kilometre away — to another BTO project in Rochor, which is the first to be launched under the new Prime Location Public Housing (PLH) rule, the Farrer Park project could fall under the same model.
This PLH model, announced by the Ministry of National Development (MND) and HDB on Oct 27 last year, is part of wide-ranging changes to Singapore's public housing system and is aimed at mitigating its "lottery effect".
In terms of estimated prices, some analysts said they expect the launch price of a four-room flat to fall within the range of S$550,000 to S$720,000.
ACCESSIBLE TO EVERYONE
While various athletes who once trained at Farrer Park expressed disappointment that the sports community will no longer have as big a field to play and train on, they said they understood there was a need to create space for housing.
They also appreciated that some focus will be given to sports, which could help build up interest on a grassroots level and complement the Singapore Sports Hub, where larger, international events are held.
In fact, retired sprinter C Kunalan said the "more locations there are to do sports, the better".
"It makes it convenient for people because they don't have to travel so far to have a sporting lifestyle," said the 79-year-old.
However, others like Mr Ang lament the loss of what they said made Farrer Park great — that it was accessible for anyone.
"I could just stand on the sidelines and watch games… It was just an open space," he said.
Singapore's favourite football son Fandi Ahmad, 59, said the "special thing" about Farrer Park was that anybody could come by and play in an open field without having to book a slot.
"It's a free place for people to play and practise," he said. "Now you want to book a field, you might not even get a space because it's fully booked."
This is a similar predicament rugby players are facing, said Mr Lincoln Tan, who coaches rugby at Anglo-Chinese Junior College.
The beauty of Farrer Park, said the 57-year-old, is that rugby players and footballers "have an understanding with each other" and would find ways to share the space.
Mr Subhajeet Parida, the president of the Ultimate Players Association (Singapore), said the field has a "special place" in the hearts of many ultimate frisbee players, too, as it is "hard finding a good field that is central and has amenities within walking distance".
"On top of the lack of flat fields in Singapore, our main challenge has always been the size required. Fields of appropriate sizes are also often fully reserved," said the 39-year-old.
Mr Ang said in developing Farrer Park, the question of how to keep its sporting heritage needs to be examined.
"Is it through just (retaining) memories of the past, or do we continue the legacy of providing an accessible location to play sports?"
SportSG noted that the Kallang-Whampoa HDB Estate residents are currently served by the Jalan Besar Sports Centre, the Farrer Park Tennis Centre and Farrer Park Field.
"With the redevelopment plans for Farrer Park, agencies have identified an opportunity to enhance the existing sporting facilities to better serve both the current and future residents of the area," a spokesperson said.
"For example, the boxing gym will be retained and converted to a multi-purpose community sporting space, a jogging track will weave through the entire new housing estate, and even though the current swimming complex cannot be retained due to the deterioration, a new sports centre with swimming and other facilities will be in its place."
These plans have taken into consideration the heritage of Farrer Park as a 'sporting commons' and the feedback from various stakeholder engagements, SportSG added.