Father jailed for assaulting 1-year-old son, 6-year-old stepson in bid to discipline them
SINGAPORE  — He was already set to appear in court to plead guilty to assaulting his toddler son and stepson, but the 33-year-old man could not hold back his temper and abused the stepson again.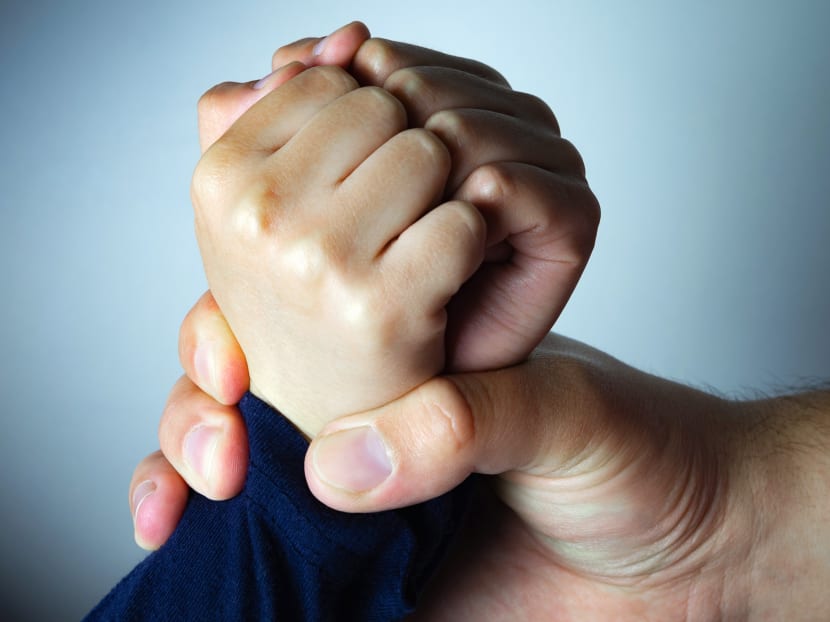 A Singaporean had been convicted several times in the past for offences including theft and cheating
He then lashed out at his toddler stepson, before turning his fists on his younger biological son
The two young boys suffered injuries from his assaults
His lawyer said he was "sad and ashamed" over his actions
SINGAPORE  — He was already set to appear in court to plead guilty to assaulting his toddler son and stepson, but the 33-year-old man could not hold back his temper and abused the stepson again.
His latest abuse led to him being remanded in prison after his wife called the police on him.
On Friday (July 8), the Singaporean father was jailed for one year, one month and one week.
These were for three separate offences that he pleaded guilty to — voluntarily causing hurt to a person aged below 14, ill-treatment of a child, and theft.
Another charge of assaulting his stepson was taken into consideration for sentencing.
He cannot be named due to a gag order to protect his children's identities. His lawyer told the court that he was "extremely sorry" that his frustration had caused him to overreact when he tried to discipline them.
This was not his first brush with the law, the court heard. He has been convicted multiple times for theft and cheating offences, including in 2009 when he was aged 20.
He was given three years' jail and 12 strokes of the cane for robbery two years later. Most recently, he was jailed 27 months and fined S$500 in 2015 for crimes such as stealing a vehicle and careless driving.
WHAT HE DID
For his most recent offences, the court heard that in May 2020, he saw his twin children — a girl and boy aged one at the time — fighting in their cot.
He grew upset at the sight and slapped the boy three to four times on his arm and leg.
This was during the semi-lockdown period when movements and activities were limited due to the Covid-19 pandemic.
On May 28 that same year, he grew frustrated with his four-year-old stepson while teaching him. He slapped and caned the boy and pushed him into a fan, leading to multiple injuries.
The following day, the man's wife told the police what had happened.
While under investigation for these assaults, he saw a man sleeping at a table outside a coffee shop along Gambas Crescent in Sembawang on April 12 last year. Several empty beer bottles were strewn on the table as well.
The accused then stole the other man's bag, discarding a set of car keys while fleeing the scene. He also threw the bag away and kept the wallet, which contained at least S$100.
The victim woke up around 3am and sought a security officer's help upon realising that his bag was missing. They viewed surveillance footage and saw what the accused did.
The victim found his bag with most of his belongings, including a condominium access card and his identity cards, about 200m away from the coffee shop. Several hours passed before his son found the discarded car keys.
The accused was arrested three weeks later.
He was later charged for the offences he had committed up to that point, before being released on bail.
He initially claimed that he had thrown away the victim's wallet, but later handed it over to the police and compensated the victim with S$200 for the cash he had stolen and to replace his bank cards.
Deputy Public Prosecutor Norine Tan told the court that on Feb 26 this year, he then grew angry with his stepson — then aged six — for kicking their domestic worker.
He took the boy to a room and slapped, pinched, punched and kicked him. The boy sustained multiple bruises on his face, neck, lips, shin and forearm.
The man's wife rushed home after she could not find him anywhere when viewing surveillance footage of the flat, which she could see on her mobile phone. She was worried that her husband had assaulted the boy again.
When she got home and spotted bruises on her son, she called the police.
This was four days after the man had attended a pre-trial conference in court, where a date was set for him to plead guilty to his previous offences.
He was arrested the same day and his bail was revoked.
'LOVES HIS CHILDREN EQUALLY'
The man's lawyer, Mr Sim Bing Wen from law firm Drew & Napier, told the court in mitigation that his client was "determined to leave behind his criminal past" when he got married and became a father to his stepson and the twins.
"He loves all his children equally and works hard to give them a good life," the defence counsel said.
Mr Sim added that to provide for his wife and children, the man worked "almost every day" as a food delivery rider.
The lawyer referred to the man's written letter to the court where he said that he was ashamed of himself and intended to "make the child a better boy".
"You can see… he's sad and ashamed to find himself before Your Honour, in trouble with the law again — this time for being a bad parent.
"He is extremely sorry that his frustration and his children's behaviour caused him to overreact when he tried to discipline them," Mr Sim said.
For ill-treatment of a child, the father could have been jailed for up to eight years or fined up to S$8,000, or punished with both.
Those convicted of voluntarily causing hurt to a person aged below 14 can be jailed for up to six years or fined up to S$10,000, or both.
For theft, he could have been jailed for up to three years and fined.