Father-of-three whose wife has cancer cycles 500km to raise S$51,000 for NCIS Cancer Fund
Mr Noel Tan knows first-hand the extent to which a debilitating disease can affect families. His wife has a relapse of gastric cancer and he has become increasingly familiar with the feelings of overwhelming helplessness that many caregivers of advanced cancer patients have.
A cancer diagnosis can hit families hard, emotionally and financially
A father-of-three whose wife has a cancer relapse is cycling 500 km around the island this weekend for charity
The aim is to raise at least S$51,000 for financially disadvantaged cancer patients and caregivers affected by the pandemic
All proceeds to go to the NCIS Cancer Fund, which supports the centre's needy cancer patients and cancer research
SINGAPORE — Mr Noel Tan knows first-hand the extent to which a debilitating disease can affect families.
His wife has a relapse of gastric cancer and he has become increasingly familiar with the feelings of overwhelming helplessness that many caregivers of advanced cancer patients have.
They surface whenever he sees his wife Brenda suffering excruciating pain and discomfort. This is the second time in five years that she is stricken by cancer. The couple has three children aged 12, 14 and 21.
Mr Tan, 51, who works as an internal consultant in a pharmaceutical organisation, said: "She has lost a lot of weight over the couple of months and the painkillers are not as effective as they used to be.  
"There have been so many moments where I would feel absolutely helpless. I would be sitting there, unable to do anything for her but to rub her back, give her some water or pray with her."
During their visits to the National University Cancer Institute, Singapore (NCIS) for her treatment in recent months, it occurred to Mr Tan that other patients and caregivers who have been hit by the economic fallout of the Covid-19 pandemic are possibly struggling to cope during this challenging period.
That thought spurred him to embark on a fundraising project.
This weekend, the avid cyclist will be covering some 500km on his bicycle in a bid to raise S$51,000 for financially disadvantaged patients and families.
The distance he is covering is equivalent to cycling across the Causeway to Malacca in Malaysia and back.
All of the proceeds raised will go to the NCIS Cancer Fund, which supports the centre's needy cancer patients and cancer research.
Mr Tan said: "Even in the best of times, if a family member has a condition like cancer, it takes an emotional and financial toll. This year, Covid-19 has added further stress.
"When a caregiver loses his or her job, it doesn't mean the cancer doesn't need to be treated. I cannot imagine the amount of stress and additional mental and emotional burden some families are facing," he added.
CYCLING AS SELF-CARE
Before his wife's cancer diagnosis, the couple enjoyed going on cycling dates.
"While she is unable to cycle these days, I have found the activity to be helpful in maintaining my physical and mental health, a way for self-care," Mr Tan said.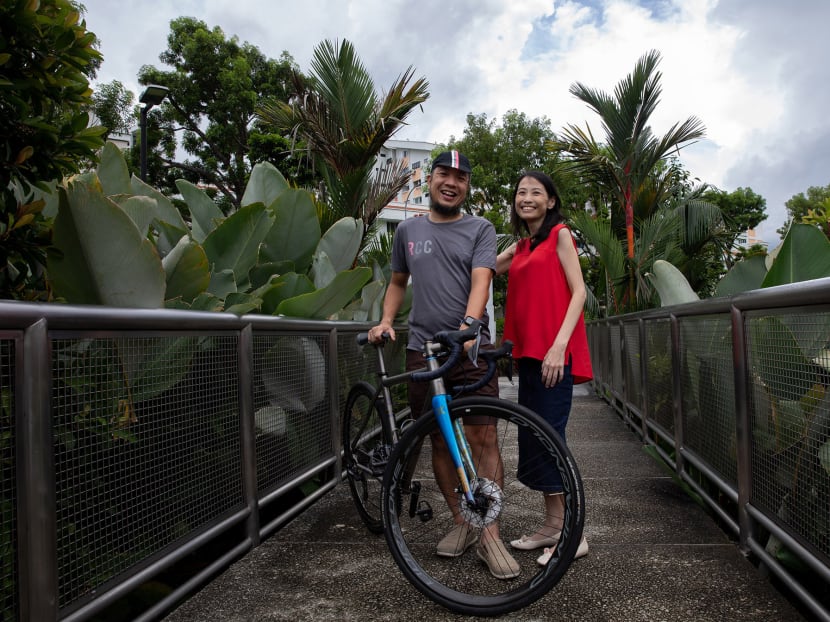 In his moments of helplessness as a caregiver, cycling and praying have offered peace.
Cycling has also given Mr Tan access to a support network of cyclists, including members from the Rapha Cycling Club and expatriate Charlie Wilson, who will be going on the same 500km riding journey with him this weekend to raise money for a UK-registered charity called Race against Dementia, which funds global research in the disease.
Mr Tan, who has taken part in several long-distance cycling events overseas, will start his fundraiser event at around 5am on Saturday (Dec 19) and aims to complete 250km by around 5pm or 6pm — before finishing the second half of his journey on Sunday (Dec 20).
His cycling route will cover areas including the Mandai Loop, Kranji Loop and even Lamp Post No. 1 in Tuas, a destination that has become increasingly popular among cyclists here.
Along the way, there will be several locations where he plans to do some laps, for example on Lim Chu Kang Road, at Seletar Aerospace and on Tanah Merah Coastal Road.
He is targeting a speed of around 25km/h and is likely to cycle for around nine to 10 hours each day, excluding breaks.
If there is light rain that does not reduce visibility, he intends to push on, but if there is lightning risk, he will have to stop temporarily.
NCIS staff members will be standing by first aid, care packs and medical support for Mr Tan and his cycling pacers, as well as assist him with some of the logistical preparations for the two days of intensive cycling.
"Someone once commented that the amount of cycling I do is nuts. But what I'm trying to do is to live life to the fullest in light of the circumstances," he said.
HOW CANCER STARTED FOR WIFE
Mrs Brenda Tan first experienced increasing bouts of stomach discomfort for months that was dismissed by general practitioners as "stress" or acid reflux.
In early 2016, when she was in her early 40s, she finally went for a scope. There was a cancerous tumour next to a gastric ulcer, which had been the culprit for her abdominal discomfort.
At the time, they had been positive about recovery. She underwent a gastrectomy (removal of the stomach) and life went back to normal after eight months of treatment.
They thought she had recovered but then discovered in 2018 that the cancer had not been eradicated and had relapsed.
She is now on an immunotherapy clinical trial at NCIS, which is located at the National University Hospital Medical Centre.
These days, symptoms such as pain, discomfort, the inability to keep food down and other digestive issues are the "new normal".
"But there are also 'normal (pain-free) days' which we are thankful for," Mr Tan said.
When asked what the prognosis is like, he said after a pause: "To quote the oncologist, 'long months, short years'. We are not looking for a cure, but to manage the disease symptoms and try to maintain a certain quality of life."
The couple are also trying to retain some level of normalcy in their family life.  
For example, when heading out is a challenge, they stay home to watch shows on streaming site Netflix. These days, he takes over from his wife to walk the children to the bus stop or to school, while she continues to cook for the family whenever she feels up to it.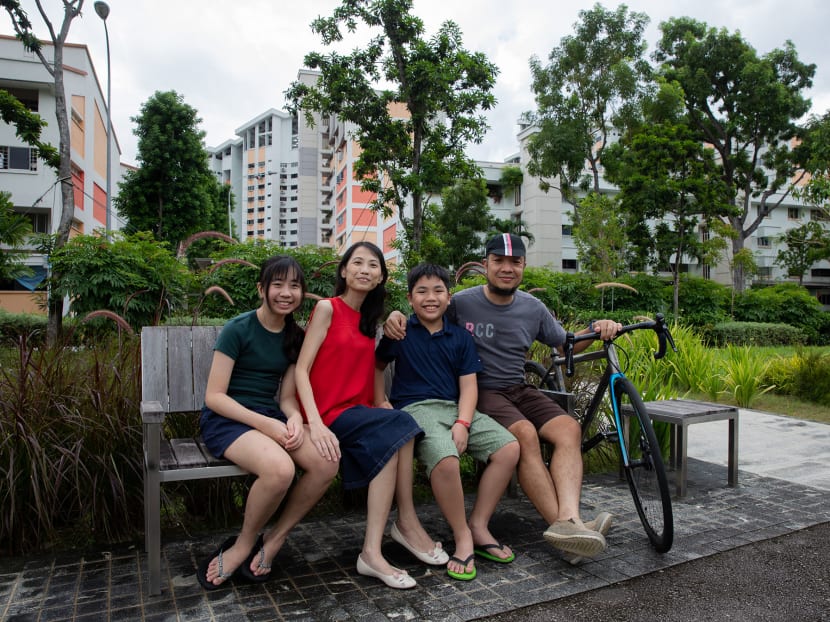 "Brenda's mindset is of steadfast positivity. When the cancer returned, she said, 'Let's just carry on'. There's pain but we can choose whether or not we want to suffer. She's fiercely independent and does not mope or whine," he said.
He thus said that what he is going through as a caregiver has been the "easy part" because "her strength gives me strength".
CANCER 'NO LONGER A STRANGER'
While the couple try to remain positive about the future, Mr Tan did add that they both have been having deeper conversations about "future arrangements".
"We've both skirted around the topic previously but feel like we need to approach it."
He did not want to elaborate on what these conversations are about, but as a parent and caregiver, one of his concerns is their children's reaction to the illness and how they are taking it.
In the early days, he took the time to dispel any misconceptions the children might have about cancer and reassured them that life would go on as normally as possible.
"This is not just Brenda's encounter with cancer, but also our encounter with the disease. So far, we've normalised it in the family so that cancer is no longer a stranger," Mr Tan said.
Financially, Mr Tan said that they have some buffer — the couple had bought insurance for themselves years before the diagnosis. He considers that a "wise decision", given that treatment for any critical illness can be costly.
"I did a Google search on the cost of a similar immunotherapy in the United States or United Kingdom, and discovered that a year's treatment in these places is the cost of a four-room (government-built) flat here," he said.
"And if you think about expenses for transport, the potential loss of earnings and the cost of medical scans, it all adds up. Sophisticated medical care in a first-world country is never cheap."
Mr Tan said that he is grateful he has understanding employers and colleagues.
"Whenever I'm with my wife at the hospital, my company would allow me to take calls, do my work virtually. I am very fortunate to be in a safe harbour during this period," he said.
Previously, the couple was running a consultancy business together. Mrs Tan stopped taking on projects when the cancer returned.
Mr Tan said: "If I'm down, there is no income for the family. This was why I thought about doing (the fundraiser) for the NCIS Cancer Fund. If I was going to spend my time cycling, I might as well try to generate something that would potentially be useful to some people."
To cancer patients and families whose circumstances have been worsened by the pandemic, he encourages them not to give up.
"Let's keep on keeping on. It's like what I would say for the 500km ride, 'Let's take one pedal stroke at a time'."
The fundraiser will run for the whole of December. Contributions can be made at the Giving.sg website.