Only 40% of married S'poreans feel mothers should care for children full-time, but women still doing more at home: Survey
SINGAPORE — Fewer people feel that mothers should be the ones to take care of children full-time, but in reality, women still spend more time on childcare duties, almost double the hours put in by men on weekdays, a survey has found.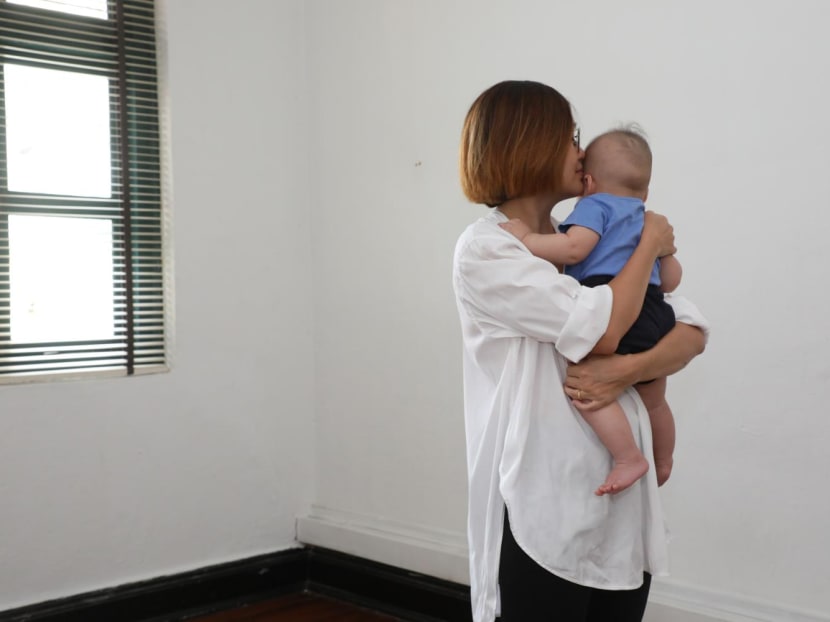 Four in 10 married couples surveyed in 2021 felt that mothers should take care of their children full-time, down from 56 per cent in 2016
In reality, women still put in more child-caring hours than men, a survey found
The 2021 Marriage and Parenthood Survey also found that cost remained the consistent top factors among couples and singles when it comes to having more children, if at all
SINGAPORE — Fewer people feel that mothers should be the ones to take care of children full-time, but in reality, women still spend more time on childcare duties, almost double the hours put in by men on weekdays, a survey has found.
The 2021 Marriage and Parenthood Survey also found that financial cost was among the top concerns for why people were not wanting children at all or not wanting another child.
Income uncertainty, as well as the anxiety over the lack of time or energy for parenting, were also prominent concerns among the singles polled, the National Population and Talent Division said.
The division, which commissioned the survey and released the findings on Tuesday (Oct 10), is a unit under the Prime Minister's Office.
Polling more than 5,800 Singapore residents aged 21 to 45, the study is the latest out of five conducted so far. The first study was conducted in 2004. The latest 2021 study took place five years after the previous one in 2016.
The latest study, done from Feb to June last year in the midst of the Covid-19 pandemic, posed a range of questions asking respondents about their marriage and parenthood aspirations, concerns surrounding having children, and dating patterns.
Professor Paulin Straughan from the Singapore Management University and Dr Mathew Mathews from the Institute of Policy Studies had been appointed as research consultants since the 2012 survey.
Asked if the results were affected by the pandemic at the time, Dr Straughan said she does not believe that the global health crisis had a significant impact on the trends found in the study, though it was a boost to the push for a better work-life balance.
"We have noted changing gender roles — a shift from gender-specific responsibilities in childcare to a more gender-neutral stance — from previous studies before the onset of the pandemic," she said, adding that these changes were influenced by global trends as well as ideals of equality within formal education.
On the concerns over cost and effort of child-rearing, the researchers also found similar trends to previous studies done before the pandemic, she added.
Dr Mathews said that the pandemic "has made it more salient" to singles, who were hesitant about having children in the future, that raising children takes investment in not just money but also time and energy.
These singles would have heard of the difficulties faced by parents taking care of their children during the pandemic.
"So some of this awareness could have increased their apprehension as to whether they would be able to successfully raise their own children in this present climate."
MISCONCEPTION REGARDING ASSISTED REPRODUCTION
In the 2021 survey, among the married respondents, 73 per cent agreed to a statement that assisted reproduction technology such as in-vitro fertilisation have very high success rates for women above age 40.
Among singles, 72 per cent agreed to this statement.
Given that the majority of respondents chose this response, the National Population and Talent Division said that this was a "misconception" that people had.
Many people were not aware that "reproduction technology cannot compensate for age-related decline in fertility", it added.
TODAY takes a look at some of the other key findings.
PERCEPTION OF GENDER ROLES HAS SHIFTED
About 40 per cent of married respondents in the latest survey felt that mothers should take care of children full-time, down from 56 per cent in 2016
The proportion of singles holding that view also fell to 24 per cent from 40 per cent over the same time period
However, in practice, women spent on average of six hours every weekday on childcare duties, while men spend an average of 3.6 hours
On weekends, women spent an average of 10 hours on childcare and men spent 7.7 hours
About 59 per cent of women were happy with the division of domestic labour, as compared to 72 per cent of men
HAVING FEWER CHILDREN THAN PREFERRED
More than one in three married respondents in the 2012, 2016 and 2021 surveys said that they ideally wanted "three or more" children, while almost six in 10 said that two children was ideal
But in reality, fewer than one in five of these respondents have three or more children, while fewer than four in 10 have a pair of children
Conversely, although fewer than 10 per cent of married respondents preferred having one or no child, about half have no or one child
FINANCIAL COST A TOP CONCERN
The top three reasons among married respondents for not having any or more children were financial cost (64 per cent), already having enough children (50 per cent) or finding it "too stressful" to raise children in Singapore (49 per cent)
They gave the same top three reasons in 2016
Among single respondents who were uncertain about having children or do not want children, the high cost of raising children was the top concern, at 89 per cent
More singles were concerned about not having time or energy to take care of children (81 per cent in 2021, compared to 68 per cent in 2016)
Uncertainty of future income was the next concern given by singles (79 per cent, an increase from 69 per cent in 2016)
WHAT PARENTS SAY
Parents who spoke to TODAY said that it would be good to have mothers at home but that it is tough to be a single-income household in Singapore. 
Mr Shaun Ho, 36, a logistics operation manager and father of three, said that "it would be nice, the kids would like it", if his wife could stay home with the children. However, he admitted that such an arrangement would be "realistically difficult in terms of finances".
Ms Evelyn Wu, a 44-year-old educator and mother of three girls, said: "It'll be wonderful if the mother is eager to stay at home (to look) after the kids because (it creates) a stable and nurturing home environment where the kids know that the mum is at home, that mum is there to help them and support them accordingly."
Yet, she believes that few families can afford to live on a single income.
Speaking with TODAY about their role at home, Mr Ho said that he and his wife try their best to divide the workload at home evenly. 
"It's 50-50; we take turns. If my wife is taking care of the kids, I'll go wash up, that kind of thing. And if she's cooking, I'll shower the kids. So it's like, half-half, because we don't have a helper, so we have to split the work."
For Mr Danny Wong's household, his wife does a little more of the housework than he does. The 42-year-old research and development engineer said that their "system" is based on the couple doing the chore that they are interested in doing. "(It is) not so much we divide the labour equally, but more like what we want to do what we can do."
On the topic of children, Ms Wu and Mr Ho both said that they wanted four but decided on three in the end. 
Mr Ho said he realised that having a fourth child would take up too much of his time, and that without his personal time to unwind and if he is not in a good place mentally, he cannot give his best to his family members.
For Ms Wu, she wanted four children because she believes that in a marriage, each adult has two hands to hold two more hands. Then, age ultimately became a barrier for her, though she did light-heartedly say that as a mother of three girls, "the only reason to have a boy is I would like to see how different (raising) a boy is compared to a girl".