Fighting rising sea levels: 5 approaches from around the world
SINGAPORE — Singapore is not alone in assessing measures to mitigate the threat of rising sea levels.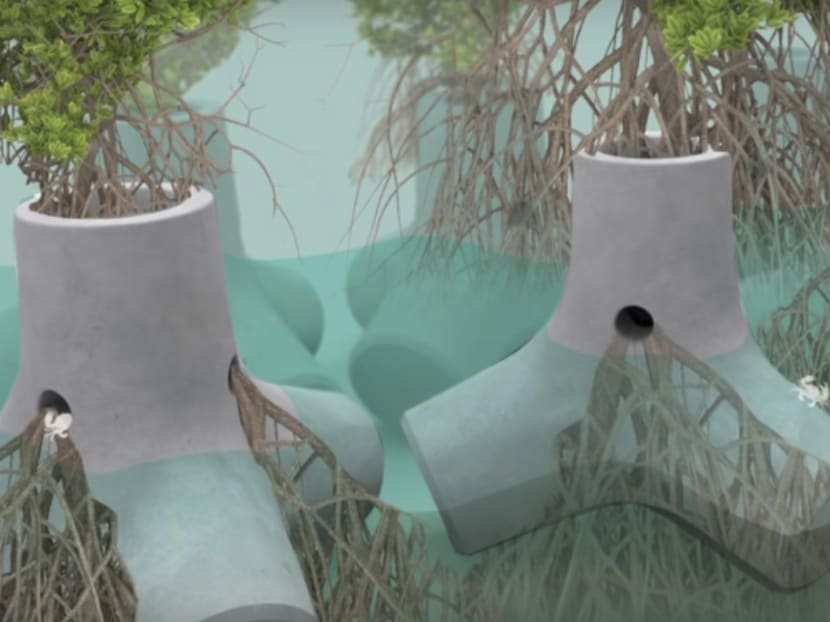 SINGAPORE — Singapore is not alone in assessing measures to mitigate the threat of rising sea levels. 
During the National Day Rally on Aug 18, Prime Minister Lee Hsien Loong announced that Singapore is prepared to invest about S$100 billion or more over the next 50 to 100 years to strengthen its coastlines against the threat of rising sea levels.
Significant areas of Singapore are 4m above mean sea level or lower, and they will increasingly be at risk of going underwater when sea levels rise, he warned.
To combat the looming threat, various climate change measures are being considered by the Government. They include plans to build polders — low-lying reclaimed land protected by embankments — along with reclaiming offshore islands or building dykes.
TODAY looks at some of the coastline and river defence measures that have been considered or implemented in other cities across the world that are also seeking to strengthen their flood prevention systems.
1. A GREEN ALTERNATIVE TO COASTAL ENGINEERING: TETRAPOTS
The TetraPot is effectively a large concrete plant pot weighing about one tonne and measuring about 1.5m high, 1.5m wide, and 1.5m deep. A series of these pots could be placed along a coastal area to be protected, designers said.
The seeds of mangrove trees are placed in the TetraPots, which can grow through the pot's pre-drilled holes. Over about 14 months, the mangroves grow and would become intertwined with the mangrove trees from the other pots to form a sea defence. As a result, the system not only prevents soil erosion, but also helps to create a natural ecosystem.
The TetraPots are the brainchild of Taiwanese designer Sheng-Hung Lee and Malaysian designer Wan Kee Lee, Sheng-Hung Lee's website stated. In 2016, the TetraPots received the James Dyson Award, an international design award that encourages problem-solving designs.
The design is a variation of tetrapods, large concrete blocks that are sometimes piled on top of one another to prevent coastal erosion, though they do not include plants.
Online design magazine Dezeen said that the TetraPots are less likely to move over time due to the force of the waves, given the interlocking roots of the mangrove trees.
And the hollow centre of the TetraPots means less concrete will be used, which saves on resources.
To date, no reports have emerged of TetraPots being used on a large scale.
2. FLOOD PROTECTION BARRIERS DISGUISED AS A RIVER PROMENADE
The Niederhafen River Promenade is an attractive public space with restaurants, good views and shops. It doubles as a vital flood barrier. Photo: Facebook/a as architecture
Completed this year, the Niederhafen River Promenade in Hamburg, Germany is an upgrade of the city's existing flood prevention system, which was built in 1964 on a stretch of the Elbe River, which flows into the North Sea. A flood in 1962 that killed 315 people and destroyed 60,000 homes prompted authorities to take flood mitigation action.
The new promenade — which is built higher above sea level than the old barriers — features a series of amphitheatre-like staircases, which serve as a vital sea defence structure.
The promenade doubles as a public space for residents and tourists to walk on and also features street-level shops and a three-storey restaurant offering a panoramic view of the river.
Bicycle lanes as well as wide ramps for wheelchair accessibility have also been incorporated into the project, which was designed by Zaha Hadid Architects for a competition in 2006. The late Zaha Hadid was regarded as one of the world's top architects.
The promenade is divided into two sections. The west side is higher at close to 9m above sea level. The east side is 8.6m high.
The measurements were determined after computer simulation predicted that the replacement barrier needed to be at least 8m to protect Hamburg from future high tides. The previous barrier was 7.2m.
3. BEACH HUTS DOUBLE AS COASTAL DEFENCE
When waterfront beach huts were destroyed in a storm in 2014, the authorites in England decided to incorporate new huts into a flood barrier. Photo: newforest.gov.uk
A row of 119 colourful beach huts have been integrated into a refurbished sea wall in the coastal English town of Milford-on-Sea. The original huts were destroyed by a storm in 2014.
The BBC reported that the new huts were handed over to their owners in May 2017.
The project includes an elevated promenade at the top of the 300m-long structure, allowing the public to walk along the waterfront.
The structure has been made from reinforced precast concrete, featuring decorative panels made using driftwood and other debris depicting local scenes. Architecture and design magazine Dezeen reported that it has been designed to withstand a perfect "one-in-200 year storm event".
The project cost 2.36 million pounds (S$4 million) to complete.
4. TERRACE PARK IN CHINA BLENDS THE ECOLOGICAL AND PRACTICAL
In Jinhua, China, a terraced park that acts as a flood-prevention barrier was built where two rivers meet to form a third river. Photo: Facebook/Landezine
Located in Jinhua, a city in Zhejiang province in eastern China, Yanweizhou Park makes use of terraced-style levees for two purposes: To act as a flood prevention barrier, and to provide nourishment for the park's greenery as the terraced design helps to absorb floodwater.
The 26ha park, which sits at the confluence of two rivers which form a third river, is self-sufficient — it does not require fertiliser or irrigation due to its innovative design.
The park also boasts a network of bridges and pathways, which allows pedestrians to walk freely along the waterfront even during the wet season.
The award-winning park, which cost over 300 million yuan (S$58 million) to build, was designed to replace a concrete floodwall. Though it served as an adequate flood prevention measure, the wall destroyed the natural ecosystem of the area. Thus, the park is designed to bridge the gap between efficacy and pragmatism.
Architecture and design magazine Dezeen reported that the park attracts 40,000 visitors a day.
5. HUGE U-SHAPED FLOOD DEFENCE TO PROTECT MANHATTAN 
The devastation caused by superstorm Hurricane Sandy in 2012 has led to a massive series of projects to protect Lower Manhattan from rising sea levels. Photo: rebuildbydesign.org
The so-called Big U defence project is designed to protect the low-lying parts of Manhattan in New York City — specifically Lower Manhattan — from floodwater, storms and other impacts of climate change, including rising sea levels.
The area was devastated by Hurricane Sandy in 2012, with total damage estimated at US$19 billion (S$26 billion).
The huge project — which covers about 16km of low-lying waterfront and has a price tag of US$511 million — will not only shield the city against floods and storm water, but will also provide New York with a public space that can be used for work and play.
Online design website Rebuild by Design reported that one aspect of the project will feature "deployable walls attached to the underside of an elevated highway (that) can flip down to mitigate flooding".
The project will be executed in three phases. Each section is designed to stand alone as a individual flood-protection zone and incorporates different features such as parks, museums, recreational and community spaces and shops. The flood protection system will be built into these public spaces and includes other measures such as elevated platforms, levees and flood protection shields.
Work on the project will reportedly start this year.