Fire breaks out at The Penny Black pub, Harry's Bar at Boat Quay
SINGAPORE — A fire broke out at a pub in Boat Quay at about 10am on Thursday, sending plumes of smoke into the air.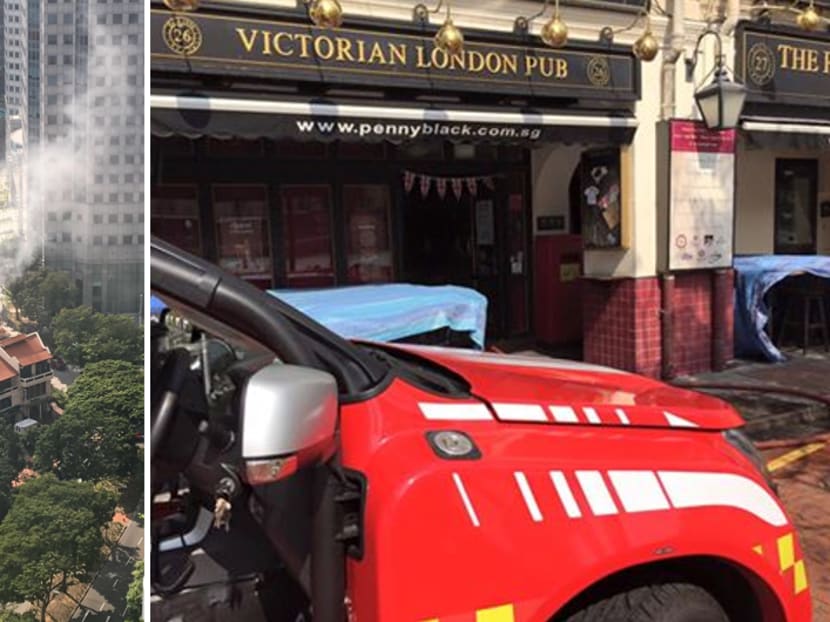 SINGAPORE — Fires broke out at two neighbouring pubs in Boat Quay on Thursday (July 28). 
The first took place at The Penny Black pub at about 10am, sending plumes of smoke into the air, while the second occurred at about 11.45am at Harry's Bar.
The Singapore Civil Defence Force (SCDF) said the fire at The Penny Black involved contents of a kitchen on the second floor of the restaurant. The fire was extinguished with a water jet. 
A member of the kitchen staff suffered a minor burn injury to his right hand, but did not want to be conveyed to the hospital, the SCDF said in an update on its Facebook page.
In a separate Facebook post, the SCDF said the fire at Harry's Bar involved "deep seated burning" of an internal duct within the attic crawl space of the roof. Two water jets and an aerial monitor were used to contain the fire. There were no reported injuries in this incident, but several patrons of an adjoining restaurant were evacuated as a precaution.
The SCDF is investigating the cause of both fires.